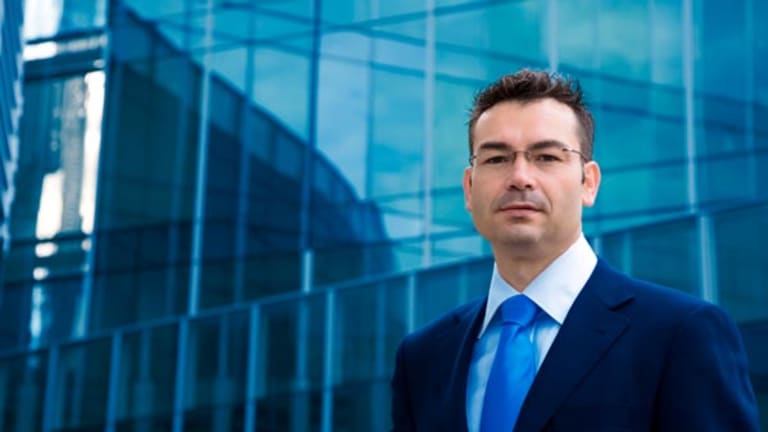 Publish date:
Why the Nokia-Qualcomm Battle Matters
This battle's getting ugly. Here's why.
This battle's getting ugly. Here's why.
This column was originally published on RealMoney on June 11 at 1:50 p.m. EDT. It's being republished as a bonus for TheStreet.com readers. For more information about subscribing to RealMoney, please click here.
The litigation monster spawned by the
Nokia
(NOK) - Get Nokia Oyj Sponsored ADR Report
-
Qualcomm
(QCOM) - Get QUALCOMM Incorporated Report
patent battle sprouted another tentacle on Monday. This time Nokia is asking for an injunction against phones using MediaFLO or BREW technologies.
Verizon
(VZ) - Get Verizon Communications Inc. Report
is the most important potential casualty here. The U.S. giant operator has embraced BREW and MediaFLO a lot more ardently than
Sprint
(S) - Get SENTINELONE, INC. Report
, the second-largest CDMA operator in America. The Nokia move is notable for two reasons.
First, it seems aimed at undermining operator support for two technologies designed to turn Qualcomm into a mobile content distribution powerhouse. MediaFLO enables operators to pipe television programming to mobile handsets; BREW is a distribution platform for things like mobile video games and music.
Both have hit some obstacles recently. Sprint has been edging away from supporting MediaFLO, and its BREW plans are still tentative and vague. AT&T Wireless was a big win for Qualcomm; the biggest operator in America has announced it will begin offering MediaFLO mobile television late in 2007.
This surprise announcement meant that the two biggest operators in America would both support MediaFLO as a mobile television platform -- a rare occurrence because AT&T and Verizon use very different mobile technologies (GSM&W-CDMA vs. CDMA200) and rarely agree on standards.
Much of the world is migrating toward DVB-H as a mobile television standard. DVB-H is Nokia's favorite for a global mobile television standard, and Nokia is busy integrating DVB-H support into its high-end smartphones. CVB-H service launched in Italy in 2006 with solid early consumer interest and will roll out in key markets from Germany to France in 2007.
Nokia was not amused by AT&T's support of MediaFLO. The U.S. success of MediaFLO might turn it into a smaller but potentially thorny global challenger of DVB-H. The threat of injunction against phones using MediaFLO might discourage operators from adopting the technology, and perhaps even push AT&T into re-evaluating its stance.
This gets us to the second point about Nokia's new lawsuits: They are particularly aggressive, considering Nokia and Qualcomm are currently in arbitration regarding other issues, most notably W-CDMA licensing fee levels. The two companies are entangled in courts from California, Wisconsin and Texas to Germany, Netherlands and China. Key lawsuits are now on hold pending arbitration results, but the new set of lawsuits does not bode well for an amicable settlement.
It appears Nokia has recently amped up the aggression notably. A while back, the company made rather specific comments about licensing fee levels, something that Qualcomm discourages strongly. Now Nokia is expanding the litigation into a whole new sector: content distribution software. Both moves could be retribution for Qualcomm's earlier decision to expand litigation from W-CDMA into core Nokia technologies of GSM, GPRS and EDGE.
Both sides have been escalating the patent battle, both geographically and across new standards and technologies. The pace really started picking up after February 2007, and last week's International Trade Commission decision against Qualcomm may have further emboldened Nokia.
It's interesting that investors have basically ignored the issue. This may be because most leading telecom analysts in the U.S. have declared the whole process a more or less meaningless legal minuet, bound to be resolved rapidly and painlessly.
However, neither Qualcomm nor Nokia shows any interest in backing down or even restraining itself from further escalation. The money at stake is pretty monumental. The difference between a 1% and 4% W-CDMA licensing fee must be viewed in the context of W-CDMA phone volumes hitting about half a billion units by 2010.
At time of publication, Kuittinen had no positions in the stocks mentioned, although holdings can change at any time.
Tero Kuittinen is managing director and senior analyst for Avian Securities, a brokerage firm specializing in technology companies. Although Kuittinen is an employee of Avian Securities the statements above are being made in Kuittinen's personal capacity and are in no way are the statements of Avian Securities, nor attributable to the company. Under no circumstances does the information in this column represent a recommendation to buy or sell stocks. Kuittinen appreciates your feedback;
to send an email.