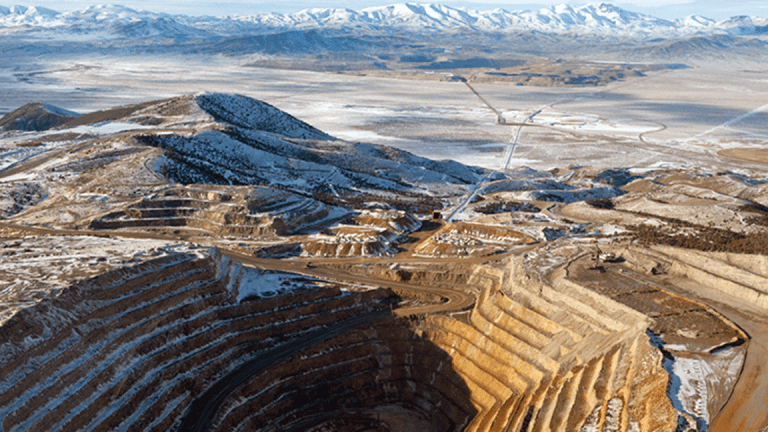 How Gold Mining Merger Mania Is Here to Stay
Merger mania sweeping the gold mining sector isn't a flash in the pan - it's likely just begun.
The merger mania sweeping the gold mining sector isn't a flash in the pan - it's likely just begun.
Unless these companies want to shrink, they must continue to gobble each other up.
"There is going to be a new wave of M&A as a way to grow reserves especially because organic growth is so hard to come by," said Matthew Miller, a Denver-based equity research analyst at financial research firm CFRA.
In other words, expect more mergers and acquisitions in the gold mining sector.
This continued takeover activity in the gold patch means that stock prices for gold miners in general, and junior gold miners in particular, should surge over the coming months and years. Therefore, investors should consider buying the VanEck Vectors Gold Miners (GDX) exchange-traded fund, which tracks the larger gold mining stocks; or alternatively try the VanEck Vectors Junior Gold Miners (GDXJ) ETF, which trackers smaller, or junior, gold mining stocks.
The latest news, which came earlier this week, is that Barrick Gold (ABX) , the world's largest gold miner, wanted to buy Newmont Mining (NEM) , another large firm that does the same thing.
That news comes after two recently announced mergers; Goldcorp (GG) and Newmont, and the similar combination of Rangold with Barrick.
All these companies were big relative to their peers, but as they combine they get even larger.
There are questions about whether the Barrick-Newmont deal will even get shareholder approval.
"Given the size differences Barrick would likely need to get Newmont to cancel its acquisition of Goldcorp," said a recent report from Morningstar. That could prove problematic because if the deal gets called off then Newmont would need to pay a $650 million as a so-called break-up fee, the report stated.
Focus on the Larger Trend
However, investors should focus on the bigger issue which is that these gold companies face the same problem. They all need to replenish their resources.
In large part, how much gold a miner has in the ground determines its value. As the metal gets extracted from mines, then the company must do one of two things: It could engage in exploration activities to find new ore deposits, or it could purchase other companies that own ore deposits.
Economics put the latter in favor right now.
"Reserve growth through acquisition is cheaper than prospecting growth, especially for the majors," said CFRA's Miller.
In other words, sending geologists out into the wilderness to find new ore deposits is costly and the results are usually tricky to forecast.
When a company acquires another firm it can then have a reasonable idea of how much in-the-ground gold it is buying. Mining companies categorize their ore bodies in descending order of quality from "proven" to "probable" to "possible." As a result, the companies can make educated estimates about how much to spend.
There is another issue facing all the larger companies. As these firms grow bigger through acquisition, the need to replenish resources grows faster as well, and the size of the deposits acquired needs to be significant. That's because big mining companies extract a lot of metal each year.
For instance, Barrick, which has grown fast, now needs to acquire a lot of new gold each year order to stand still.
"Having recently acquired Randgold, Barrick will produce 4-5 million ounces annually," said a report from Morningstar. In other words, the combined Goldcorp-Barrick entity needs to add that much in reserves each year, otherwise its resources will shrink.
Newmont is in a similar boat.
Buy Juniors
That's why gold miner stocks, in general, will increasingly become takeover targets. That's even truer of the smaller companies because they have lagged their larger peers in the recent rally.
In the six months through Tuesday, the VanEck Vectors Gold Miners has risen 17.9% vs. 16.2% for the junior ETF, according to Yahoo! Finance.
Normally, you'd expect the smaller companies to streak ahead of the larger ones when gold prices are rising.
That might make the juniors more tempting acquisition targets than their bigger cousins over the next few months and years.
Constable owns none of the securities listed in this story.