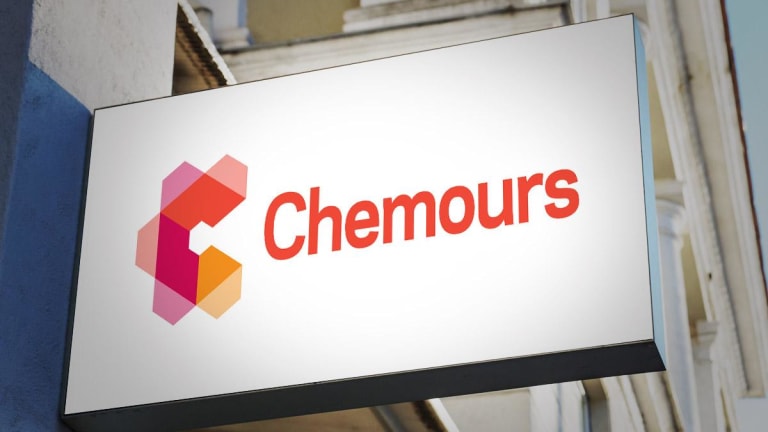 Why Chemical Giant Chemours Is Thriving After Being Spun Off: CFO
Where's the limit for this seemingly high-growth industrial chemicals company?
Spinoffs can be useful to the parent company looking to shed an asset, but they also can be huge for the business being spun off. 
Chemours Co.  (CC) , one of the market leaders in industrial chemicals, is proof of the latter.
"The company is firing on all cylinders," Chemours Chief Financial Officer Mark Newman told TheStreet. "The biggest single difference is the level of focus on execution and essentially getting the most out of our portfolio of businesses." 
DuPont spun off Chemours in 2015, and since then Chemours stock has increased roughly 120%. But this story is double-sided. There are clear reasons why the company has excelled since 2015. But while the growth outlook is nothing to scoff at there's some ambiguity in the market as to just how explosive growth can be for the foreseeable future. 
First, let's examine what has gone so right for Chemours. 
Chemours' second-quarter earnings report in August reported a 99% increase in adjusted earnings per share year over year on the back of a net income increase of 75%, raking in $281 million. With a growing balance sheet, the company is going through with a $750 million share repurchase plan through 2020. 
Chemours has been able to achieve good results in part because of a revised organizational structure. No longer under the roof of DuPont (which merged with Dow Chemical to become DowDuPont Inc. undefined ), Chemours is now able to delegate responsibility to different executives.
"Organizationally to make a difference, DuPont was very matrixed," Newman said. Now, he said, "we push a lot of decision-making down in the organization." With the company's three main business segments, fluoroproducts, chemical solutions, and titanium technologies, there are "three business unit presidents and we drove accountability in the business units," Newman said. "We really simplified how we run the company," he added. 
The new structure has enabled the company to forge closer customer relationships, which is allowing it to better target customer needs, which then unlock the opportunity for pricing power. Here's Newman's master breakdown of the internal strategy: "A leaner management structure and a lot more partnership with customers and making sure that we enhance their value proposition."  There is a "much greater focus on customer interaction and being customer centric," he added. 
When asked whether the second-quarter's 14% revenue growth and first-quarter's 20% revenue growth was a product of an expanding chemicals market, Chemours' own expanding market share, or increased prices, Newman replied "a combination of all of the above." As for pricing power, a JPMorgan note said that not only did prices for the chemical Opteon rise year over year, but Chemours sells Opteon at around $40 or $50 per pound, compared to less than $10 for most fluoroproducts in the market. And Opteon accounts for roughly 20% of Chemours' fluoroproducts revenue, a crucial business segment, JP Morgan estimated. 
As for its titanium business segment, Newman said, "On TI02, we are migrating our relationships away from that of typical commodity relationships to one in which we price based on the high quality of the product, and long term needs of the customer."
But what does the forward-looking picture look like? First off, a chunk of the company's roughly $500 million in capital expenditures this year go toward tripling Opteon capacity. "We'll have a threefold increase on Opteon," Newman said. 
But investors seem tepid on the outlook. Chemours' trailing 12 months price-to-earnings ratio is a mere 8.23 to 1. A note from Goldman Sachs analysts both recognized that fact and suggested the P/E ratio might indicate investors are undervaluing something. "Chemours' market performance suggests that investors are not yet willing to sanction a some-of-the-parts valuation for Chemours," the note wrote. "The unwillingness for the market to give CC credit for its undervalued fluoroproduct segment argues that a change in strategy may be required to unlock full shareholder value," it added. 
Meanwhile, several of Chemours' peers are trading at much higher multiples. Air Products and Chemicals Inc. (APD) is trading at a P/E ratio of 21.81. KMG Chemicals Inc. (KMG) is trading at 27.97 earnings. W.R. Grace & Co. (GRA) trades at 31.02. Those names have also shown impressive growth of late. While Chemours' growth may be impressive compared to many industrials in the U.S., it's not necessarily so amazing compared to other players in chemicals. KMG's revenue growth in its April quarter was 45% from a year earlier. W.R. Grace & Co.'s revenue growth in its June quarter was 13.08% year over year, right around Chemours' most recent growth rate.  
DowDuPont Inc. is a holding in Jim Cramer's Action Alerts PLUS member club. Want to be alerted before Jim Cramer buys or sells these stocks? Learn more now.