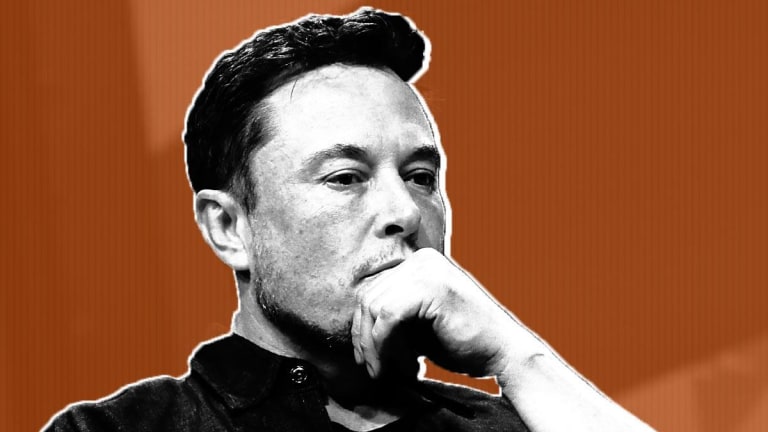 Musk Personally More Likely Than Tesla to Have to Pay Back the Shorts
How much money is really at stake, and who will really have to cough it up?
How much money is really at stake, and who will really have to cough it up?
That might have been a billion-dollar tweet.
If anyone is going to pay for Elon Musk's misleading tweet that he had secured the funding to take Tesla (TSLA) - Get Report private, it will likely be the Tesla CEO himself, and not his electric car company, lawyers said.
Short sellers who target Tesla because of the view that the company's stock price isn't justified by its profit prospects may have lost about $1.3 billion on August 7, the day of the misleading tweet, although most investors with short positions in Tesla didn't cover their positions that day, according to financial data analytics firm S3 Partners. Total losses in August for the short sellers may be have been as much as $3 billion, S3 said.
The losses prompted at least two lawsuits to be filed in federal court in San Francisco, and law firm Pomerantz LLP has even provided a draft complaint on its website for investors contemplating suing both Musk and Tesla.
But it's the mercurial Musk who is most at risk, Columbia Law School securities professor John Coffee told TheStreet.
"Tesla has a strong argument that Musk's August 7th tweet in which he said "funding secured" was a personal statement by Musk and not a statement by Tesla," Coffee said. "Musk was inviting Tesla to enter a transaction that he would later propose."
That means Tesla has less to fear from lawsuits than Musk himself does, said Gene Munster, a former tech analyst and the co-founder and managing partner at Loup Ventures.
"It's less likely that they'll get anything from Tesla than they'll get from Elon because the tweet came from Elon, and the company immediately recognized this was a Musk effort, not a Tesla effort," Munster said.
Still, the lawsuits are going to go ahead. Now the question is, who pays, and how much. Tesla's cash balance stands at $2.2 billion. Its total sales for its quarter ending in June this year was $4 billion, and are expected to be $6 billion in the next quarter. Forcing Tesla to make the short sellers whole could put a big dent into the company and oblige it to raise money, probably by selling more equity.
Borrowing the money isn't a good option for Tesla, because incurring more debt would be credit negative according to Moody's Credit Ratings.
Tesla might also try to raise the money by taking it out of Musk's stock holdings, Munster said.
"In the unlikely case [Tesla] do have to pay something out there are several avenues that the money can come from," Munster said. Raising capital for Tesla and retiring some of Musk's shares "is one of the more probable avenues," he said. 
That's unless Musk himself pays most of the damages to the short sellers and has to sell some of his own stake to afford it, Munster said.
"You could say that you have to sell some of your equity," Munster said. "The consideration the court would look at would be net worth versus cash in the bank."