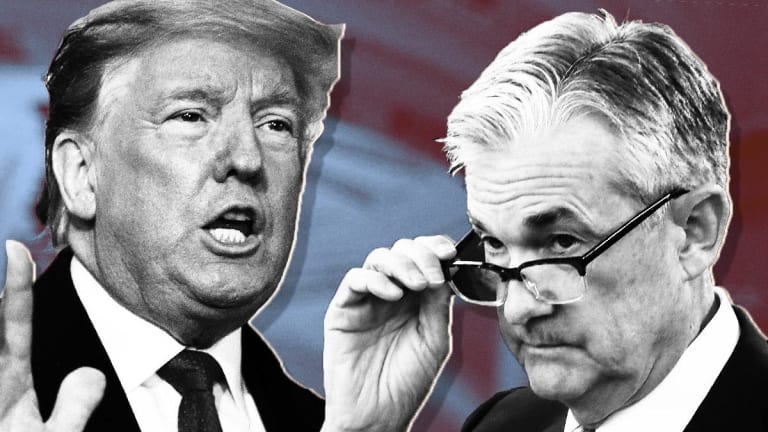 Whipsawed Fed-Watchers Try Handicapping Rate Cuts but Must Mind the Trump Tweets
In just two days of headlines and data on President Donald Trump's trade war with China and the health of the global economy, the odds of a 0.5 percentage point interest-rate cut at the Federal Reserve's Sept. 17-18 meeting plunged to 4% from 30%, and then shot back up to 18%. For Fed-watchers, it might signal a new regime where economic data seem to matter less.
For investors betting on the future path of Federal Reserve interest rates, it's no longer enough to master U.S. economic data on unemployment rates, inflation, gross domestic product and jobs growth.
Now, Wall Street traders and analysts are having to become up-to-the-minute experts on President Donald Trump's trade war with China, and its potential ramifications for economies abroad.     
Partly as a result, a new dynamic is emerging in the specialized futures market where investors try to handicap the likelihood of further Fed rate cuts: almost daily price swings, with every new twist and turn in the trade fight, or an unexpected tweet.
As of Monday evening, traders in the market for futures contracts on Fed funds were pricing in a 30% likelihood that the central bank would cut official U.S. interest rates by 0.5 a percentage point at its next meeting, scheduled for Sept. 17-18. That size of a cut would be double the Fed's usual increment of 0.25 a percentage point, reflecting deep worries over the potential damage from an escalating trade dispute between the world's two largest economies.
But on Tuesday, the Trump administration announced plans to delay some tariffs on Chinese imports until mid-December, so that U.S. retailers would have time to stock up shelves for the holidays before the added costs kick in. 
And just like that, the odds of a 0.5 percentage-point rate cut plunged to about 4%; suddenly, it seemed unlikely that such extreme monetary stimulus would be needed. Pantheon Macroeconomics, a forecasting firm, said in a report that a standard 0.25 percentage-point rate cut now looked much more likely.  
The volatility continued on Wednesday, when dismal economic reports from China and Germany sparked fears anew. Perhaps the Fed, issuer of the U.S. dollar, the world's global reserve currency, would need to deliver a bigger stimulus after all.
Trump followed with his own tweet later Wednesday morning: "The Fed has got to do something! The Fed is the Central Bank of the United States, not the Central Bank of the World."
In the context, the line doesn't immediately make sense given that Trump has been calling for faster and deeper rate cuts. Many economists say that if the Fed  only focused on the U.S. then incoming data on jobs growth and inflation are healthy enough that no cuts would be needed at all.
Also, for what it's worth, the president tweeted this: "So far, you've had Tariffs imposed on 300 Billion Dollars worth of Chinese products, but you can't tell me that it has hurt our economy."
Whatever the logic, or the contradictions, look what happened in the Fed futures market: The odds of a 0.5 percentage-point Fed cut shot back up to 19%. 
"Things have changed," Steve Blitz, chief U.S. economist at the forecasting firm TS Lombard, wrote Wednesday in a note to clients. 
The new dynamic was telegraphed last month, when Fed Chairman Jerome Powell hosted a press conference on July 31, after a majority of voting members on the central bank's monetary policy committee decided to cut rates by 0.25 a percentage point to a range between 2% and 2.25%. It was the first rate cut since the 2008 financial crisis.
At the time, Trump was regularly and publicly belittling Powell, his own appointee to lead the central bank, via tweet, for not cutting interest rates faster further, and thus for failing to provide "support" for his economic policies, including the battle with China over allegedly unfair trading practices. (The Fed is supposed to be independent of the executive branch and indifferent to political matters). 
But at the press conference, Powell acknowledged that "trade policy uncertainty" was a major factor in the Fed's decision to cut interest rates, even though many economists were arguing that U.S. growth appeared to still be on solid footing. Historically, the Fed usually cuts rates to provide stimulus when the economy is slowing, and unemployment rising, and it raises rates when activity heats up to prevent runaway inflation.  
So the question came from CNBC's senior economics reporter, Steve Liesman: Should Fed watchers abandon the plodding and painstaking work of tracking and aggregating economic data, instead moving into the "realm of watching headlines of trade talks?"  
"Would you say we're sort of, you guys have gotten into a new regime here?" Liesman asked, according to an official transcript on the Fed's website.
Powell, to his credit, responded directly to the question, and he didn't disagree with the premise: Trade tensions "do seem to be having a significant effect on financial market conditions and on the economy."
"They evolve in a different way, and we have to follow them," Powell said.
He added a caveat: "We don't, you know, the thing is ... There isn't a lot of experience in responding to global trade tensions. So it is a ... It's something that we haven't faced before and that we're learning by doing."
On-the-job training for the Federal Reserve chairman. 
Traders are just trying to keep up.