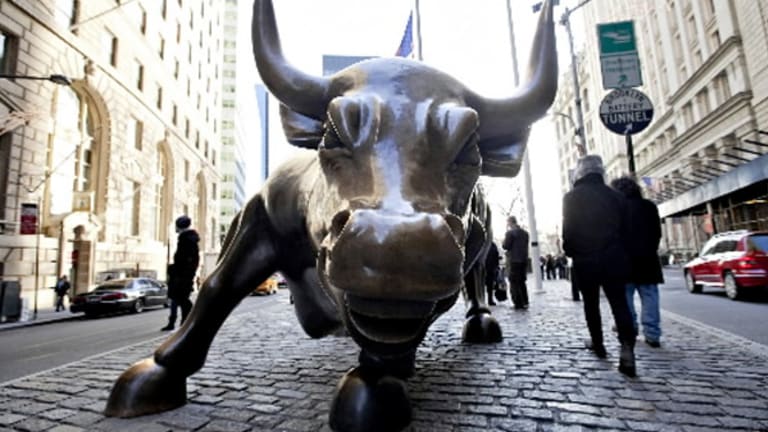 Which Sectors Should Investors Move To? Jim Cramer Weighs in on CNBC's 'Halftime Report'
CNBC's 'Fast Money Haltime Report' panel debated which sectors of the market investors should be pivoting into.
NEW YORK (TheStreet) -- In response to recent market behavior CNBC's "Fast Money Haltime Report" panel debated what sectors investors should be rotating into on Tuesday afternoon. 
"We like equity versus bonds. Drilling down into that, we like U.S. housing because of the great environment it is right now to be a buyer of a house in the United States. On top of that we also like U.S. consumption, rotating away from retail and we also like technology," Deltec International Group CIO Atul Lele said on the show.
Agreeing with Lele on the housing sector TheStreet's Jim Cramer, host of CNBC's "Mad Money," says its not only good for home buyers, but for home good companies as well.
"I think Home Depot (HD) - Get Report hangs in there. People are still spending on the home, and home goods as well. I love the housing sector," Cramer said, citing Stanley Black & Decker (SWK) another company benefiting.
The panel also tackled the tech sector and increasing concerns over China.
"Go through the chips and find out why some of these names are no just tied to just Apple (AAPL), but the other areas as well," Pete Najarian,co-founder of Najarian Family Office and Najarian Advisors, said.
"Technology must be mindful of Europe because most technology companies have about 30% of exposure in Europe so you just have to see if there will be a little bit of slowdown," Stephanie Link,TIAA Global Asset Management managing director, said. Adding shes excited about cloud technology, as well as securities.
In terms of China, the panel cautioned that people may be overly concerned with the region.
"Can China be so bad the way Wynn Resorts (WYNN) is trading the way Los Vegas Sands (LVS) is trading?," senior managing director for Virtus Investment Partners Joe Terranova said.
"In the end Honeywell (HON) was okay on China, Nike (NKE) was okay, Starbucks (SBUX) was the lead, Yum! Brands (YUM) was good. I'm not against China," Cramer noted.