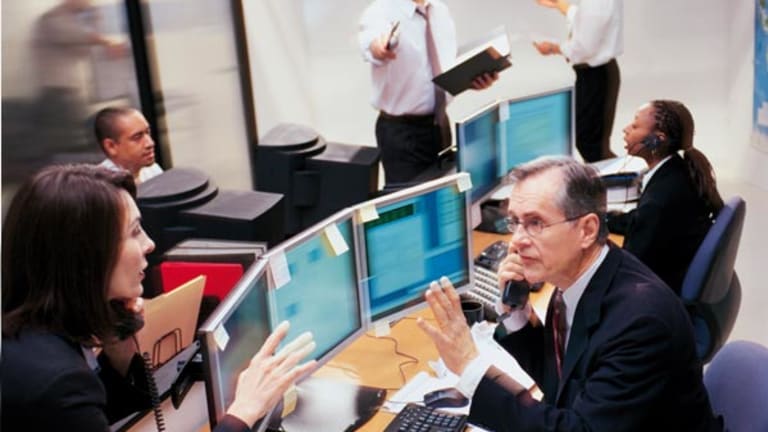 Where the Selloff Isn't Over
After the recent broad decline, insiders are still selling shares at a number of companies.
This column was originally published on RealMoney on June 1 at 1:30 p.m. EDT. It's being republished as a bonus for TheStreet.com readers.
It is an absolutely awful sign about a company if, after the recent broad selloff, insiders are still selling shares. At best, it indicates a lack of faith that the stock will recover soon. At worst, it could be a sign that executives are afraid that they had better get out now before shares fall even more. These are stocks that I'd suggest investors forget about bottom-feeding on. A little leg work could even uncover a decent short-selling opportunity.
Unlike the recent
buy-side activity of insiders, which shows a couple of trends, the sellers are spread over several industries. Although biotech and technology are well-represented in the selling, those sectors also had some noticeable buying as well, so any red flags that appear are likely company-specific.
Shares of
United Therapeutics
(UTHR) - Get United Therapeutics Corporation Report
started to slump before the market selloff after accounting changes reduced first-quarter profits. The technical condition of the stock has been steadily breaking down since. After a four-year run that took shares from $10 to nearly $80, United Therapeutics' 50-day moving average recently crossed below its 200-day average.
The heavy insider selling over the past few years -- particularly option-related selling -- was unremarkable, given its strong performance. But the fact that insiders have continued to sell with their stock now 35% below its recent highs tells me that they don't believe new highs will be seen any time soon.
Shares of
Onyx Pharmaceuticals
(ONXX)
also are off by nearly a third over the past three months, but that hasn't dampened the enthusiasm of executives to flip their options for a risk-free profit. Even recent upgrades of Onyx by Wachovia and Prudential don't appear to have halted the slide.
Corporate spokesmen sometimes argue that options-related selling isn't really meaningful. Don't fall for that line. If executives really thought it likely that their shares were going to rebound from the depths, they would postpone the exercise. Options do not stymie an executive's free will.
It also isn't uncommon to see insiders exercise options when their stock falls sharply, and not sell the shares. This is a bullish sign. Letting the shares ride in the open market shows that the insider has faith they will rise in value. The fact that they exercised after a plunge allows them to lower their tax burden, because the difference between the exercise price and market price is suddenly lower.
An even better indicator is when the exercise price of options is only moderately below the price the stock has plunged to. It gives a sense of to where the insider believes the stock's price is unlikely to fall.
But that's not the case with Onyx or other biotechs such as
Progenics Pharmaceuticals
(PGNX) - Get Progenics Pharmaceuticals, Inc. Report
and
Quigley
( QGLY).
Tech Selling
Insiders at several technology bellwethers are also selling as their shares founder, including
Yahoo!
(YHOO)
Juniper Networks
(JNPR) - Get Juniper Networks Inc. Report
,
EarthLink
(ELNK)
,
Bottomline Technologies
(EPAY) - Get Bottomline Technologies Inc. Report
,
Ixia
(XXIA)
and
PAR Tech
. Both the CFO and a VP at
InfoSpace
(INSP) - Get Inspire Medical Systems Inc. Report
no longer hold any shares long at all.
The lack of faith of insiders sometimes seems to fly in the face of apparent value. The travails of
PortalPlayer
(PLAY) - Get Dave & Buster's Entertainment Inc. Report
are well known. This fabless semiconductor maker was riding high as a supplier to
Apple Computer's
(AAPL) - Get Apple Inc. Report
iPod. But Apple decided in April to buy processors for its mid- and high-end devices from other companies, and PortalPlayer quickly lost more than 40% of its value as a chorus of sell recommendations rang out from Wall Street.
Now that the stock is trading for less than 1.4 times cash on hand (with no debt), and less than 10 times expected earnings, you'd think that at least one insider would believe it's time to buy. Not only has that not happened, CEO Gary Johnson and COO Sanjeev Kumar haven't even bothered to suspend their longtime 10b5-1 plans, which lay out terms for them to automatically sell shares.
PR flacks often try to deflect concerns about sales generated by 10b5-1 plans by arguing that because they're automatic, they somehow don't count. A Bronx cheer to that. These 10b5-1 plans are easily (too easily, in my opinion) modified and suspended, with no repercussions. Everybody involved with these abused plans knows this. So the fact that execs aren't pausing their plans after their shares have headed very far south is not out of some fiduciary duty. More likely, they keep selling, because they still believe the current price is attractive relative to what they expect it to be in the near future.
I can't say for certain whether all the stocks I've mentioned in this column will fall farther. There undoubtedly will be some winners in the bunch. But in my experience, stocks with this combination of negative insider activity and price action are more likely to underperform the indices in the near future than beat them.
Jonathan Moreland is director of research and publisher of the weekly publication InsiderInsights, founder of the Web site InsiderInsights.com and the director of research at Insider Asset Management LLC. Under no circumstances does the information in this column represent a recommendation to buy or sell stocks. While he cannot provide investment advice or recommendations, Moreland appreciates your feedback;
to send him an email.