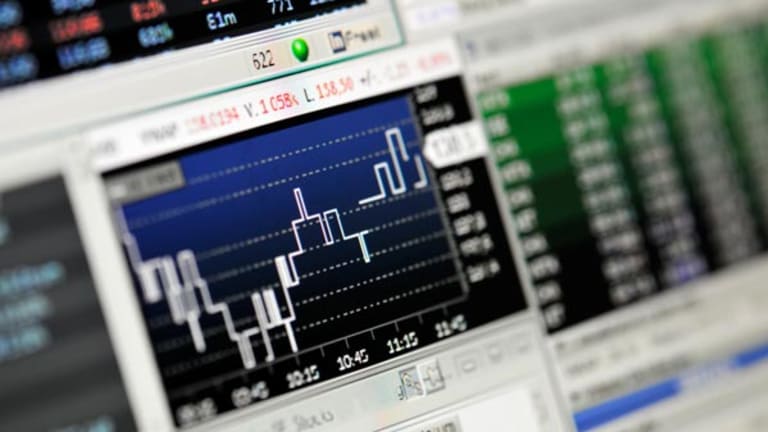 Where Oil May Head From Here
Check out the charts for clues on oil's direction.
This column was originally published on RealMoney on Feb. 13 at 8:44 a.m. EST. It's being republished as a bonus for TheStreet.com readers. For more information about subscribing to RealMoney, please click here.
It certainly didn't take long for the bears to come out.
Yesterday was pretty dull, and many stocks saw little selling pressure. But that didn't matter to folks, as the put/call ratio shot up to 118%. Even Friday's big decline didn't produce such a high put/call reading. In fact, I even heard someone say that Friday's reading was skewed because of a big options trade in one stock. So people were clearly more bearish Monday than they were on Friday. Typical.
Here's my observation about Monday's downside: It wasn't necessarily the momentum stocks that got whacked, but rather the high-priced stocks. This indicates that it was probably fast money taking profits or, more likely, daytrader-types looking to make a quick few bucks, so they played the short side in the high-priced names that move in big increments.
Sure, there was selling in the oil patch, but even that wasn't so pervasive, especially when you see how much oil was down. Speaking of oil, my inbox is filled with reader emails asking about it.
I think I get as many questions about oil and oil stocks these days as I used to get about tech stocks. Of course, I still get asked about tech stocks, but oddly enough, everyone seems more concerned about oil than the head-and-shoulders top in the
Philadelphia Stock Exchange Semiconductor
index, or SOX!
As for oil, when last we
discussed it a few weeks ago, I called the move off $50 an oversold rally. At the time, I believed oil was way overdue for an oversold rally, and that's precisely what that bounce was.
I also thought then, as I do now, that the decline that comes from the oversold rally is what we need to watch. What sort of momentum does it have? Let's begin by taking a look at the daily chart.
I've drawn in the very obvious uptrend line. I would love that uptrend line to break. Why? It would shake out all those late longs and serve to get rid of the weak hands.
If it breaks that uptrend line, which comes in around 56, can't you see the way people would panic? But that is a steep uptrend line, and steep uptrend lines were made to be broken. Remember the general rule: The flatter the line, the better the line -- and therefore, the more important the line. The steeper the line, the more likely it is to break and be meaningless.
But now let's consider another possibility for oil. I've drawn in a potential "What if we break that uptrend line?" scenario. In other words, what if oil breaks the line and then just begins to ride it back up? Wouldn't that just drive everyone nuts?
There are a ton of possibilities. Maybe oil will break the line and then make a sort of double-bottom at 50. Or maybe it will break 50 and go to 46 -- the target everyone seemed to have before buying into the rally. If that move to 46 occurs, it will really shake folks out and then turn out to be the head of a head-and-shoulders bottom!
I can create a zillion scenarios for oil (including that it will turn around and rally $2 today!), so let's look at the weekly chart for more clues.
From the weekly chart, you can see why my first discussion was a break of 56 that shakes out the late longs. A move down to that 55 area would break that short-term uptrend line and shake out the weak or late longs. But wouldn't 55 be a 50% retracement of the recent move from 50 to 60? And wouldn't a move to 55 give us the right shoulder of a small head-and-shoulders bottom?
I don't know exactly how this will play out. However, I do believe momentum will subside on this move down. When you look at that weekly chart, you can see which scenario I'm leaning toward. That's a break of the short-term uptrend line that shakes out weak holders and gives us something in the 50% retracement area and, along with that, the right shoulder of a head-and-shoulders bottom.
Overbought/Oversold Oscillators
For more explanation of these indicators, check out The Chartist's
primer.
At the time of publication, Meisler had no positions in the stocks mentioned, although holdings can change at any time.
Helene Meisler writes a daily technical analysis column and TheStreet.com Top Stocks. For more information,
. Meisler trained at several Wall Street firms, including Goldman Sachs and SG Cowen, and has worked with the equity trading department at Cargill. Under no circumstances does the information in this column represent a recommendation to buy or sell stocks. She appreciates your feedback;
to send her an email.