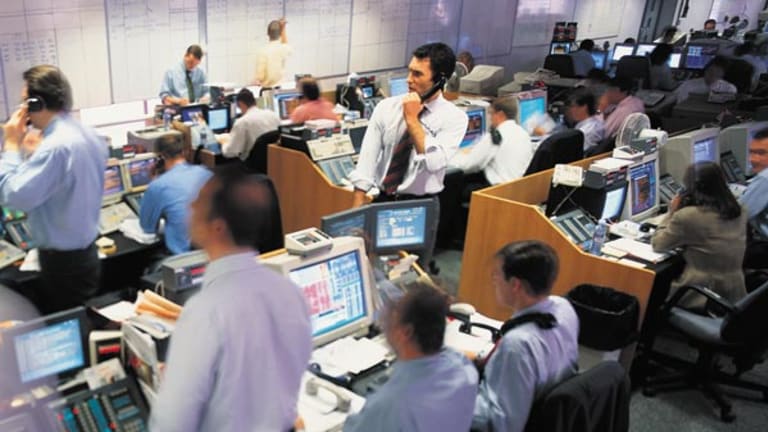 What the Insider Crowd's Buying
This group sates its urge to buy with energy stocks and high-yielders, including mortgage REITs.
This column was originally published on RealMoney on May 31 at 8:25 a.m. EDT. It's being republished as a bonus for TheStreet.com readers.
Although I am officially on a "sell" signal now and am primarily in cash, I admit to being a bit more impressed this week with the very large number of companies whose insiders are already indicating value during this selloff. I'm not ready to pounce myself, but if you are intent on trying to bottom-feed at this time, you might as well start by looking at what insiders are buying.
When I look at insider trends, I don't just tally the numbers from the raw data. I sort through the filings and assess whether I consider the activity significant. I have various systems to help score the data, but in the end, it comes down to actually pulling up the insider histories of the companies and individual executives to help analyze the actions.
There's just no substitute for eyes-on investigation, and I find that I get much better insight into trends when I stay focused on the higher-quality information that I derive from such analysis.
As I sorted through three weeks' worth of data this holiday weekend, two buying trends stood above the rest: energy and high yields.
Energetic Buying
The energy sector continues to garner support from its executives, indicating that relief from high oil and gas prices is not likely in the near future. I reiterated that a few of my longer-term energy plays looked buyable on
May 19. It's good to see that general call confirmed by insiders yet again. There are also some newer names to choose from in the recent data, including exploration-and-production firms:
All of these stocks are off their recent highs by 9% to 40% and are arguably fine long candidates for anyone willing to think beyond the correction we seem to be in the midst of.
In fact, I believe anyone with any money in the market should have some exposure to the energy sector.
I am actually overweighted energy myself. There's a saying that it's better to light a candle than curse the darkness. Seems to me that it's also better to own some energy stocks than to complain about high prices at the pump.
Yielding to Insiders
The most pronounced trend in recent insider buying, however, crosses industry lines and probably will surprise quite a few investors. Nearly a quarter of the 107 companies that made it through my initial screens for significant buying over the past three weeks have an indicated yield of 3.2% or more!
Considering that concern about rising interest rates is viewed as a major cause of the recent selloff, it seems counterintuitive for executives to be so obviously leaning toward higher-yielding securities. After all, these stocks will be hurt if higher-yielding bonds start to compete for the attention of income investors. Yet the trend is very clear.
Now, I am not ready to read into this trend that some group of yield-purchasing execs "knows" that the
Fed
will pause in its raising regimen when it next meets. I don't even believe the Fed governors know what specific economic data they will be dealing with weeks from now when it comes time to make their decision.
But I am ready to read into the buying that the yields of the securities purchased are almost certainly sustainable. And considering the very high yields of some of these securities, they do look pretty attractive right here and now.
Mortgage Mania
The sector most heavily represented in the high-yielding group may also surprise you: mortgage REITs. If the sky hovering over the real-estate market is indeed about to fall, Chicken Little forgot to visit the executive suites at these firms. Of course, the stocks in this sector already took a huge hit late last year when a flat and inverting yield curve ruined the carry trade that many of these REITs depended on to make money in their investment portfolios. Perhaps what insiders are signaling now is simply that the worst is over.
Luminent
( LUM) was one of the hardest-hit mortgage REITs. As its indicated yield fell because of disappointing earnings, its share price collapsed by more than 40% last August and September. Insiders bought in last November and already have seen those bets pay off. Their continued buying now seems to indicate that more capital appreciation is likely, which is the real reason to buy Luminent because its indicated yield remains a relatively paltry 2.2%.
But not every mortgage REIT had such a harsh decline in its payout, yet saw shares suffer anyway. This seems to have made yields in these names too tempting for insiders to ignore. The higher-yielding insider-buying candidates in this sector include:
Northstar Realty Finance (NRF) , with an indicated yield of 11.0%.
Deerfield Triarc Capital( DFR), 11.1%
Newcastle Investment (NCT) , 10.7%
JER Investors Trust( JRT), 6.3%
Affordable Residential Communities (ARC) - Get Free Report, 7.1%
Also represented in the buying-the-yield trend are good ol' energy master limited partnerships (MLPs). The two that caught my eye in the recent data were
Inergy
(NRGY)
and
Martin Midstream
(MMLP) - Get Free Report
. They are expected to yield 8.3% and 8.0%, respectively, but I think their prospects for organic growth argue for some capital appreciation as well.
MLPs generally store and transport oil and gas through extensive pipeline assets (the so-called "midstream" of the energy sector) and are organized to distribute most of their net income to unit holders. They have been safe bets in the recent past, and judging from insider sentiment, they should do just fine in the near future as well.
P.S. from TheStreet.com Editor-in-Chief, Dave Morrow:
It's always been my opinion that it pays to have more -- not fewer -- expert market views and analyses when you're making investing or trading decisions. That's why I recommend you take advantage of our
to TheStreet.com's
RealMoney
premium Web site, where you'll get in-depth commentary
and
money-making strategies from over 50 Wall Street pros, including Jim Cramer. Take my advice --
Please note that due to factors including low market capitalization and/or insufficient public float, we consider MMR, MWP, LUM, NRF, JRT, ARC and MMLP to be small-cap stocks. You should be aware that such stocks are subject to more risk than stocks of larger companies, including greater volatility, lower liquidity and less publicly available information, and that postings such as this one can have an effect on their stock prices.
At the time of publication, Moreland was long MMLP, NRGY, GDP and NRF, although holdings can change at any time.
Jonathan Moreland is director of research and publisher of the weekly publication InsiderInsights, founder of the Web site InsiderInsights.com and the director of research at Insider Asset Management LLC. Under no circumstances does the information in this column represent a recommendation to buy or sell stocks. While he cannot provide investment advice or recommendations, Moreland appreciates your feedback;
to send him an email.