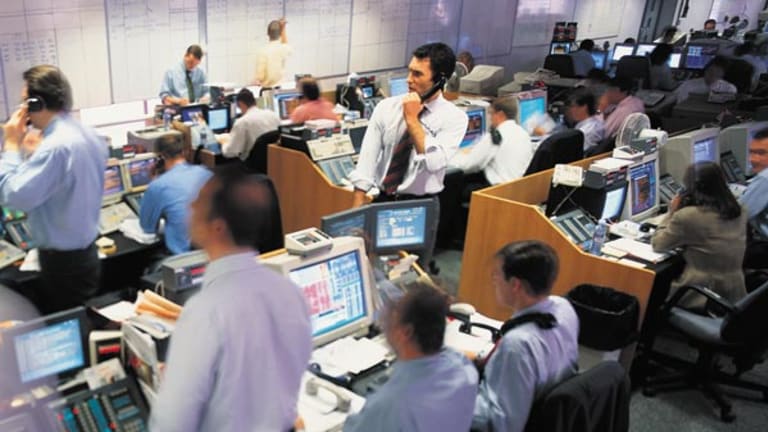 What Palm Needs to Do Next
Its new deal doesn't change the huge R&D challenge it faces.
This column was originally published on RealMoney on June 4 at 3:08 p.m. EDT. It's being republished as a bonus for TheStreet.com readers. For more information about subscribing to RealMoney, please click here.
Palm
(PALM)
faces a short list of product-development challenges at the moment that illuminate the likelihood of its making a successful turnaround. Projected probability of such a turnaround is closer to none than slim, even with the fresh private equity backing announced this morning.
The Smartphone Landscape
Palm used to be competitive during an era when global sales of personal digital assistants, or PDAs, were in the 10 million to 15 million unit range and the Palm OS was a unique selling point. In 2007, smartphones are snuffing out PDAs as a separate product category; this category describes mobile phones equipped with an operating system capable of running sophisticated applications.
Smartphone sales in 2007 are going to be roughly 100 million units. The Palm operating system has become effectively obsolete and the company is now forced to compete on hardware.
Major Palm rivals now comprise Symbian, Windows and Linux OS models from
Nokia
(NOK) - Get Nokia Corporation Sponsored American Depositary Shares Report
,
Motorola
(MOT)
,
Samsung
and Sony Ericsson (the joint effort of
Sony
undefined
and
Ericsson
, in case you weren't sure). The smartphone market, once defined by Nokia, has seen a recent influx of successful models from Samsung and Motorola. Add to that
Research In Motion's
(RIMM)
Blackberries and
Apple's
(AAPL) - Get Apple Inc. Report
iPhone and you get about half-dozen vendors splintering a smartphone market into several sizeable chunks.
The major niches are:
Nokia: megaphones featuring 5 megapixel cameras, WiFi, GPS, and/or a gigabyte or more of internal memory;
Sony Ericsson: touch-screen focus;
Samsung and Motorola: somewhat lighter features in 10 mm to 12 mm thick miniature package weighing 115 grams or less;
Research In Motion: email phone expertise; and
Apple: high-end multimedia device focusing on music and photos
The smartphone market is going 3G globally in 2007. The last 2G holdouts in affluent markets,
AT&T
and T-Mobile, are finally transitioning to W-CDMA models by the end of 2007. Apple's iPhone is the last notable high-end smartphone launching without 3G support. It will mop up the North American customers not demanding 3G in their smartphones.
Consumers in Europe and most Asian markets already demand not only 3G, but increasingly ask for GPS and/or WiFi in their smartphones. Lacking that, they want smartphones slimmer than 12 mm.
To succeed, a vendor has to find a niche where it leads in some feature/size/performance category. And that is a nightmare for Palm, a hothouse flower that has never shown an ability to integrate new features rapidly and push prices down at the same time.
Hardware Horror
Palm's hardware trouble is succinctly summarized by the Treo 750, a spectacularly uncompetitive 3G device that started selling widely in Europe last February. This is probably the best Palm is offering this summer, and the performance gap between it and the rest of the field is turning into a yawning abyss right around the third quarter. Palm may launch a more advanced model for the third quarter, but this is unlikely. It simply has to do something drastic by the fourth quarter.
How much improvement is needed is spelled out in the atrocious Treo 750 specs:
Display: 240x240 pixels and 65,000 colors. The benchmark is 240x320 pixels and either 256,000 (Sony Ericsson) or 16 million (Nokia, Apple) colors.
Weight and thickness: 154 grams and 22 mm. The benchmark is 105-115 grams and 12 mm (Motorola and Samsung).
Camera: 1.3 megapixels. The benchmark is 2-3 megapixels (Samsung, Sony Ericsson, Apple, Motorola) to 5 megapixels (Nokia).
Extras: 3G plus HSDPA support (a boost for 3G data transmission speeds). The benchmark is 3G and WiFi (Samsung, Sony Ericsson) to 3G, HSDPA, WiFi, GPS, 1 GB or more of internal memory (Nokia).
No device needs to hit all the benchmarks in order to be successful. Motorola and Samsung have just 65,000 color displays, but they offset that by offering spectacularly thin devices. Some of Nokia's key smartphones for 2007 weigh 120-140 grams but pack in everything from cutting-edge displays to WiFi. And so forth.
Palm is missing every single benchmark by a generation or so. It can't compete on size or display quality or camera quality or WiFi/GPS. The company needs to improve display, camera, processing power, WiFi and GPS functionality while shaving device weight and thickness by 20% to 40%.
It needs to accomplish this while even smaller rival vendors from Sony Ericsson to Samsung race to ramp up their flagship smartphone volumes to the multi-million unit range by end of the year. Nokia's lead models will hit targets between 3 million and 5 million unit by then, and associated price cuts may be substantial by the fourth quarter.
Palm has effectively skipped the entire year 2007 generation of smartphones. It needs to hit a whole new feature level in 2008, probably including things such as
feedback, a new level of video camera performance, motion control, etc. -- all while making up the ground it has lost.
And what is the company doing? Focusing on launching a 2.5 pound miniature laptop. This smacks of desperation.
No Angel
So does selling just a 25% stake in the firm.
I like Bono;
Joshua Tree
used to be one of my favorite albums. But Elevation Partners, the private equity group he helped launch, only made its first deal in November 2005. It is the very definition of a greenhorn.
Palm obviously would have preferred a full buyout by an experienced fund or a major phone vendor. The fact that the company was unable to land a buyer even in the current superheated M&A environment is revealing.
Elevation Partners is probably a better fit for Palm than a fund spearheaded by Taylor Dayne or the Beastie Boys. But a few hundred million dollars and an Apple guru will not change the scale of the R&D challenge the company faces.
The March takeover speculation took Palm shares over $19. This new deal couldn't boost the stock even to $18. The takeover speculation is now bound to dwindle -- and Palm's price-to-earnings ratio topping 25 will be a burden when people start scaling back the 2008 estimates later this year. I find it hard to see how Palm can grow its 2008 earnings by even a cent. The rapidly aging old product line will be a heavy burden to bear even if one new winter model is competitive.
At time of publication, Kuittinen had no positions in any of the stocks mentioned in this column, although holdings can change at any time.
Tero Kuittinen is managing director and senior analyst for Avian Securities, a brokerage firm specializing in technology companies. Although Kuittinen is an employee of Avian Securities the statements above are being made in Kuittinen's personal capacity and are in no way are the statements of Avian Securities, nor attributable to the company. Under no circumstances does the information in this column represent a recommendation to buy or sell stocks. Kuittinen appreciates your feedback;
to send an email.