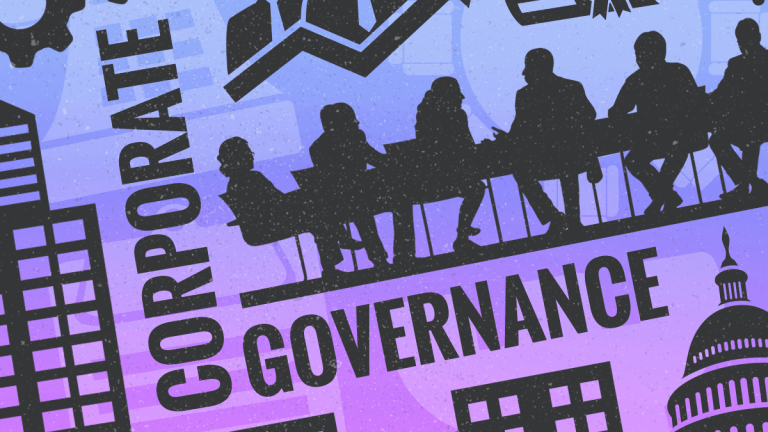 Corporate Governance: What Does It Mean?
How are corporations run? Here's a primer on how boards, executives and bylaws work.
For a business to successfully achieve any of their goals and remain a trustworthy company to invest in for current and prospective shareholders alike, a system needs to be in place that shows that things are running smoothly and in accordance with the law. That is where corporate governance comes into play.
What is corporate governance, and how can it differ from company to company?
What is Corporate Governance?
Corporate governance is the system of rules and structures by which a corporation is run. It is typically a concern for publicly held companies rather than private ones.
A typical governance structure involves a board of directors and executive officers, with responsibility split between enterprise-level and operational functions respectively. Modern corporate governance is built to ensure that the organization meets its fiduciary and legal duties to all stakeholders, including shareholders and government regulators. This typically means splitting up lines of authority from oversight, and managing conflicts of interest.
Corporate governance is a relatively new field. As Harvard's Guhan Subramanian writes, "the field as we now know it emerged only in the 1970s. Achieving best practices has been hindered by a patchwork system of regulation, a mix of public and private policy makers, and the lack of an accepted metric for determining what constitutes successful corporate governance."
What Are the Elements of Corporate Governance?
While best practices are still emerging, corporate governance has a few key elements.
1. Shareholders
Shareholders don't play a direct role in corporate governance but they have a vested interest in its outcome.
The indirect role that shareholders play is that of gatekeepers. In most organizations they vote for members of the board of directors and, when necessary, they appoint corporate auditors.
Further, their interests guide much of corporate governance in practice. A corporation has what is known as a fiduciary duty to its shareholders. The full details of fiduciary duty fill volumes and are the subject of frequent debate, but at its core the fiduciary duty means that a board of directors can't lie, cheat or enrich itself at the expense of shareholders. (You can read more here.)
2. Board of Directors
The board of directors, as noted above, makes corporation-wide decisions. This includes choosing executives and setting their compensation, major strategic initiatives and changing ownership structures.
The details of a board's role can change depending on both the organization and circumstances. While a board of directors may not get involved in social media strategy, for example, it might meet in response to a perceived crisis of the brand.
A typical board of directors is assembled from a combination of shareholders, corporate executives and high-status third parties unrelated to the corporation. This is intended to give a diversity of interests and opinions, however, one of the weaknesses to this model is that most (if not all) members of most boards end up shareholders and can therefore enrich themselves based on how they choose to dispose of the company.
3. Executives
Officers of the corporation are responsible for daily operation and ensuring that the decisions of the board are faithfully executed. Typical executive roles include the Chief Executive Officer, Chief Financial Officer, President, Vice President and other similarly situated personnel. Not every firm will have every common executive position and others will combine some into one. (It's common, for example, for the same person to hold both the position of President and CEO.)
Note that executives are distinct from management. As the terms are commonly used, management refers to individuals who oversee the activity of individual employees. They are responsible for specific projects, departments and deliverables.
Executives have an enterprise-wide perspective. While an executive may have a specific role, such as technology (as with a CTO) or finance (as with a CFO), they oversee that role corporation-wide.
Governance Documents
The specific documents of corporate governance vary from firm to firm. Some corporations may adopt environmental policies, whistleblower policies and codes of conduct, among other possible documents. Any document formally adopted by the corporation as part of its operating structure is a corporate governance document. However, a few documents are standard:
1. Bylaws
Bylaws set the rules for corporate management. The typical corporate bylaws document establishes the various executive positions, along with duties and responsibilities. It clarifies the role of shareholders in running the corporation and their voting rights. Finally, unless established in a separate document, the bylaws typically set the rights, role and responsibilities for the Board of Directors.
2. Articles of Incorporation
Not technically a form of corporate governance, many firms will list articles of incorporation among their corporate governance documents. Articles of incorporation are the papers that a corporation files when incorporating as a business. They specify details such as state of incorporation, share issuance, initial directors and officers, and registered agents. Some articles of incorporation may also include management instructions and details on how to structure executive positions and the Board of Directors.
3. Corporate Governance Guidelines
Corporate governance guidelines may often mimic the corporate bylaws. In some cases the firm may simply rename its bylaws as governance guidelines.
This document can expand well beyond the typical organizational structure of corporate bylaws. Governance guidelines can include any instructions that the corporation adopts for its management, values, operation or strategy. This could include, for example, provisions on social responsibility, ethics, political concerns or environmental issues.
Corporate Governance Development
As Subramanian notes in the article cited above, corporate governance is a relatively new field of management study. However, in a brief period of time it has become essential to modern business practices.
State and federal laws have established several compliance requirements related to corporate governance, typically built around transparency and conflicts of interest. The latter has become an increasingly important issue in recent years, as regulators have taken an increasingly close look at the practice of boards using leveraged buyouts to enrich themselves at the expense of the corporation.
In addition, both the New York Stock Exchange and NASDAQ have corporate governance rules. These are known as exchange listing rules and, given the reach of these two markets, effectively have the force of law over publicly traded corporations.