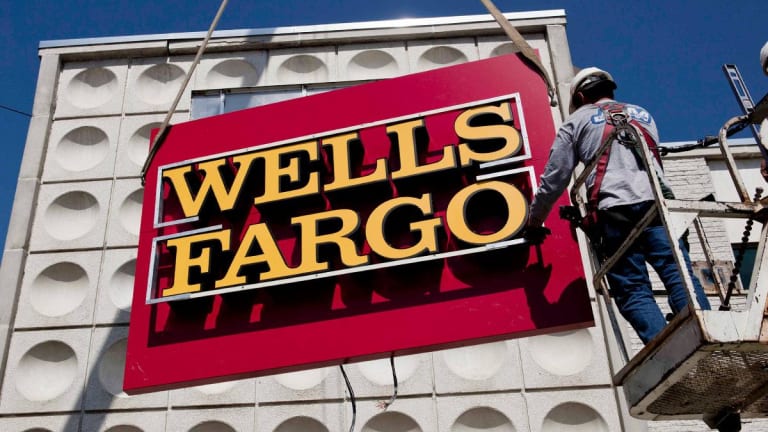 Scandal-Plagued Wells Fargo Skimps on Travel, Postage to Boost Profit
The scandal-plagued U.S. bank, under strict sanctions from the Federal Reserve, just lost its second CEO in four years, following a grilling from lawmakers in Washington. But executives managed to top first-quarter earnings estimates by cutting costs.
Wells Fargo  (WFC) - Get Report , the scandal-ridden U.S. bank, said first-quarter profit climbed by 14% from a year earlier, topping Wall Street estimates. 
Net income rose to $5.86 billion, the San Francisco-based lender said Friday in a statement. Earnings per share were $1.20, above the average analyst forecast of $1.11 in a survey by the data provider FactSet.
Wells Fargo's profit has been hampered over the past year following the Federal Reserve's imposition of a cap on the lender's assets, at about $2 trillion, as a result of a series of scandals over alleged customer abuses.
The bank's shares fell 0.8% to $47.40, even as rival lenders JPMorgan Chase (JPM) - Get Report and Bank of America (BAC) - Get Report gained, after Wells Fargo Chief Financial Officer John Shrewsberry told investors on a conference call that net lending revenue, one of the biggest earnings drivers, might drop this year.
He cited a potential increase in deposit rates, the sale of loans with high interest rates and the current state of U.S. markets, featuring a reduced gap between yields on short-term and long-term bonds. Since banks often rely on bond markets as a gauge for pricing loans and deposits, the result could be a smaller lending margin.
The factors look "a little bit softer," Shrewsberry said. 
It doesn't help that the bank's loan growth is hampered by the Fed sanctions.
The bank's executives have had to find creative ways to shrink some assets in order to free up room on the balance sheet for new loans to customers. Those efforts took place even as the executives strove to comply with regulators' stiff demands and faced harsh grillings from federal lawmakers in Washington.
Tim Sloan, who took over as Wells Fargo CEO following the late-2016 departure of predecessor John Stumpf, stepped down last month in a surprise move, leaving former general counsel Allen Parker as interim CEO. 
Wells Fargo's board, led by Chair Betsy Duke, a former Federal Reserve governor, has said it will look outside of its current workforce for a new leader. And executives recently acknowledged that the Fed sanctions likely will remain in place at least through this year -- far longer than previously estimated. 
"We have more work ahead of us, and our strong leadership team is dedicated to making our company the most customer-focused, efficient, and innovative Wells Fargo ever," Parker said in the statement. 
Parker said on the conference call that he isn't involved in the search for a permanent CEO, and that as a result he doesn't "have any insight" into the board's search criteria or timeline for a decision.
He did say, however, that the board appears more focused on "quality" than "speed."
Parker said he had met with Wells Fargo's banking regulators earlier this week in Washington and assured them that the bank would bring a "greater level of urgency and seriousness" to address the federal concerns.
Erica Najarian, an analyst at Bank of America, said she expects there to be an "air pocket in the stock until a new leader is in place."   
The bank gained in the quarter from $297 million of income-tax benefits, "related mostly to the results of U.S. federal and state income-tax examinations and the accounting for stock compensation." The benefits helped reduce the lender's effective corporate tax rate to 13.7%, well below the official U.S. rate of 21%. 
Wells Fargo said it expects an effective rate of about 18% over the remainder of this year. 
According to Ken Usdin, an analyst with the brokerage firm Jefferies, the lender also benefited from several one-off gains, including $608 million from the sale of mortgages, $148 million from the sale of a business and $125 million from securities.
Excluding the unusual items, according to Usdin, Wells Fargo would have reported earnings of 97 cents a share -- missing estimates.
Total assets held steady compared with fourth-quarter levels, at $1.89 trillion.
Among those assets, the bank reduced commercial loans by $1.2 billion, and consumer loans dropped by $3.7 billion.
And in a move that helped to prevent total assets from rising toward the $2 trillion limit, Wells Fargo cut its cash holdings by 14% to $149 billion.   
In a slideshow released by the bank, executives highlighted their efforts to cut costs -- including a $48 million decrease from "lower travel and entertainment expenses" as well as "lower postage, stationary and supplies expense."
Every stamp counts.