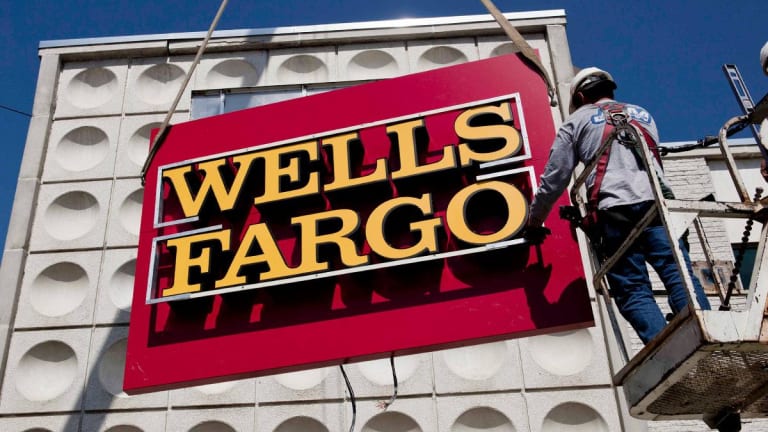 Wells Fargo CEO Sloan Faces Lashing in Congress - From a New Tormentor
Wells Fargo CEO Tim Sloan is scheduled to appear Tuesday before the U.S. House of Representatives' Financial Services Committee for the first time since Democrats, who are typically more critical of big banks than Republicans, took control of the chamber in last November's elections. The panel is led by Congresswoman Maxine Waters of Southern California, where some of Wells Fargo's recent scandals originated.
Move over, Elizabeth Warren -- it's time for someone else to take a turn bashing beleaguered U.S. bank Wells Fargo  (WFC) .
The Democratic U.S. senator and presidential candidate from Massachusetts has used her perch since at least October 2017 to call for the dismissal of Wells Fargo CEO Tim Sloan, who worked at the San Francisco-based bank for three decades as a series of scandals unfolded that have now cost more than $4.5 billion in settlements and forgone revenue.
On Tuesday, Sloan is scheduled to return to Washington for a congressional hearing -- this time before the U.S. House of Representatives' Financial Services Committee, which oversees regulation of the nation's banks. It will be the first hearing on Wells Fargo's scandals since Congresswoman Maxine Waters took over as the panel's head, following the Democratic takeover of the House in last November's elections. The hearing begins at 10 a.m. ET.
Waters represents a district in Southern California where many of Wells Fargo's alleged abusive sales practices originated. In fact, the original scandal that led Wells Fargo's troubles to unravel -- allegations that bank officers opened millions of unauthorized accounts in customers' names after coming under extreme pressure from top management to hit aggressive sales goals -- was originally reported by her hometown newspaper, the Los Angeles Times. 
In 2016, when former Wells Fargo CEO John Stumpf appeared before the House Financial Services Committee, Waters said she had come to the conclusion that the $2 trillion-asset bank should be broken up.    
Shortly afterward, Stumpf stepped down under pressure from the board and shareholders, leading to Sloan's appointment. The bank is still intact, but a year ago the Federal Reserve ordered Wells Fargo to refrain from further asset growth until it overhauled risk management and corporate oversight. The bank has since replaced several directors who failed to prevent the improper sales practices.
In fact, the oversight provided by executives and the bank's board was so bad that Wells Fargo recently reached a legal agreement under which it will receive $240 million back from its insurance carriers to resolve breach-of-duty claims. 
And Sloan announced in January that the Federal Reserve sanctions would likely remain in place at least through the rest of 2019; initially, executives had predicted they could wrap up the case by the end of last year. 
Yet Sloan has endured, despite a series of tweets from Warren in January in which she said his "hands are too dirty from overseeing years of scams and scandals."
In prepared remarks submitted to the House panel ahead of Tuesday's hearing, Sloan said Wells Fargo has undergone a "transformation" under his leadership and "gone above and beyond what is required in disclosing these issues in our public filings." 
"We have worked to remedy these issues and, most importantly, we have worked to address root causes that allowed them to occur in the first place," Sloan said in the prepared remarks, which were posted on the bank's website.  
For her part, Waters tweeted late Monday that she "will be confronting Wells Fargo" at the hearing.
"It's time for change," she tweeted. "#ConsumersFirst." 
Sloan will likely have a hard time winning this hearing. But he could easily lose.