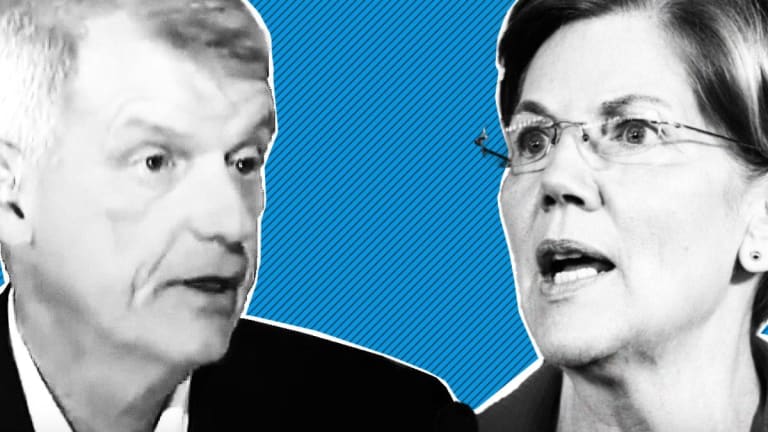 Wells Fargo CEO's Retirement Placates a Senator - and Grumpy Investors
The retirement of Wells Fargo chief executive Tim Sloan could help give the scandal-plagued bank a clean slate after sanctions from regulators, attacks from lawmakers and growing shareholder dismay.
"About damn time."
That's how U.S. Sen. Elizabeth Warren, a Democrat of Massachusetts, reacted on Twitter to the news Tim Sloan was retiring as chief executive of scandal-plagued Wells Fargo & Co. (WFC) - Get Wells Fargo & Company Report . She's been calling for him to go since last year.
But the comment also may sum up the gnawing feelings of a growing number of stock analysts and shareholders toward the San Francisco-based bank's top management: It's time for a change. 
Wells Fargo shares jumped 2.7% in after-hours trading following the announcement in a press release late Thursday, indicating Wall Street investors were also pleased by the move.
Sloan's departure is an "opportunity for Wells Fargo to distance itself from its past business practices," said Fitch Ratings, the bond-rating firm, in a press statement about the news.
"This change is long overdue," said Dave Hendler, principal at the bank-analysis firm Viola Risk Advisors in Montebello, New York. "He was part of the problem, and he tried to be part of the solution, but if you're part of the problem, you can't be part of the solution."
Wells Fargo's board of directors will now conduct an external search for candidates, according to the bank's press release. General Counsel Allen Parker will serve as interim CEO until a replacement is found.
The decision to recruit from outside the current slate of top managers could provide cover for a future chief executive from accusations that have haunted Sloan since he took over in 2016: Namely, that he was tainted by his long tenure in the management team that failed to prevent the series of scandals.
Elevated fines and legal settlements have cost shareholders more than $4.5 billion in penalties and forgone revenue in recent years, based on a tally by TheStreet.  
"The Board has concluded that seeking someone from the outside is the most effective way to complete the transformation at Wells Fargo," Betsy Duke, chair of the bank's board, said in the press statement.  
Sloan, a 31-year veteran of the bank, had served in top roles including chief operating officer, head of wholesale banking and chief financial officer. 
He was named to the top job in late 2016 when former CEO John Stumpf stepped down under pressure, just weeks after enduring a harsh grilling from Warren on a live-televised Senate hearing.   
Initially, Wells Fargo faced accusations from the Consumer Financial Protection Bureau and other regulators that employees had opened millions of unauthorized accounts in the names of customers, to meet aggressive sales targets set by top management.
But the bank was subsequently hit with multiple additional allegations, including complaints that it erroneously charged some 490,000 auto-loan customers for insurance they didn't need.   
A year ago, the Federal Reserve imposed sanctions on Wells Fargo, ordering the bank to refrain from further asset growth until it made major improvements in risk management and corporate oversight.
Now led by Duke, a former Fed governor, the board of directors has replaced many of its members who served before the scandals unfolded. 
With Sloan in charge, however, the bank had continued to face attacks from Warren and other lawmakers, including U.S. Rep. Maxine Waters, a Democrat of New York, who recently took over leadership of the House Financial Services Committee following the chamber's Democratic takeover in last November's elections.
As recently as September, Duke insisted that Sloan had the unanimous support of the board of directors.   
But Warren repeatedly used her pulpit as a member of the Senate Banking Committee to harangue Fed Chairman Jerome Powell over the central bank's oversight of Wells Fargo.
According to Hendler, shareholders had soured on Sloan as negative headlines continued to emerge relating to new complaints, more congressional hearings, swelling legal costs and, more recently, an acknowledgment that the Fed sanctions would remain in place at least through this year -- far longer than previously expected.  
Wells Fargo is one of the world's biggest banks, with $2 trillion of assets, and is considered by regulators to be "systemically significant," meaning that its failure has the potential to cause a financial crisis. Regulators usually like to see steady CEO transitions atop the biggest banks, to prevent even the suggestion of chaos.
But the Wells Fargo board's lack of a ready, permanent replacement for Sloan signals that the final decision may have come abruptly, according to Hendler.
"It doesn't look smooth and professionally managed," the analyst said. 
Since Sept. 8, 2016, when the CFPB and other regulators announced $185 million in penalties against the bank, Wells Fargo has delivered a total shareholder return including dividends of just 2.2%.
During that time, rival banks JPMorgan Chase & Co. (JPM) - Get JP Morgan Chase & Co. Report and Bank of America Corp. (BAC) - Get Bank of America Corporation Report  each delivered returns of 20% or more. 
Dick Bove, a bank analyst at Odeon Capital, said Sloan was doing most of the right things as CEO, under the circumstances. 
"He did take a very aggressive stance in trying to put Wells Fargo together again," Bove said. "He consolidated certain businesses, he ended certain practices, he tried to institute a new culture in the company, and he tried to meet all the demands that the regulators put forth."
In the end, though, the board appears to have opted for a fresh start, especially in the face of the continual drubbings from lawmakers like Warren and Waters, Bove said. 
"They gave Tim Sloan up," he said. "They just couldn't take this continual pressure."
Based on the stock's reaction, shareholders might be relieved too.