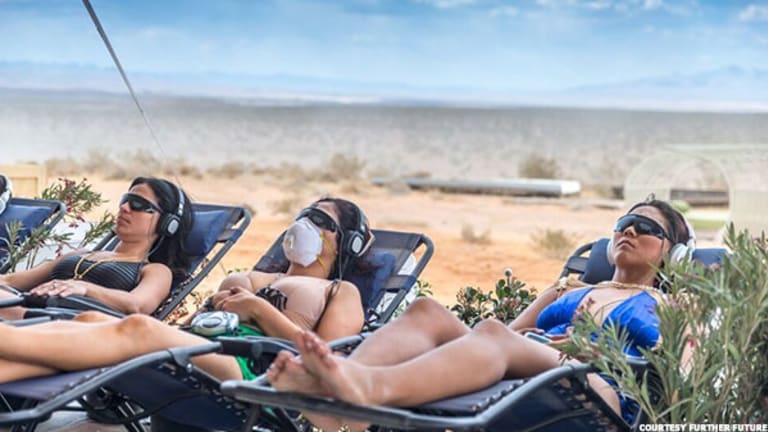 Wellness Festivals: The Latest Way to Get Healthy, Hear Great Music and Connect Socially
Move over Coachella and Burning Man, there's a new kind of festival gaining popularity.
Editors' Pick: Originally published March 23.
The setting is an Indian reservation about 50 miles northeast of Las Vegas, a backdrop that under any other circumstances might feel like a distant, western cousin to the famous upstate New York field that hosted the Woodstock music festival in 1969.
Except this is 2016, not 1969. And this is a new kind of festival transforming the landscape.
Instead of merely focusing on peace, love and rock and roll (although all of those elements are present in some form), the festival offerings have broadened to include technology enhanced wellness experiences, IV drips, consciousness hacking and luxury spa treatments.
Accommodations for festivalgoers, meanwhile, range from boutique camping tents outfitted with air conditioners and fine linens, to custom built lunar palaces that are 200 square-foot domes offering pure, unabashed luxury, including wooden flooring and furnishings to sleep four people.
Welcome to Further Future, just one of many new festivals that, by some accounts, are the offspring of 1960s mega events like Woodstock.
According to this year's Spafinder Wellness 365 report, wellness-oriented festivals are a growing trend. Such events embrace the massive, celebratory nature of other festivals like Coachella or Burning Man, but also allow attendees to head home rejuvenated (instead of exhausted) by offering health-centered activities in addition to, or entirely in lieu of, music, art and debauchery.
"These are festivals where you experience all kinds of wellness - yoga, paddle boarding, healthy eating, educational events," explains Beth McGroarty, research director for Spafinder Wellness Inc. "You might wake up in the morning and do yoga with 1,000 people, and spend the day learning all about healthy living and healthy life."
The single defining attribute of this growing trend is its lack of definition, says the report. The diversity and sheer number of wellness events popping up seem to offer something for everyone. There's single-day wellness gatherings, luxury wellness festivals, and new age spiritual wellness events, among many others.
To be fair, they're not all as upscale as Further Future, which the Spafinder report describes as the luxury end of the spectrum.

Further Future, which this year is April 29 through May 1, bills itself as an "elevated festival experience," one that offers a curated blend of music, innovation, wellness, gastronomy, community and lifestyle. Its aim is to create a community that connects through amazing experiences, fostering a culture of mindful optimism, wonder and exploration.
Wellness offerings are just one part of the multifaceted event, but they are a significant component.
"This is a futurist festival, and wellness features prominently because wellness should be the future," says Paula Gilovich, co-founder of The Wellness Agency, a company hired by Further Future to create the festival's wellness lineup. "We are either going to be well or we are going to tip the planet and it will be over. So the future is hopefully wellness and increasing accountability to make ourselves well and keep the planet well."
Gilovich admits her perspective may be the extreme, but her point is not lost during a time when the planet is grappling with global warming and its multiple side effects.

Or at a time when people are more connected to technology than ever before, but still feel incredibly isolated.
The Spafinder report calls this the most digitally interconnected period in history, but also the loneliest. More than two billion active social media accounts existed as of January 2015, with 300 million people sharing photos on Instagram, 284 million posting idle thoughts on Twitter, and more than a billion documenting their lives on Facebook.
At the same time, a Mental Health Foundation survey found rates of loneliness to be widespread and increasing, with people reporting fewer fulfilling personal interactions and only 22% of respondents saying they never feel lonely.
In such an environment, festivals provide person-to-person contact while also satisfying that desire to see and be seen, which keeps social media in business, says the Spafinder report.
Further Future's wellness program in particular offers attendees the opportunity to heal, detox and recharge physically and mentally. Activities include intelligent, high-touch programming, such as mindfulness journeys complemented with the latest research on the brain; exercise, yoga, and meditation paired with innovative sound and sensory experiences; functional medicine talks integrated with data; and conversations and consultations with scientists, yoga masters, medical and Ayurvedic doctors, and experts in mental acuity.
"Wellness is so much about community," says Sara Reistad-Long, co-founder of The Wellness Agency. "And a lot of the theme of the festival is, 'What does the future look like? and 'How do we bring wisdom to bear on that future?' And that's where wellness comes in."
Further Future began just two years ago and is still in the midst of its rise, considered a boutique festival that last year attracted about 1,500 attendees and this year is on target to draw about 3,000.
Wanderlust meanwhile, is the festival that nearly every conversation about the trend either begins or ends with.
Started in 2009 in Squaw Valley, Calif., with an event attended by about 2,500 people, Wanderlust now orchestrates 45 gatherings across the globe each year, attended by about 120,000 people. There is a Wanderlust everywhere from New Zealand to Argentina, Canada and Mexico, and countless places in between.
The focus of Wanderlust is yoga as a principle for living. More broadly, they're celebrations of mindful living that include yoga and meditation instructors, speakers, chefs, and of course...musicians.

The remarkable growth and success of Wanderlust is something that surprises even the festival's founder Jeff Krasno, who likes to quote golfer Bubba Watson when asked about the juggernaut they've become, saying, "I never got this far in my dreams."
"We weren't like MBAs," Krasno. "We didn't start with any official growth strategy per se. There's a lot of that now. The company has become more business minded."
In lieu of a formal business strategy, Krasno echoes a familiar idea when it comes to the expanding popularity of wellness gatherings.
"As the world become more and more digital, people are thirsting for real offline community, where they can be with people, who are choosing to be there, around a series of shared beliefs and practices," he says. "In general people are thirsting for community in offline situations."
The typical Wanderlust attendee is between 25 and 44 and 89% female, says Krasno.

The setting or backdrop for the festivals, meanwhile, tends to be large ski resorts, places where there is plenty of lodging and showers.
"Our audience tends to want to take showers," Krasno says, only partially joking, but adds on a more serious note that Wanderlust clearly has carved its own path, one that is not a hedonistic mud filled music fest, or an overly strict spiritual atmosphere either.
"There is certainly different niches within this world of festivals," he says. "For Wanderlust you don't have be particularly spiritual to walk in the door. You don't have to be an expert yoga practitioner to walk into door and you don't have to be ten years deep into a spiritual practice...I wouldn't use word mainstream to describe us. But I feel like we are more accessible. Our look and feel and design, and our brand partners are all very mainstream corporate brands. We are more accessible to the curious person."
Somewhere in between the Wanderlusts and Further Futures, or perhaps existing in a space of its own, wellness seekers will find the Bhakti Festival.
Founded by an individual who played a role in organizing Woodstock, Sridhar Silberfein's Bhakti Fest brings the trend full circle in some ways.
Silberfein was charged with developing Woodstock's spiritual elements, and as is portrayed in the director's cut of the 1970 documentary about that historic gathering, it was Silberfein who brought the famous Swami Satchitananda to the party.

Some 40 years later, Silberfein, felt inspired to launch a new festival.
His creation is Bhakti Fest, a yoga, dance and sacred music gathering designed to be a transformational experience for attendees. There is no alcohol served, there are no drugs and there's also very little of the additional fluff that many of the other festivals offer.
"A lot of the festivals that people go to are not wellness festivals," says Silberfein. "If I wanted to get drunk and stoned and pick up women, I could go down to the corner saloon. I want to go deeper and enhance my spirituality."

What Bhakti offers is world famous yoga teachers, sacred music stars, wisdom workshops, and a healing sanctuary. There are also fire ceremonies, meditation and prayer. The Healing Sanctuary meanwhile provides bodywork, energy work, intuitive readings, Shamanic healing and massages.
"We're looking for people who really want to go through a transformational experience," says Silberfein. "We are suffering so much out there in the world. We want to have a place people can come to get educated on how to treat their bodies, learn about eating the right foods and getting the right exercise."
Bhakti has grown to include three festivals annually - two in California (one of which is called Shakti Fest), and one in Northlake, Ill.

No matter what the mission or focus of a particular festival, the one fact universally agreed upon is that wellness events are here to stay.
With each passing year millennials make up a larger percentage of the consumer base. They're even on track to overshadow Baby Boomers. The attributes and interests of the millennial generation exacerbate all trends. And the wellness festival trend is no different.
When it comes to wellness, Millennials put greater emphasis than non-Millennials on ideas like meditation, massage, eating right and exercise.
The growing number of wellness events and their equally impressive audiences may indicate that wellness festivals are becoming as mainstream as music concerts and shows, says the Spafinder report.
In other words, it's only a matter of time before travel agencies and websites include sections dedicated exclusively to wellness, or perhaps a wellness events tab, somewhere between the lists of walking tours and wine tastings.
"The rise of wellness festivals makes total sense," says Dena Roche, editor of The Travel Diet
"Wellness is becoming social," she says. "And what I mean by that is people are creating their wellness tribe. And people are looking at wellness is their social outlet."