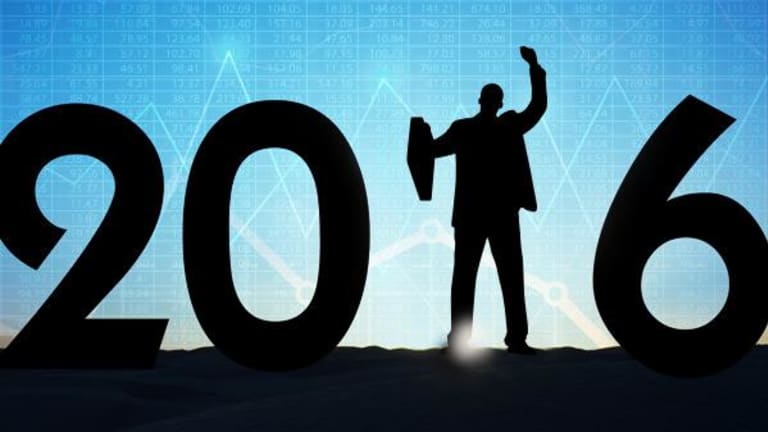 Week in Review: Trump Rally Fizzles but Stocks End 2016 With Big Gains
The post-Trump rally came to an end this week, as the Dow missed its 20,000 milestone and stocks ended lower Friday, while finishing 2016 with big gains.
Stocks closed Friday slightly lower, but posted robust gains for 2016. This may be a sign of the end of the post-Donald Trump rally, but trading volume was light and we'll have to wait until next year to get a good read on the markets.
The Dow Jones Industrial Average gained 13.5% in 2016, while the S&P 500 rose 9.4% and the Nasdaq added 7.5%.
On Friday, the last trading day of the year, the S&P 500 was down 0.46%, the Dow was 0.29% lower, and the Nasdaq was 0.90% lower. For the week the S&P 500 dropped 1.10%, the Dow lost 0.86% and the Nasdaq shed 1.46%.
The Nasdaq reached a record high at Tuesday's close, but rising consumer confidence and positive housing-market data weren't enough to push the Dow Jones Industrial Average to 20,000 by year-end. The Dow was being watched closely as it neared 20,000 after hitting an intraday high of 19,980 on Tuesday, but retreated the rest of the week. 
David Schiegoleit, U.S. Bank managing director of investments, said he doesn't want to read too much into the losses this week because the low trading volumes have been "anemic." 
"I want to see if we can get any kind of follow-through on this downward momentum here,"Schiegoleit said in a phone interview. "If that happens after the new year, I think that would kind of confirm the rally having run its course and maybe we're hitting a reset button. I do expect volumes to pick up next week and if we confirm these price levels with higher volume that will be a better sign that the market is letting off some steam." 
Of the 11 S&P 500 sectors, the top gainer for the year was energy, up almost 24%. Financials jumped over 19% and telecommunications services increased by about 18%. The health care sector was down 4.2% and the real estate sector fell almost 1%. 
There were not many tech IPOs this year, though Snap, the maker of the Snapchat app, is said to be in talks about an IPO.
The Brexit vote and the election of Donald Trump were market movers this year as investors weighed the benefits and costs of these actions. Trump's campaign promised to reduce financial regulations and cut taxes. That, combined with his Wall Street-focused Cabinet selections, moved markets further into positive territory after Nov. 8.
Markets were expecting at least two interest rate hikes by the Federal Reserve in 2017 as the economy improved. Unemployment declined and consumer confidence increased, but inflation didn't quite hit the Fed's 2% target. The Fed is now anticipating three rate hikes in 2017.
West Texas Intermediate crude oil settled down 0.1% at $53.72 a barrel on Friday and has seen an increase of 45% in 2016, the highest in seven years. Brent crude, the global benchmark, traded at $56.72, down 0.23%. This comes after the U.S. Energy Information Administration's weekly petroleum status report showed that last week crude oil inventories rose by 600,000 barrels. Crude oil prices had seen gains as investors anticipate a decrease in the global production of oil based on an earlier agreement by the Organization of Petroleum Exporting Countries, but turned negative.
The S&P Corelogic Case-Shiller 20-city home price index for October gained 0.6% from the prior month and 5.1% from a year ago, showing an improvement in the residential housing market. Housing stocks gained, with Toll Brothers (TOL) - Get Report rising 1.8% and D.R. Horton (DHI) - Get Report gaining 1.3%, following the news.
The consumer confidence index for December, meanwhile, jumped to 113.7 from 109.4, after a significant increase following the presidential election in November. The December data marks the highest confidence level since 2001.
Also on the economic calendar, the November pending home sales index declined 2.5% from the prior month, according to the National Association of Realtors. The index fell from 110 to 107.3 as prospective home buyers grapple with rising mortgage interest rates following Donald Trump's election.
Markets received the final jobless claims report of 2016 said that a seasonally adjusted 265,000 new unemployment claims were filed last week, a decrease of 10,000 from the prior week. In the previous week, 275,000 new unemployment claims were filed, according to the Department of Labor. This is the 95th consecutive week that new jobless claims have been fewer than 300,000, the longest such streak since 1970.
The U.S. Census Bureau said that the trade deficit increased to $65.3 billion in November, up 5.5% from the deficit of $61.9 billion in the prior month. The jump in the trade deficit is a sign that the the U.S. is importing more than it is exporting, with more U.S. money held overseas.
U.S. prosecutors charged three Chinese citizens with hacking into law firms to obtain confidential information on deals involving Intermune (ITMN)  and Roche; Intel (INTC) - Get Report  and Altera; and Pitney Bowes (PBI) - Get Report  and BorderFree. The hackers were said to have made $4 million in profits on trades related to about five companies.
In other markets, Italy's oldest bank, Monte dei Paschi di Siena, confirmed it would need a bailout of €8.8 billion ($9.2 billion), based on an assessment by the European Central Bank. The ECB said that Monte dei Paschi remains solvent, and its capital reserves are larger than previously estimated.
Nvidia  (NVDA) - Get Report   shares fell after Citron Research wrote on Twitter Wednesday that the shares were overvalued. The company wrote that the market "is disregarding headwinds" and that "in 2017 we will see $NVDA head back to $90." The computer chipmaker's shares have risen more than 200% this year.
Endologix (ELGX) - Get Report  fell initially but then rebounded after the aortic disorder-treatment developer said that it would resume shipments of AFX, one of its best-selling devices, citing "positive testing results." This comes after the stock tumbled earlier this week, when the company said it would suspend shipments to investigate a manufacturing problem with certain sizes of the product.
Kate Spade (KATE) shares soared after the Wall Street Journal reported that the apparel and accessories company is working with bankers on potentially selling the company.
Toshiba (TOSYY) shares fell after the company said that it will have to record a loss of billions of dollars for its U.S. nuclear power acquisition, Reuters reported. The Japanese company has struggled with an accounting scandal and previous nuclear business losses.
Sears Holdings (SHLD)  announced Thursday that it received a "secured standby letter of credit facility," which will provide it extra liquidity of up to $300 million. Sears rose following the news.