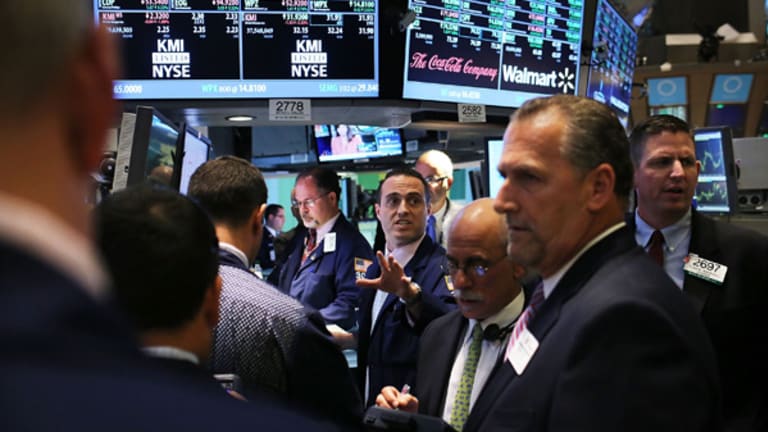 Week Ends With Green
The major indices are sluggish for most of the session, but close slightly positive.
Updated from 4:10 p.m. EST
Wall Street was stuck in neutral for most of Friday's session, but at the end of trading tech shares had risen modestly and blue chips edged higher.
The
Dow Jones Industrial Average
added 5.13 points, or 0.04%, to 12,108.43, overcoming pressure from
Disney
(DIS) - Get Walt Disney Company Report
. The
S&P 500
ended up 2.57 points, or 0.19%, at 1380.90, and the
Nasdaq Composite
rose 13.71 points, or 0.58%, to 2389.72.
"The current rally has lost a great deal of momentum and appears headed for a correction, but that correction may be quite shallow," said Ken Tower, chief market strategist with CyberTrader. "Someone with a longer-term focus is unlikely to encounter enough downside to make profitable trades."
The positive finish punctuates a winning week that saw control of both the House of Representatives and the Senate change hands to the Democrats following Tuesday's midterm elections. The Dow ended up 1% for the five sessions. The S&P 500 rose 1.2%, and the Nasdaq was higher by 2.5%.
About 2.26 billion shares changed hands on the
New York Stock Exchange
. Advancers beat decliners by a 2-to-1 margin. Volume on the Nasdaq was roughly 1.70 billion shares, with winners outpacing losers 3 to 2.
By sector, transportation stocks were the best performers thanks to a decline in oil. The Dow Jones Transportation Average rose 1.2%, and the Nasdaq Transportation Index was higher by 1.7%. Commodity stocks were hit hardest, as the Philadelphia Gold & Silver Index was lower by 2.5%.
After the prior close, Disney said fourth-quarter earnings more than doubled, reaching $782 million, or 36 cents a share, up from $379 million, or 19 cents a share, last year. Revenue rose 14% from a year ago to $8.78 billion. Still, Disney dropped $1.18, or 3.5%, to finish at $32.40, due to concerns about its growth prospects.
Meanwhile,
AIG
(AIG) - Get American International Group, Inc. Report
said its profits surged in the third quarter, owing to the lack of catastrophic hurricanes this year. In the quarter, AIG earned $4.22 billion, or $1.61 a share, compared with $1.75 billion and 66 cents a share a year earlier. The third quarter of last year included $1.57 billion of catastrophe losses. Shares rose $1.59, or 2.3%, to $69.63, providing limited support for the Dow.
On Thursday, the industrials faltered following three straight sessions of gains, sliding 73.24 points, or 0.6%, to 12,103.30 as
Merck
(MRK) - Get Merck & Co., Inc. (MRK) Report
and
Pfizer
(PFE) - Get Pfizer Inc. Report
dropped.
The Nasdaq was higher for much of the day thanks to strength in
Cisco
(CSCO) - Get Cisco Systems, Inc. Report
, but the index finished down 8.93 points, or 0.37%, to 2376.01.
"Overall, it was just a bad day," said Marc Pado, U.S. market strategist with Cantor Fitzgerald. "The bulls couldn't find a foothold in any area. Oil was up, the dollar down, China's deficit is contentious, consumer sentiment is slipping, housing continues to crumble, and Cisco couldn't save the semiconductors."
Also following the close,
Delta Air Lines
undefined
posted a quarterly profit, and chipmaker
Nvidia
(NVDA) - Get NVIDIA Corporation Report
posted better profits than analysts were expecting for the third quarter.
Both Piper Jaffray and Stifel Nicolaus raised their stock price targets for
Kohl's
(KSS) - Get Kohl's Corporation (KSS) Report
after the retailer posted a 45% jump in third-quarter earnings, beating estimates. Kohl's also upped its full-year forecast, adding that it plans to spend substantially more on holiday marketing. Shares overcame early weakness and tacked on 75 cents, or 1%, to close at $73.69.
With no economic data on the docket, the benchmark 10-year note was up 6/32 in price, yielding 4.58%. The dollar was declining against the world's other major currencies.
Crude futures ended down after two consecutive sessions of gains pushed prices above $61 a barrel. The International Energy Agency cut its 2006 global oil demand forecast, sending prices lower by $1.57 to $59.59 a barrel. Precious metals were also lower, with gold futures down by $6.70 to close at $630.10.
Overseas, European markets were lower. London's FTSE 100 was down 0.4% to 6210, and Frankfurt's Xetra DAX was off 0.2% to 6348. Asia's markets also showed weakness. The Nikkei dropped 0.5% at 16,112, and the Hang Seng fell 0.3% to 18,891.