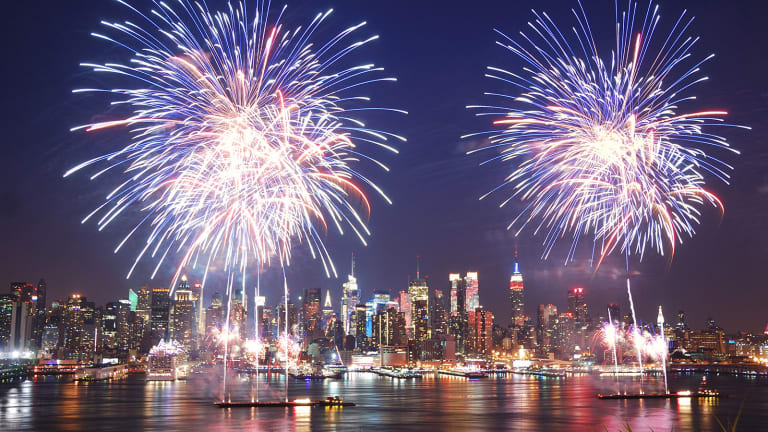 Week Ahead: Independence Day May Not Be the Only Thing to Celebrate
Oh, say can you see … there's a lot going on next week?
Oh, say can you see … there's a lot going on next week?
Wall Street may be heading into a shortened week with trading sessions snipped by Independence Day on Wednesday, but that doesn't mean there's not plenty going on. Here's what you can't miss in the week ahead.
The Most Bullish Day of the Year?
Better whip out the celebratory brews and confetti a few days early. The most bullish day of the year for stocks could be coming up this week.
According to iSPYETF founder Simon Maierhofer, Monday, July 2, is set to be the most bullish day for the S&P 500 I:GSPC all year long. Since the year 2000, the benchmark index has traditionally traded higher most often in the first session of the month of July - Monday, in this year's case. The S&P returns on that day an average of 0.35% and boasts a win rate of 83.33%. For the first trading day in July, the Dow Jones Industrial Average I:DJI has a win rate of 77.77% and the Nasdaq Composite I:IXIC 72.22%.
Investors should take that statistic with a grain of salt, though. Maierhofer writes that in midterm election years like this one, the S&P 500 doesn't typically rally much until about October. With that, a summer rally may not portend further bullishness for several months.
Pompeo to Visit North Korea
Secretary of State Mike Pompeo is reportedly set to travel to North Korea in the coming week to discuss the country's plans for denuclearization, according to the Financial Times citing four anonymous sources.
Pompeo had been scheduled to meet with Indian officials on Friday, July 6, but is said to have cancelled that meeting in order to travel to Pyongyang. Pompeo's visit would be the first time a U.S. official has traveled to North Korea since the June 12 summit in Singapore that put President Donald Trump and North Korean President Kim Jong Un face to face for the first time.
It's been unclear since the summit whether North Korea has agreed to complete and irreversible denuclearization. Pompeo told a Senate Appropriations subcommittee this week that, "We've been pretty unambiguous in our conversations about what we mean when we say complete denuclearization."
Economic Calendar Stacked
The biggest statistic of the week will be the monthly jobs report for June, due at 8:30 a.m. ET on Friday, July 6. Economists polled by FactSet expect nonfarm payrolls for the month of June to have risen by 191,500, down from 223,000 a month earlier. Economists predict hourly earnings to grow 0.3%, in line with the month before. The unemployment rate is predicted to come in at 3.8%, also in line with May's reading.
Also on Friday, the trade balance for May is expected at 8:30 a.m. ET. FactSet analysts predict the balance to read negative $48.4 billion, widening from negative $462 billion the month before.
Domestic auto sales for June are expected on Tuesday, July 3. Analysts predict 4.1 million sales for the month, up from 3.9 million in May.
And on Thursday, July 5, the Federal Reserve Open Market Committee will release its minutes from the most recent meeting June 12 through June 13.
Dunkin' Donut ... Fries?
Dunkin' Donuts is more than just a pretty doughnut, okay?
This year, it's about fries, too. But not the McDonald's Corp. (MCD) - Get Report carbs you may envision. The Dunkin' Brands Group Inc. (DNKN) - Get Report chain announced that it is bringing "Donut Fries" to locations across the country starting Monday, July 2.
The company says Donut Fries "serve a sweet spin on classic fries, creating a fun, easy-to-eat way to enjoy the delight of donuts while on the go or any time of the day." They're pretty much what they sound like - pieces of croissant-style dough tossed in cinnamon sugar and served warm.
Dunkin' also announced plans to launch other new menu items this summer, including a brown sugar cold brew. Hope you're hungry this week.
Watch what Dunkin' Brands CEO Nigel Travis just told TheStreet's Executive Editor Brian Sozzi. 
4 Top Experts Tell You How to Play the Market. TheStreet's Scott Gamm recent sat down with top market watchers from Bank of America, Fisher Investments, Invesco and Wells Fargo. Click here and register to watch a free roundtable in which they lay out their best advice.