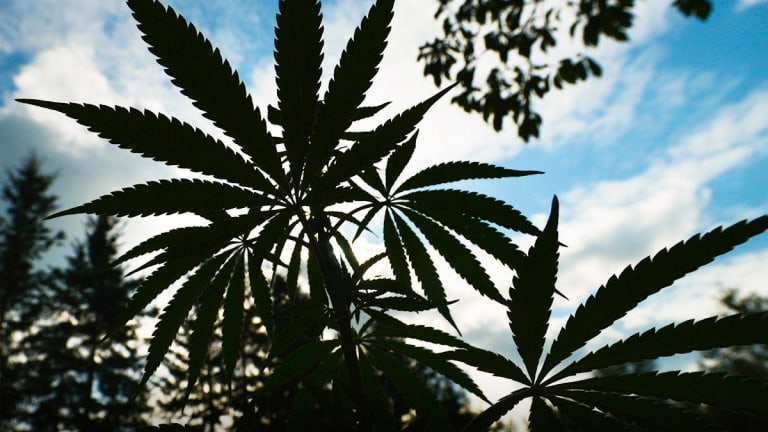 Weed Plays that Aren't Tilray Are Taking Off, Too; Carve-Outs Shine in 2018 M&A
Here's what you need to know now for Thursday, Sept. 20.
There's got to be more to play than just Tilray (TLRY) , right? Exactly our thought, too. Real Money's Kevin Curran says the red-hot rise of Tilray in recent days is spreading to stocks with even tenuous ties to legal weed. For instance, IntelGenx Technologies (IGXT) soared 115.3% Thursday to close at $1.83 on news of a Tilray partnership even as TRLY itself pulled back 17.6%. IntelGenx and Tilray plan to co-develop and commercialize oral films that are infused with cannabis. Tilray also plans to make a strategic investment in the company, buying 1.25 million IGXT shares at 80 cents per share. Elsewhere, Curran spoke with Canopy Growth Corp. (CGC) CEO Bruce Linton of one of the hot legal-cannabis stocks that are taking financial markets by storm. Linton touches on the economics of the industry and the potential entrance of big beverage -- the likes of Pepsi (PEP) and Coke (KO) -- and other more established industries such as tobacco or healthcare. Earlier this week, of course, Coca-Cola was rumored to be interested in Aurora Cannabis (ACBFF) , a top-three market cap Canadian cannabis company.
Back to my specialty, M&A, and the typical topic of discussion. Earlier this year, I told you that much of the deal activity in the second half of 2018, would come from carve outs and divestitures. We had examples of that today as automotive technology components manufacturer Magna International (MGA) said it will sell its fluid pressure and controls business to South Korean thermal and energy management systems supplier Hanon Systems for $1.23 billion. Meanwhile, Swiss foods giant Nestle said Thursday it will look for a buyer for its Nestle Skin Health SA, as Fiat Chrysler Automobiles (FCAU) seeks to sell its auto parts unit Magneti Marelli. In healthcare, there's a ton going on. Allergan (AGN) , still, is looking at selling its women's health business and anti-infectives businesses while Tenet (THC) is still shopping its Conifer unit. Then there's always the potential Pfizer (PFE) actually sells its consumer unit.
Markets Today: The Dow Jones Industrial Average cruised to a record closing high Thursday, Sept. 20, the index's first since January. The S&P 500 also set a record, as investors assessed the risk landscape amid rising bond yields and higher crude oil prices and looked past trade war worries. The Dow has risen more than 300% since it bottomed out at 6,470 intraday on March 6, 2009 in the wake of the financial crisis that rocked Wall Street a decade ago.
This is an excerpt from "In Case You Missed It," a daily newsletter brought to you by TheStreet. Sign up here.