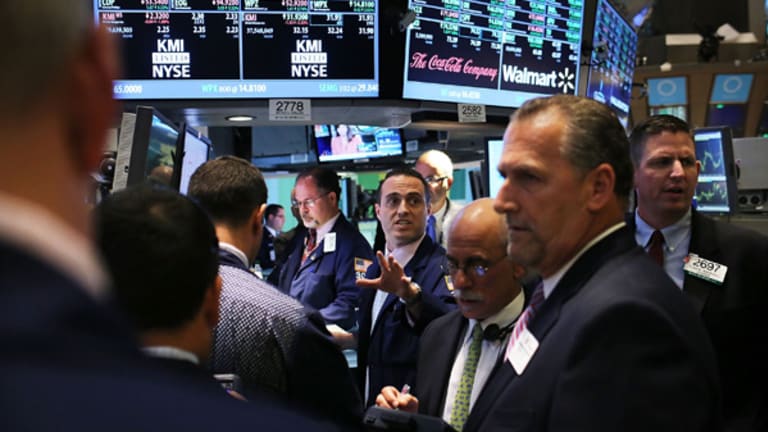 Wednesday's Market: With Earnings Season in Full Swing, Stocks Have a Day in the Sun
<LI>Yahoo!'s earnings relieve tech worries.</LI><LI>UBS-PaineWebber deal boosts financials.</LI><LI>Semiconductors chip in.</LI>
(
Updated from 4:19 p.m. EDT
)
Ahhhh! That refreshing summer rally feeling. A healthy dose of good news got the market up and running to impressive levels. After several weeks of a mind-numbing trading range, the market looks like it is beginning to display some broader strength, proving there's life in the old gal after all.
The
Nasdaq Composite Index popped 143.16, or 3.6%, to 4099.58, marking the first time since April 10 that the tech-laden measure is sporting a gain for the year.
Today's close above 4000 is a welcome event for many investors who have seen it bump up against psychological resistance and selling in the last few months. The
Dow Jones Industrial Average also posted a gain, though its slipped off its intraday high. The Dow closed up 56.57, or 0.5%, to 10,783.76, while the
S&P 500 sailed up 12.04, or 0.8%, to 1492.92.
"We are in rally mode. Friday really saw the breakout of the Dow and Monday and Tuesday saw the follow through. " said John Babyak, portfolio manager at
WHB/Wolverine Asset Management
in Stamford, Conn. "Obviously the Nasdaq is working higher as well," he said.
Technology and financial stocks led the charge. Tech stocks surged on the back of
Yahoo!'s
(YHOO)
strong earnings figures. Meanwhile, brokerage stocks were hopping on news that
PaineWebber
(PWJ)
agreed to be acquired by Swiss financial company
UBS
(UBS) - Get UBS Group AG Report
for $10.8 billion.
PaineWebber jumped 16 15/16, or 33.9%, to 66 7/8, not surprising given that UBS' purchase price represents a premium of about 47% over PaineWebber's closing price yesterday. The
American Stock Exchange Broker/Dealer Index
lifted 7.4%.
"Thank you, PaineWebber," said Bryan Piskorowski, market analyst at
Prudential Securities
. "Between PaineWebber and Yahoo!, we're on offense here. Earnings preannouncement season, by definition, is negative. Now that we've gotten through that -- that was the hurdle we had to get over."
Other independent brokerages also soared --
A.G. Edwards
(AGE) - Get AgeX Therapeutics, Inc. Report
,
Lehman Brothers
(LEH)
and
Legg Mason
(LM) - Get Legg Mason, Inc. Report
are all at or near 52-week highs. Dow component
J.P. Morgan
(JPM) - Get JPMorgan Chase & Co. Report
also exploded on takeover speculation, gaining 4 5/8, or 3.9% to 122 9/16 and accounting for about 30 points of the Dow's upside.
In New Economy land, meanwhile, Yahoo! was leading the way for Net stocks, after the company reported
earnings of 12 cents a share for the second quarter following yesterday's close, besting consensus estimates for 10 cents per share. The stock was up 18.4%, making it one of the day's biggest gainers.
Most brokerage firms reasserted their positive recommendations on Yahoo! this morning, although a couple of firms, including
Deutsche Banc Alex. Brown
, which downgraded the stock last week, remain concerned about prospects of declining dot-com ad revenue.
Bugger that, the market's saying (if the market was, in fact, a British guy named
Nigel), as
TheStreet.com Internet Sector
index rose 56.09, or 7.4%, to 809.89. Among the other strong names were
eBay
, which rose 19.8% to 52 5/8, and
BroadVision
(BVSN) - Get BroadVision Inc. Report
, which bounced up 13.4%, after being killed earlier this week.
Big-cap tech is also starting to reassert itself.
Sun Microsystems
(SUNW) - Get Sunworks, Inc. Report
put together a decent gain, up 3.5%, while
Oracle
(ORCL) - Get Oracle Corporation Report
was up 3.3%.
Chips Chip In
For today, also, the semiconductors have reasserted themselves in front of
Motorola's
(MOT)
scheduled earnings report after the close. The
Philadelphia Stock Exchange Semiconductor Index
was up 3.3%, abetted by
Micron Technology
(MU) - Get Micron Technology, Inc. Report
, which moved up 3.3%.
Will the market get that long-anticipated summer rally? It's possible, now that earnings season has arrived, but Bill Meehan, chief market analyst at
Cantor Fitzgerald
, views the chip stocks as crucial to market leadership.
"The SOX has started coming back, and the SOX is the key to the market," he said. "We need to continue to see positive action in financials...and the semiconductor and equipment stocks." Dow component
Intel
(INTC) - Get Intel Corporation Report
rose 1.7%, and has steadily worked its way higher from lows reached about two months ago.
Leadership during this grinding range trade has been at a premium, generally limited to defensive names such as the pharmaceuticals and some of the brokerages, while other growth stocks meandered, attempting to figure out the
Fed's intentions.
Defensive names, such as food and drug stocks, were losing ground today, including
Heinz
(HNZ)
-- which despite the introduction of revolutionary, empowering, gross-looking green ketchup -- oozed down 2.3%.
Kellogg
(K) - Get Kellogg Company Report
lost 1.9%. The
American Stock Exchange Pharmaceutical Index
fell 1.7%.
Now that the Fed's tightening actions, for now, are tapering off, Piskorowski points out that the advance/decline line has been positive on the
New York Stock Exchange and Nasdaq for several days running. Unlike previous days, however, the advance today is much broader, as internals look particularly strong.
"We're seeing some broadening, and I think the action is constructive," said Piskorowski. "Earnings look good in the second quarter, and that could give us some follow-through."
Babyak, who characterizes his outlook as "mildly bullish," said he sees the market extending this rally for a short time and then leveling off followed by another period of consolidation. "We're certainly not expecting a blowout quarter and expect moderation in earnings. We've seen a discounting of that potential effect anyway," he said, adding that he thinks the Fed is done raising interest rates. "It's still a month away and I reserve the right to change my opinion, but I think we're done," he said.
Among the potential possibilities for new money in the next few months, Babyak mentioned telecom stocks, saying some of their favorites are at low levels and citing wireless as a telecom subset which "continues to be a fertile area for investment." He also likes independent power producers such as
AES
(AES) - Get AES Corporation Report
.
Some of the less favored include bank and drug stocks which he thinks "are in the middle of a nice run and will probably even out and pull back," at some point.
On the Big Board, the most active issue today was
Rite Aid
(RAD) - Get Rite Aid Corporation Report
, which tumbled 9.4% after it restated earnings yesterday, taking a hit on its already anemic stock price on 25.2 million shares. It closed down 5/8 to 6. News it is selling its PCS Health Systems unit to
Advance Paradigm
(ADVP)
for $1 billion, did nothing to cheer either stock.
Back to top
Market Internals
Breadth was positive and volume light on the NYSE, while advancers almost doubled decliners on the Nasdaq in robust volume.
New York Stock Exchange: 1,742 advancers, 1,152 decliners, 999 million shares. 92 new 52-week highs, 29 new lows.
Nasdaq Stock Market: 2,482 advancers, 1,534 decliners, 1.7 billion shares. 121 new highs, 71 new lows.
Back to top
Most Active Stocks
NYSE Most Actives
Rite Aid: 25.2 million shares. Motorola: 23.1 million shares. America Online (AOL) : 20.6 million shares.
Nasdaq Most Actives
Back to top
Sector Watch
After yesterday's positive action in the cyclical stocks, those sectors weren't seeing that same kind of strength today. The cyclicals, since their surge in April while the rest of Rome was burning, haven't been good performers, due to some simple logic. That is, if the economy is slowing, and the Fed is on the warpath, these types of names aren't the ones to be buying because they depend on increasing demand, not diminished demand and slowing growth.
However, they've been beaten so badly, that the last two days' strength has been based on the idea that a slowdown has probably been already discounted in these stocks. Plus, year-over-year earnings comparisons should be particularly good for these names.
But there's still some profit-taking today -- the
S&P Chemical Index
is down 1.5%. The
Philadelphia Stock Exchange Forest & Paper Product Index
was down 1%.
The transports were faring quite well, with the
Dow Jones Transportation Average
2.3% higher. Airlines, in particular, were helping out, thanks to a
Goldman Sachs
upgrade of
AMR
(AMR)
, the parent of American Airlines. AMR gained 4% and the
American Stock Exchange Airline Index
up 3.6%.
Back to top
Bonds/Economy
Treasuries are under modest pressure on little news, in spite of a reported decline in mortgage refinancings to the lowest level in more than three years. A lot of new corporate bonds are being issued this week, which has the potential to trigger selling of Treasuries either by underwriters as a hedge, or by investors who need to raise cash to buy the new corporate bonds.
The weekly
Mortgage Applications Survey
(
definition |
chart |
source
) showed a decline in its Refinancing Index to 284.3, the lowest reading since April 1997, from 338.5. A decline in mortgage refinancings is positive for the bond market because they are a leading indicator of consumer spending.
The benchmark 10-year Treasury note lately was down 6/32 to 102 31/32, its yield at 6.085%.
Back to top
International
The large European bourses closed strongly, but off the day's highs.
London's
FTSE
advanced on
HSBC
(HBC)
and other bank stocks, which rose on positive analyst comments. It closed up 42.7 or 0.66%, to 6518.5.
Across the channel, Frankfurt's
Xetra Dax
ended up 39.14, or 0.56%, to 7043.12, and the Paris
CAC 40
finished 46.16 higher, or 0.71%, to 6536.5.
Asian markets ended mixed.
Tokyo investors weren't convinced about Yahoo!, and high-tech shares there took a beating. Key tech stocks, including
Softbank
, which owns 22.6% of Yahoo!, fell as investors tried to cut the losses they amassed six months ago when they bought Softbank shares on margin, traders said. The
Nikkei 225
index shed 162.23 to 17,342.13,
With rumors that
Standard & Poor's
may be ready to cut Japan's sovereign debt rating, the greenback moved sharply higher against the yen, lately at 108.255.
Hong Kong's
Hang Seng
index edged up 192.60, or 1.1%, to 17,552.26, however, largely on the back of huge gains in index heavyweight
Hutchison Whampoa
. The stock was up on rumors that the firm would announce it was selling a stake in its U.K. mobile phone unit to Japan's
NTT DoCoMo
and Dutch
KPN
(KPN)
today.
Taiwan's
TWSE
index gained 3.96 to 8158.63.
Back to top