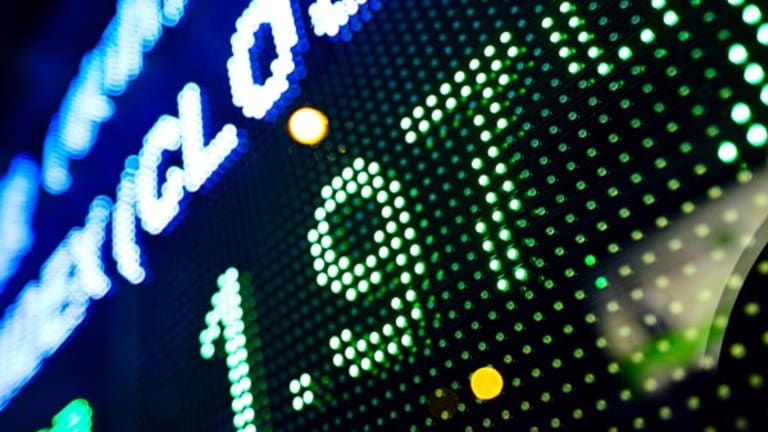 Wednesday's Market: Stocks Jump to Higher Close
Shares march into positive territory after a volatile day, as investors mull mixed earnings news.
Shares march into positive territory after a volatile day, as investors mull mixed earnings news.
Updated from 4:07 p.m. EDT
Stocks marched into positive territory in the final hour of trading Wednesday after a spending much of the day in the red, as weakness in the
Fed's
beige book report rekindled hopes of an interest-rate cut.
The
Dow Jones Industrial Average closed up 44 points, 0.5%, at 8494, after having been down as low as 8294 this morning, a 200-point swing for the blue-chip index. The
Nasdaq gained 27 points, or 2.1%, at 1320. The
S&P 500 added 6 points, or 0.7%, at 896.
Wednesday's gain continues a 1,200-point surge over nine sessions on the Dow.
"There was zero conviction to the
early selloff today," said Tony Cecin, head of Nasdaq trading at US Bancorp Piper Jaffray. "When that became apparent, you saw money coming back into the market." Cecin added that the averages are lately taking two steps up for every one down, with the general trend positive.
Among sectors, semiconductors, retail, defense, software and oil services issues exhibited the most strength., while drugmakers, insurance, chemicals, and telecom issues were under pressure. Overall, market breadth was positive. Advancers outpaced decliners 5 to 3 on the
New York Stock Exchange, where 1.55 billion shares were traded. On the Nasdaq, winners beat the losers 5 to 3 on volume of 1.59 billion shares.
In Washington, President Bush signed into law a $355 billion military spending bill that he said gave the armed forces "every advantage required" to fight the war on terrorism. At the same time, the U.S. and Britain continued to urge other members of the U.N. Security Council to draft a resolution that, while not authorizing a war on Iraq, would leave the door open for U.S. military action.
The saber-rattling, along with the fall in stocks, boosted government bonds. The 10-year Treasury note was recently up 7/32 to yield 4.23%. The 30-year bond was down 3/32, yielding 5.16%.
Separately, Federal Reserve Chairman Alan Greenspan predicted productivity will make solid gains in coming years, though not at this year's level. "It is both remarkable and encouraging that, despite all that has transpired over the past couple of years, a significant step-up in the growth of productivity appears to have persisted," he said at a conference in Washington.
Also, the Federal Reserve's so-called beige book survey found the U.S. economy limping along in September and October, as retail spending dipped and hiring stalled.
Meanwhile, with the third-quarter earnings season about half over, investors still have no clear indication about the trend for corporate profits. Wednesday morning,
Black & Decker
posted third-quarter results that were 12 cents ahead of estimates, while
Xerox
(XRX) - Get Report
beat forecasts by 2 cents. B&D traded up 5.8% to $47, while Xerox was down 4.3% at $6.41.
"Until investors realize that the companies are all beating numbers for the September quarter after having lowered them a month or so ago, and that 'beat' is rather meaningless, the markets will not have truly bottomed," wrote Jay Somaney, a fund manager with TSG Capital Partners and
RealMoney Pro
contributor.
DuPont
(DD) - Get Report
, the nation's No. 1 chemical company, posted a third-quarter net profit of 40 cents a share, beating estimates by 5 cents, citing a more favorable tax rate and higher prices for some of its chemicals and plastics. Looking forward, DuPont reaffirmed its fourth-quarter and full-year financial targets. DuPont slipped 1.9% at $40.97 during afternoon trade.
International Paper
(IP) - Get Report
, also a member of the Dow, reported a third-quarter profit of 30 cents a share, reversing a year-ago loss of 57 cents. Excluding certain items, the company said it earned 32 cents a share, a penny ahead of analysts' estimates. Shares gave up 0.9% to close at $37.74
Among Dow components,
SBC
(SBC)
lost 4.4% on a sector downgrade, while
Johnson & Johnson
(JNJ) - Get Report
, fell more than 3% on concerns about the timing of approval for its new drug-coated stents. A panel recommended Tuesday that the devices be cleared but analysts said there could be a delay before that actually happens.
Telecommunications-equipment maker
Lucent
(LU)
posted another multibillion-dollar loss Wednesday, as the slump among major carriers that is leading it to slash another 10,000 jobs continued to eat into revenue. The company lost $2.88 billion, or 84 cents a share, on revenue of $2.28 billion in the latest quarter, compared with a loss of $8.8 billion, or $2.59 a share, on revenue of $4.75 billion a year ago. On a pro forma basis, the company lost 64 cents a share, a penny ahead of estimates.
Health insurance firm
Aetna
(AET)
announced plans to bring its prescription drug operations in-house, delivering a severe blow to pharmacy benefit manager
Express Scripts
(ESRX)
, the company that previously handled its drug business. Express Scripts dropped.4% to $56.18.
Drugmaker
Eli Lilly
(LLY) - Get Report
saw its shares fall 7.8% to $58.09 after posting modest earnings growth for its third quarter and reducing its estimates for the fourth quarter. The company also offered lukewarm guidance for next year, saying it is "cautious about financial assumptions" going forward. "Assuming no significant financial penalties imposed by the FDA related to the company's manufacturing issues or other unusual items, the company's goal is to deliver some earnings growth in 2003," the company said in a press release.
Citigroup Chairman Sandy Weill strongly denied a report in
The Wall Street Journal
Wednesday that he has retained outside counsel because his interests have diverged from those of his company. In a statement, Weill quoted his lawyer saying it's "inconceivable" he would be charged in a conflicts-of-interest probe being carried out by New York Attorney General Eliot Spitzer. Weill also denied that he'd ever brought influence to bear on an analyst over a research opinion.
In Europe, London's FTSE 100 was down 2.7% to 4006, while Germany's Xetra DAX was down 5% to 2999. In Asia, the Nikkei gained 0.3% to close at 8715, while Hong Kong's Hang Seng rose 2.7% to end at 9805.