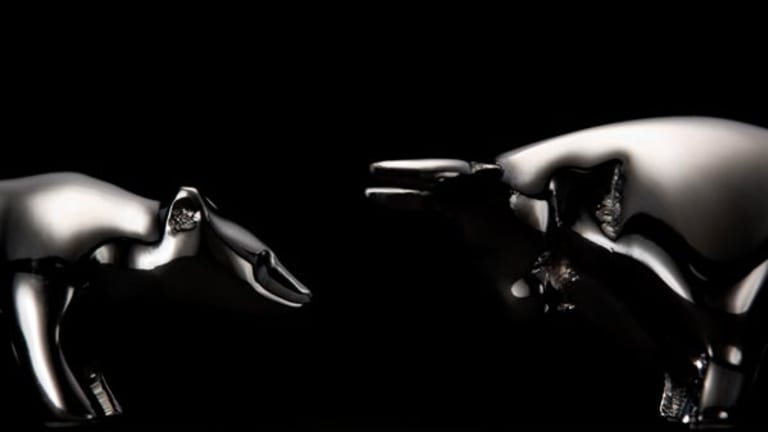 Wednesday's Market: Stocks Finish With Mammoth Losses
The Dow loses more than 280 points, and only two of its 30 components close higher.
The Dow loses more than 280 points, and only two of its 30 components close higher.
Updated from 4:07 p.m. EDT
Waves of selling pummeled the major averages Wednesday, pushing the
Dow's
loss over 500 points for the week and sending the
S&P 500
and
Nasdaq
near their lows of October 1998.
Confirmation of a criminal probe at
Qwest
(Q)
was cited as an initial downward impetus, but the scope of the losses implied a steady exodus from stocks at all levels. The Dow ended with a loss of 282.59 points, or 3.1%, to 8813.50, and the Nasdaq was lower by 35.10 points, or 2.5%, to 1346.02. The S&P 500 was off 32.36 points, or 3.4%, at 920.47.
It was the third consecutive session of heavy losses, eradicating the big gains turned in on Friday's abbreviated session. Both the Nasdaq and S&P 500 have beached their September 1998 lows of 1357 and 923, respectively.
Among sectors, losses were greatest among pharmaceuticals and biotechs. The Dow Jones U.S. Pharmaceuticals Index fell 5%, just above its 52-week low, while the American Stock Exchange Biotechnology Index lost 7%. The Dow Utilities average dropped almost 6%. Meanwhile, the Philadelphia Semiconductor Index was down 3.8%, and the New York Stock Exchange Financials proxy slid 2.8%.
With the exception of
McDonald's
(MCD) - Get Report
and
Procter & Gamble
(PG) - Get Report
, every member of the Dow 30 lost ground. Among the average's biggest losers were
General Motors
(GM) - Get Report
, down 6.9% to $47.61 after being downgraded by Banc of America, and
Intel
(INTC) - Get Report
, down 6.4% to $16.81.
Standard & Poor's removed a number of foreign companies from its S&P 500 index, including
Nortel Networks
(NT)
and
Royal Dutch Petroleum
(RD)
, which traded down 14.2% and 9.2%, respectively.
Unilever
(UN) - Get Report
,
Barrick Gold
(ABX)
,
Placer Dome
(PDG)
,
Alcan
(AL) - Get Report
and
Inco
(N)
were also taken out.
Online auction house
eBay
(EBAY) - Get Report
and video game maker
Electronic Arts
(ERTS)
were among the seven companies added to the index, and the moves lifted their shares. eBay added 3.1% to $58.83, while Electronic Arts tacked on 0.2% to $60.91. The changes will take effect on July 19.
Merrill Lynch raised its investment rating on Cisco this morning to strong buy from buy, saying it believes the networking giant's fundamentals are improving and that it expects to see revenue and earnings growth before the end of 2002. Shares rose 2.8% to $13.51 on the upgrade. However, the broader networking sector was under pressure with the American Stock Exchange Networking Index was down 0.5%.
Shares of Qwest dropped 32% to $1.77 after the beleaguered telephone and broadband company said it has been informed by the U.S. attorney's office in Denver that it is under criminal investigation. The nature of the probe wasn't disclosed. Qwest said it plans to fully cooperate with the prosecutor's office.
AT&T Wireless
(AWE)
and
VoiceStream
, a subsidiary of
Deutsche Telekom
(DT) - Get Report
, are reportedly engaged in preliminary discussions about a possible merger -- a deal that could be worth more than $10 billion, according to
The Wall Street Journal
.
The merged company would create the country's second-largest wireless telephone company. AT&T Wireless saw its shares rise 5.8% to $5.45, and Deutsche Telekom was down 1.3% at $10.96.
Elsewhere,
ADC Telecommunications
(ADCT) - Get Report
lowered its third-quarter outlook, citing a continued slowdown in capital spending on telecommunications equipment. The company said it expects to incur a loss of 5 cents to 7 cents a share on revenue of $235 million to $245 million. Analysts, on average, were expecting the company to post a loss of 5 cents a share on $282.9 million in revenue. Shares fell 6.3% to $2.08.
Cable television giant
Comcast
(CMCSK)
said its shareholders approved its $27 billion purchase of
AT&T Broadband
, making it the nation's largest cable TV operator. The deal is expected to close later this year, as Comcast still needs to receive approval from the Department of Justice and the Federal Communications Commission.
Boeing
(BA) - Get Report
announced that it will merge its satellite and military operations, but investors weren't interested in the plan, sending shares of the Dow component down 5.6% to $40.80.
On the earnings front, express package carrier
United Parcel Service
(UPS) - Get Report
, another new addition to the S&P 500, reaffirmed its second-quarter earnings outlook, but said it is losing market share to some of its competitors amid unresolved labor negotiations with the Teamsters union.
Standard & Poor's announced it will add UPS to its S&P 500 Index, prompting Deutsche Securities to raise its investment rating on the stock to strong buy from buy and ratchet up its price target to $72 from $63. UPS traded up 4.1% to $63.25.
SunTrust Banks
(STI) - Get Report
said second-quarter earnings rose slightly as cost-cutting measures, low-interest rates, and higher banking fees helped offset sluggish loan growth. The bank posted a profit of $343.7 million, or $1.20 a share, in line with Wall Street's estimates, compared with $347.1 million, or $1.19 a share, a year earlier. SunTrust fell 1.7% to $64.37.
In economic news, the Labor Department said import prices fell 0.6% in June, reversing a 0.1% increase in May. The data marked the first decrease in six months. Economists were expecting import prices to drop a more modest 0.2%.