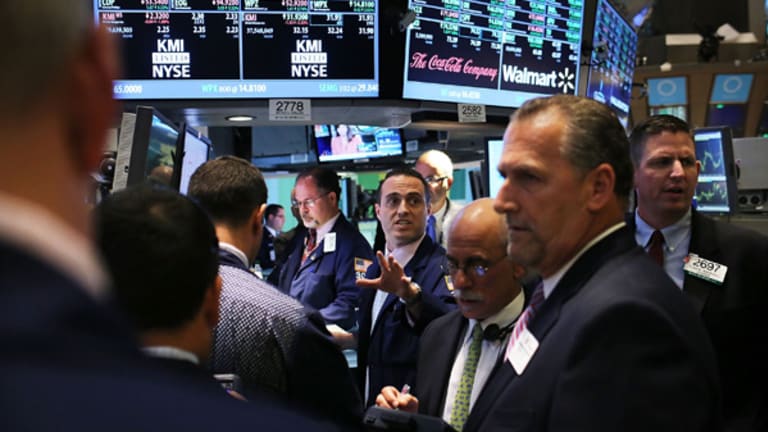 Publish date:
Wednesday's Market: Stocks Finish Mixed -- and Not Far From Where They Started
The Nasdaq gained a few points, and the Dow lost a couple as investors looked to the Fed for direction.
The Nasdaq gained a few points, and the Dow lost a couple as investors looked to the Fed for direction.
Sometimes the market suffers from indigestion; today it was just digestion. Following a strong surge late in Tuesday's trading, and heading into tomorrow's important
testimony from
Federal Reserve Chairman
Alan Greenspan, the market loosened its buckle today and bode its time.
But a familiar pattern held today, even if the major indices finished the day not far from where they started. Earnings disappointments and lackluster outlooks were glossed over by the larger part of the market in favor of a continued assumption that the Federal Reserve's recent 50-basis point cut and assumed future rate cuts will help the economy avoid a recession and grow anew later this year.
"The markets have weathered a lot of storms here, and a lot of disappointments like
Texas Instruments
(TXN) - Get Texas Instruments Incorporated Report
and
Compaq
(CPQ)
, and waded right through them," said Jim Volk, head of institutional trading at
D.A. Davidson
. "The conventional wisdom is, the Fed bails us out, and we get slower growth with low inflation. But I think that's too pat, and I think people are starting to feel that way."
It showed. The market never found any momentum today, and investors weren't shy about picking on stocks that reported earnings that didn't sit well. They tarred them, including
Dow Jones Industrial Average components
3M
and
McDonald's
(MCD) - Get McDonald's Corporation (MCD) Report
, both of which were sandwiched today. McDonald's missed earnings expectations, and 3M said net income was unchanged year-over-year. They were the worst performers on the 30-stock average, which ended the day down 2.84 to 10646.97.
The
Nasdaq Composite Index fared slightly better, gaining 18.9 to 2859, and the
S&P 500, helped by its technology components and financial stocks, rose 3.92 to 1364.32. Among the stronger of the tech bellwethers was software behemoth
Microsoft
(MSFT) - Get Microsoft Corporation (MSFT) Report
, which rose $2.38 to $62.94.
Sun Microsystems
(SUNW) - Get Sunworks, Inc. Report
was also strong today, and the semiconductors were stronger, with the
Philadelphia Stock Exchange Semiconductor Index
rising 1.5%.
But the recent days have shown a bit of listlessness in the market, as if stock investors are already starting to anticipate the Federal Reserve cutting the fed funds rate by an additional 50 basis points next week. There's almost a sense of "now what?" starting to permeate the market, because once the Fed's actions become clear, the focus will shift back to economic data (not improving yet) and company fundamentals (at a standstill) for the market to appreciate.
Today, that may only have been the secondary factor driving the overall sentiment. With Alan Greenspan lining up to deliver what's been a historically important address to the
Senate Budget Committee
, the immediate concern will be whether Greenspan gives the market hints that a 50-basis point cut is coming, or just a 25-basis point cut, which would be disappointing. Either way, some investors believe the next few months will result in some selling -- that is, after the Fed makes its announcement on Jan. 31 at about 2:15 EST.
"Clearly, things have really slowed down," said David Brady, portfolio manager of the
Stein Roe & Farnham Young Investor Fund
. "It's beginning to feel like we're darn close to a recession. The market is discounting somewhere between 25 and 50 basis points, but I think after the news, it sells off either way."
But the market's interest in the Fed means it's not focused whole-hog on earnings reports, which in many cases are only confirming expectations already drastically lowered, and therefore, the market took the opposite tack with a lot of names today, selling those that reported strong earnings and buying up the losers.
Starting with the dogs,
Lucent Technologies
(LU)
missed
estimates by 3 cents after already lowering expectations. It also announced a seven-point restructuring plan (among the stages: anger, fear, denial, acceptance). A total of 10,000 jobs will be cut, but of course the stock rallied, gaining 4.3% to $19.63.
PC maker Compaq pulled off a slick balancing act today, lowering revenue and sales expectations without lowering earnings
expectations. Analysts bought into it and upgraded the company and the market enjoyed itself as well, pushing the stock up 9% to $21.85.
Then there's the other side. Communications chip maker
Broadcom
undefined
had a whale of a day,
beating estimates by 3 cents, but lost $8.50 to $124.94, or 6.4%, in trading today. It should be noted that the stock had gained more than $40 since Jan. 5.
Market Internals
Breadth was positive on strong volume.
New York Stock Exchange: 1,439 advancers, 1,407 decliners, 1.28 billion shares. 127 new 52-week highs, 5 new lows.
Nasdaq Stock Market: 2,072 advancers, 1,742 decliners, 2.5 billion shares. 91 new highs, 11 new lows.
Back to top
Most Active Stocks
NYSE Most Actives
Lucent Technologies: 48.6 million shares. Compaq: 31.2 million shares. America Online (AOL) : 31.2 million shares.
Nasdaq Most Actives
Back to top
Sector Watch
Among the strongest sectors were the health care names. The
Morgan Stanley Healthcare Index
gained 2.7% today, and among the better of those stocks were
UNUMProvident
, which hit a 52-week high today. The
S&P Insurance Index
rose 1.9% today.
Cigna
(CI) - Get Cigna Corporation Report
gained 2.7% today.
The banks and brokerage stocks, which rallied all week, put in a good performance today, while the most defensive of defensives -- gold stocks -- were being knocked lower. The
American Stock Exchange Broker/Dealer Index
ended 2.2% higher and the
Philadelphia Stock Exchange/KBW Bank Index
rose 1.3%. Among the poorer performers was
Morgan Stanley Dean Witter
(MWD)
, which fell after the announcement that president and COO was resigning; the stock fell 3% today.
The
Philadelphia Stock Exchange Gold and Silver Index
ended down 4.3%.
Drug stocks sagged, despite strong earnings from
Pfizer
(PFE) - Get Pfizer Inc. Report
and
Bristol-Myers Squibb
(BMY) - Get Bristol-Myers Squibb Company Report
. The
American Stock Exchange Pharmaceutical Index
ended down 0.84%. Pfizer's results were in line with estimates. The company said it saw double-digit revenue growth continuing in 2001. Bristol-Myers came in with earnings of 59 cents a share, topping the analyst estimates by a penny. Bristol-Myers also got an upgrade from Merrill Lynch, but lost 2.1%. Pfizer ended up 0.15%.
Back to top
Bonds/Economy
Treasuries are still feeling the effects of yesterday's news story that suggested that the Fed will make a moderate rather than aggressive cut in interest rates at the end of this month. Selling continued overnight in the shorter-term securities, which derive greater benefit in a falling rate environment.
With mortgage rates remaining at low levels, the latest housing data indicates fairly active refinancing. This is not much news to the money market, which is focused more on tomorrow, when
Federal Reserve chairman
Alan Greenspan will address the Senate Finance Committee, and key employment cost data will be out.
The benchmark 10-year
Treasury note lately was down 5/32 to 103 9/32, raising its yield to 5.307%.
In economic news, the
Mortgage Applications Survey
(
definition |
chart |
source
) showed a slight decrease in new mortgage activity as the Purchase Index slipped to 332.6 in the week ended Jan.19, from 332.9 the previous week. The Refinancing Index remained robust at 2123.3 for the same period, though it is down from 2800.6. Homeowners continue to take advantage of lower mortgage rates to seek better terms. They may also, as happened during the last refinancing boom of 1998-99, use the excess liquidity to make purchases in other consumer sectors, and thus shore up the economy.
Back to top
International
British eyes smiled today, with a massive tech rally boosting the
FTSE
, which followed yesterday's late-day strength in the States and a mild morning. Both the
Dow Jones Industrial Average and
Nasdaq Composite Index finished yesterday at session highs and were in the green for much of today's trading. London's FTSE ended up 49.7 to 6264.4, pushed higher by
Vodafone
. Paris'
CAC
rose 60.59 to 5900.32, while Germany's
Xetra Dax
dipped 15.74 to 6706.67.
The euro, once a puny 98-pound weakling, won't let anyone kick sand in its face anymore. Not after rebounding from scary lows in November and December while pushing towards parity with the dollar again. It last traded at $0.9216. Chuck Atlas would be proud.
Asian markets did not get any such boost from American strength, however. Tokyo's
Nikkei
dropped 91.08 to 13,893.58. Traders were selling stocks and taking profits after the market ran up to the 14,000 level. Hong Kong's
Hang Seng
fell 55.06 to 16,044.21.
The yen fell against the dollar after a newswire reported that Lawrence Lindsey, economic adviser to President
George W. Bush
, said the U.S. would favor a weaker yen. Lindsey had said in talks with Japanese officials last week that the U.S. would tolerate the yen at 120 per dollar. The greenback was lately trading at 117.79 yen.
Back to top