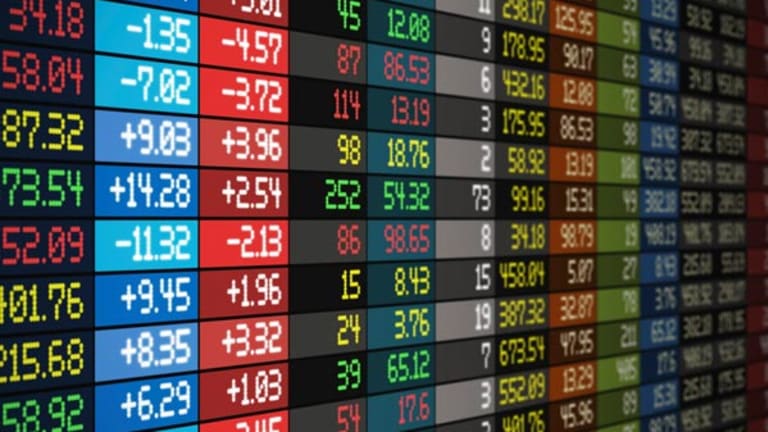 Wednesday's Market: Stocks Finish Bruised But off Lows After Cisco Miss
Tech suffered after Cisco's unexpected miss, but the bulls prevented a rout; energy and retail fared well.
Prompted by
Cisco's
(CSCO)
earnings, which fell short of expectations last night, the stock market fell significantly in the early afternoon before regaining its footing late in the day. Investors shifted money into better-performing nontechnology sectors, including energy and retail, but on balance, technology losses weren't bad.
Cisco, however, didn't have a strong day. The networking giant dropped $4.69 to $31.06, a 13% loss, on 282 million shares traded, the second-most ever for one stock on the Nasdaq Stock Market. (
Intel
(INTC)
holds the record, with 308 million shares traded on Sept. 22, 2000.) Cisco earned 18 cents a share for the fiscal second quarter, a penny shy of estimates. It also acknowledged it's facing a tough road for the next couple of quarters, citing the macroeconomic slowing and a decline in spending from local telecommunications companies for its problems.
The stock sold heavily at the open, taking down the networkers and other related telecommunications equipment companies with it. The
Nasdaq Composite Index, at one point down 110 points, ended the day down 57 to 2607. The
S&P 500 lost 11 to 1341, and the
Dow Jones Industrial Average, by contrast, lost just 11 to 10,946.
Traders today said the action in technology has a couple of different meanings. The lack of a significant drop shows how the market is used to the notion of a slowing economy; but the relatively subdued response on the
New York Stock Exchange demonstrates that investors are still geared up to the notion that interest-rate cuts by the
Federal Reserve will ultimately pull the economy out of its current malaise.
The performance of the retail stocks and other stocks that generally improve when the economy rebounds is evidence of this. Two different traders referred to technology's next six months as "dead money," which is to say that while tech fundamentals may improve near the end of the year, those without a long-term perspective are going to go looking elsewhere for short-term ideas.
"Near-term in tech, there's no growth, so where do you go?" said Roseanne Lang, block trader at
Cantor Fitzgerald
. "People are more inclined to be defensive and stick to financials, drugs and energy. They seem to be the game -- people are nervous about where the end is in terms of tech."
To wit: the
S&P Retail Index
gained 2% today, led by apparel retailers like
Ann Taylor
(ANN)
, up 2.5%;
J.W. Nordstrom
(JWN)
, up 3.5%; and
Federated Department Stores
undefined
, up 2.2%.
Among the strong defensive sectors were tobacco, which rose on the back of strength in
Philip Morris
(MO)
, which hit a new 52-week high, and the health care stocks. The
Amex Healthcare Index
gained 6.8%, led by surges in
PacifiCare Health Systems
undefined
, which beat estimates handily and ended up 35.4%, and
MidAtlantic Medical
undefined
, up 7.7%.
Cisco, Like, Is a Drag
Cisco, meanwhile, couldn't help but hurt other related networking stocks, as well as companies that sell products to Cisco. A comment from analysts at
Robertson Stephens
points out that the company didn't acknowledge its loss of market share to other networking stocks, including
Juniper Networks
(JNPR)
,
Redback Networks
undefined
and
Extreme Networks
(EXTR)
, but those companies were all hit hard today.
Juniper lost 7.7%, Redback dropped 2.6%, and Extreme fell 12.3%. The
Amex Networking Index
fell 5.7% today.
Meanwhile, stocks such as
Jabil
(JBL)
(off 6.8%),
Flextronics
(FLEX)
(off 8%), and
Solectron
undefined
(down 11%) were beaten up in sympathy today, as all three count Cisco purchases as a significant source of revenue.
Among the other big losers was
Broadcom
undefined
, the communications chipmaker, which fell 10.5% after its chief executive acknowledged a slowing in sales.
Overall, however, the Nasdaq's performance was not judged bad. A few months earlier, the tech-heavy index would have likely lost 150 to 200 points, a sentiment expressed by several on the Street today. In recent weeks the market's pulled back from technology stocks, after a sharp rally built on the knowledge that the
Federal Reserve was on track to significantly reduce interest rates.
Traders were viewing the shift as orderly, actually. After making hay in technology in January, investors are looking to other sectors for now until fundamentals improve.
"Big money managers aren't ready to pull money from the market, given historical reactions to a lower rate environment," said Ed Laux, head of trading at
ABN Amro
. "If we get evidence the tide has turned in telecom, which could help networking, you'd see an instant pouring back, and people would get out of
Coke
(KO)
,
Pepsi
(PEP)
, Philip Morris and
Exxon
(XOM)
."
Market Internals
Back to top
Most Active Stocks
Back to top
Sector Watch
TheStreet.com Internet Sector Index
, aka the DOT, ended down 3.3%. If you live in a cave, you might not have heard about how the dot-com rage has gone bust and nearly every day another one bites the dust. That doesn't mean there aren't some still working their way to profitability or at least trying to.
Amazon.com
(AMZN)
is the grandfather of the group and its latest news is that it's going to start charging publishers as much as $10,000 a book title to get a recommendation from the e-tailer. Earlier this week,
Lehman Brothers
urged investors to continue to avoid the online retailer's convertible bonds, saying that without additional infusions, the company's working capital could fall below zero. The stock suffered today, losing 5%.
The
Dow Jones Transportation Average
lost 0.9% today, pulled downward by the airline stocks. The
Amex Airline Index
fell 1.7% as a result of threatened strikes by four major airlines, including
Northwest
undefined
,
AMR
, the parent of American Airlines,
UAL
(UAL)
, the parent of United, and
Delta
(DAL)
.
Back to top
Bonds/Economy
Treasury ended the day slightly lower than their closing levels yesterday. Bonds saw some safe haven buying as stocks fell in the aftermath of an unfavorable earnings announcement from technology bellwether Cisco Systems.
The benchmark 10-year
Treasury note lately was down 4/32 to 104 2/32, lowering its yield to 5.201%.
In economic news, the
Mortgage Applications Survey
(
definition |
chart |
source
) showed that home purchasing and refinancing activities increased after having dropped during the previous week. The Purchase Index rose to 311.5 from 298.1 in the week ended Feb. 2, while the Refinancing Index rose to 2612.5 from 1992.1. Both indices are calculated from their base values of 100 beginning in 1990.
Low mortgage rates are the reason home-seekers are so active and homeowners are readjusting the financing on their properties. But this robustness in real estate has broader implications as well. Analysts have noted that a recession cannot be possible as long as mortgage activity retains its current good health. Past data have shown that cash freed up by more favorable mortgage terms is often channeled toward consumer purchases.
The report on
productivity and unit labor costs
(
definition |
chart |
) indicated that productivity of nonfarm workers in the U.S. grew at a rate of 2.4% in the fourth quarter of 2000, down from 3% in the third quarter. Economists polled by
Reuters
had forecast a rate of 2%. Annual productivity grew at 4.3%, its best showing since a 4.5% spurt in 1983. Unit labor costs, meanwhile, were up sharply in the fourth quarter: They rose by 4.1% -- almost a percentage point higher than the forecast growth of 3.3%.
Higher productivity, which is measured by hourly output, enables companies to turn out more goods at lower cost and suppresses inflation. However, market watchers will be hoping that the unexpectedly high labor costs were due to seasonal factors like shortage of available labor over the holidays, since this measure is directly proportional to inflation.
Back to top
International
Stocks in Europe ended lower, in part due to the Cisco news. Also,
France Telecom
(FTE)
said it is cutting the valuation of its
initial public offering for its mobile phone group. The
FTSE
in London was down 68 to 6226. Over on the mainland, Paris'
CAC-40
lost 100 to 5752 and Frankfurt's
Xetra Dax
ended down 114 to 6578.96.
Asian markets, however, finished higher. The
Hang Seng
closed up 136.23, or 0.9%, to 16049.47 and the
Nikkei 225
gained 96.16, or 0.7%, to 3366.01.
Back to top