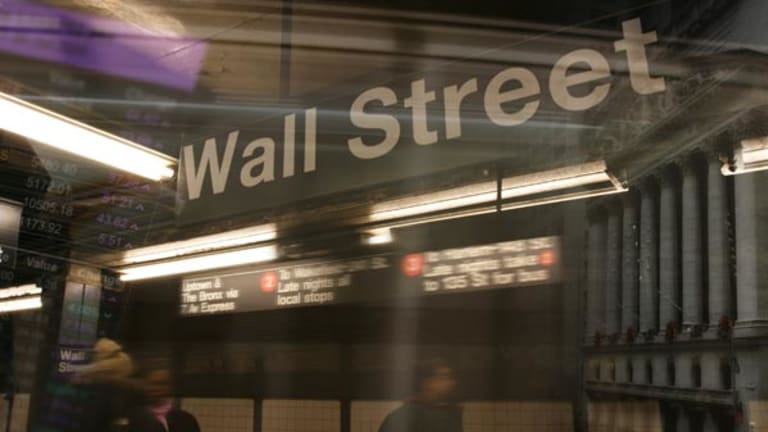 Wednesday's Market: Nasdaq Winning Streak Ends, Dow Closes Lower
The likelihood that a Vermont senator will leave the Republican Party also weighs on Wall Street.
The likelihood that a Vermont senator will leave the Republican Party also weighs on Wall Street.
Washington added a few bricks to the wall of worry Wall Street has been climbing.
The
Nasdaq Composite Index closed down 70.37 points, or 3%, to 2243.48, ending a six-day winning streak. The
Dow Jones Industrial Average ended down 151.73 points, or 1.4%, to 11,105.51, continuing yesterday's retreat from a rally that began after last Tuesday's interest-rate cut.
Stocks weakened following reports that Sen. James M. Jeffords, a Vermont Republican, has decided to leave the GOP, probably to become an independent. Jeffords' breaking ranks with the Republicans will end the 50-50 split in the Senate, giving operational control to the Democrats. Sen. Jeffords is expected to make an official announcement tomorrow.
Should Jeffords leave the Republicans right away, Senate Democrats would gain control of appointing members to the conference committees, meaning House Republicans would have to negotiate with Senate Democrats over tax cuts and education reform. Earlier today, the U.S. Senate approved a $1.35 trillion tax cut package.
"The political announcement is material news, since the market is vulnerable to power shifts," said Bob Bissell, president of
Wells Capital Management
, Wells Fargo's money management arm. He thinks drug stocks, which are said to benefit from Republican leadership, could be one of the sectors impacted by the switch. The
American Stock Exchange Pharmaceutical Index
fell 1.2% today.
Apart from some positive analyst comments about computer maker
Dell
(DELL) - Get Report
and a negative report on the semiconductor manufacturing sector, there were few industry catalysts this morning.
For some, today's selloff had little to do with the latest political drama. "We were overbought and it was time for a pullback," said Ken Sheinberg, head of listed trading at S.G. Cowen. "That's what we got today." He pointed out that stocks that would be affected negatively by a leadership change ended up on the day.
Philip Morris
(MO) - Get Report
, for example, closed up 0.8% to $49.80.
As of today's close, the Nasdaq is up 37% since falling to its recent low of 1638.8 on April 4. The average is still 55.5% off its all-time high, though. The Dow now is 18.3% above its two-year low of 9389.48 hit March 22 and 5.3% below its all-time high.
Since May 15, when the
Federal Reserve cut interest rates for the fifth time this year, Wall Street has renewed its faith in an economic recovery this year.
Over the past week, technical indicators on trading volume and volatility have been bullish. Investors await earnings outlooks to confirm the rebound theory. The second-quarter warnings season -- when companies let investors know whether they expect to meet their performance targets -- is getting started.
In company news today, a pair of brokerage firms talked up
Dell this morning.
Merrill Lynch
put the boxmaker on its Focus One list, and
Goldman Sachs
added the company to its recommended list. The stock advanced 3% to $26.81.
Semiconductor stocks traded lower after a report on the industry said the book-to-bill ratio (or new orders compared with current business) for chip equipment is at a record low. Even
Micron Technology
(MU) - Get Report
, which was added to Goldman's recommended list today, fell 1.4% to $40.25.
Alcatel
(ALA)
slid 7% to $29.44 after
The Wall Street Journal
reported that the French telecom and its rival,
Lucent
(LU)
, were moving forward with their merger talks. Lucent shed 2.5% to $9.65.
The economic calendar yields nothing new until Friday's preliminary first-quarter
gross domestic product and the April
durable goods orders.
Back to top
Market Internals
Back to top
Most Active Stocks
Back to top
International
Europe's major indices posted moderate losses today. Again, weakness in techs and telecoms put pressure on London's
FTSE 100
, which closed down 79.2 to 5897.4. Across the channel, the Paris
CAC-40
slid 62.7 to 5630.7, while Frankfurt's
Xetra Dax
lost 38.4 to 6232.2.
Asian stocks closed slightly lower overnight. Tokyo's
Nikkei 225
lost 23.5 to 14067.7. Hong Kong's
Hang Seng
sank 38.9 points to 13,839.1.
Except for some intermittent selling, the European and Asian indices have been rising steadily since March, when most of them hit lows not seen in 18 months or more.
Back to top