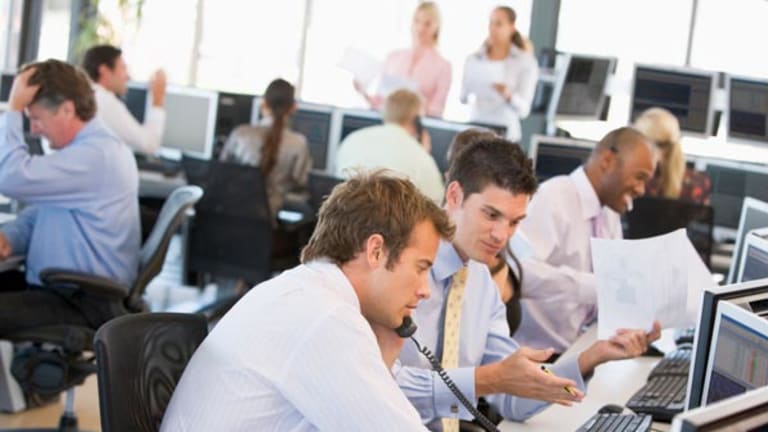 Wednesday's Market: Nasdaq Stages Solid Rally; Dow Suffers Triple-Digit Loss
An upgrade of chip equipment names sparked today's tech rally; the Dow, though, had a rough Valentine's Day.
In a twist, the
Nasdaq Composite Index was treated to a love-in, while the
Dow Jones Industrial Average got the business end of the rose plant. An upgrade of several semiconductor equipment stocks got the Comp rolling today, helping it finish near the day's highs, while the
New York Stock Exchange, by contrast, was worse for wear.
The Comp finished up 63.7 to 2491.4, led by a handful of chipmakers, while consumer staples, food stocks and airline stocks wreaked havoc on the Big Board. The
S&P 500 lost 2.88 to 1315.92, and the Dow ended near its lows, losing 107.91 to 10,795.41.
Investors dropped their clocks and grabbed their socks today -- semiconductors were the strongest sector, boosted by an upgrade of five chip stocks by
J.P. Morgan Chase
. The
Philadelphia Stock Exchange Semiconductor Index
gained 7.8%, and several of the stocks upgraded by J.P. Morgan were the strongest performers --
Applied Materials
(AMAT)
gained 13.5%,
KLA-Tencor
(KLAC)
rose 16%, and
Novellus
undefined
jumped 13%.
Micron Technologies
(MU)
, a maker of DRAM (and not upgraded by J.P. Morgan), was also strong, rising 12%.
Applied Materials, which bested analyst estimates for the fourth quarter, warned it would fall short of expectations for the second quarter. While a number of analysts reduced estimates on the stock, investors bought heavily in the sector, reflecting burgeoning sentiment that these stocks are near a bottom in terms of how they're valued. These stocks performed reasonably well in January, an indication that investors see a brightening future.
"They're showing potential leadership here," said Steven Goldman, market strategist at
Weeden
. "They got down to decent levels three to four months ago. Relative to the rest of the Nasdaq, they have been bottoming."
Goldman's contention was that such a recovery portends better things for other technology sectors, even if valuations aren't quite as tasty as in the chip stocks.
There's some evidence, though, of investor thawing to stocks they'd treated worse than wrinkles ultimately treated Dorian Grey -- big-cap technology had a stellar day.
Cisco Systems
(CSCO)
gained 3%;
Oracle
(ORCL)
gained 10%, and Unix server maker
Sun Microsystems
(SUNW)
rose 6%.
It doesn't, however, mean that investors are convinced that technology as a whole is undervalued. Fiber-optic company
Corning
(GLW)
and
Nortel Networks
(NT)
both hit 52-week lows today.
And just as quick as that, money managers decided today they really didn't want those defensive names that had been treating them so well. Food stocks were among the weakest, with
ConAgra
(CAG)
losing 19.5% after warning that future earnings would be lower than expected due to higher energy prices and a slowing economy. Other stocks going lower were
Campbell Soup
(CPB)
, down 2.3%,
Kellogg
(K)
, down 3.9%, and
Heinz
(HNZ)
, down 4.6%.
Other weak sectors pulling down the Dow were the consumer staples, especially
3M
(MMM)
, which lost 2.8% today. The
Dow Jones Utility Average
dropped 1% and the
S&P Insurance Index
lost 2%.
"It's worse than watching a fast-paced tennis match," said David Sowerby, portfolio manager at
Loomis Sayles
in Detroit. "It's a daily rotation between more tech and broadcast-type stocks, and the other end are the drugs, staples and the utilities."
Sowerby said the rotation highlights investor confusion and insecurity. For quite a while, the aggressive action taken by the Federal Reserve was like a lucky locket in the back of the market's pocket, to be pulled out as an elixir to one's ills. Now, it's a brew no longer true. It functions more as a "what have you done for me lately" crutch, and the market wants to see the full percentage point rate cut work its way into the economy, and not just in terms of mortgage refinancings and corporate bond issuance.
But that doesn't mean the market's selling off, just that it's not putting together any kind of impressive rally. Indeed, some kind of bottom seems to have been built into the Nasdaq. Today's rally represents a rebound from its lowest close since Jan. 8. Looking back a bit further, to about mid-December, a trading range seems to have been established.
The Dow's woes represent the opposite end of this spectrum. Today's decline pulls the Dow back into the middle of its trading range, roughly defined as 10,400 to about 11,000. Taken together, the performance of these indices represents a view that there's been no further deterioration in the economy, but, at the same time, that there's no evidence that there's been a pronounced improvement.
Market Internals
Breadth was weak on both exchanges on moderate volume.
Back to top
Most Active Stocks
Back to top
Sector Watch
Airline stocks were weak today on investor concern about the possibility of labor strikes at four different major air carrier companies. The
Amex Airline Index
dropped 1.7%, led by the following four companies:
AMR
(AMR)
, the parent of American Airlines, which lost 3.9%;
UAL
(UAL)
, the parent of United, which lost 1%,
Delta
(DAL)
, which dropped 3.6% and
Northwest
undefined
, ending down 0.4%.
Fast-food companies were tarred and feathered today (but not for the artery clogging stuff they serve).
McDonald's
(MCD)
dropped 2.5% and
Tricon Global Restaurants
(YUM)
, which runs
Burger King
,
KFC
and
Taco Bell
, lost 2.9%.
Wendy's International
(WEN)
, however, gained 0.2%, and they do serve fine chicken sandwiches. Yummy.
Back to top
Bonds/Economy
Treasury prices were down today. The market has little to respond to until more-relevant economic data is released at the end of the week.
Federal Reserve chairman Alan Greenspan's Senate testimony yesterday was less aggressive in the context of interest rates than traders had been hoping for. Although Greenspan discussed the fragile economy and even suggested that recovery may not gather pace until much later this year, he also hinted that the fundamentals were properly configured for now to help the revival. A
Reuters
poll of 25 Wall Street bond dealers shows that the majority expect a half-point cut in the fed funds rate at the next Federal Open Market Committee meeting on March 20.
The benchmark 10-year
Treasury note lately was down 15/32 to 99, raising its yield to 5.129%.
In economic news,
business inventories
(
definition |
chart |
) rose by 0.1% for the month of December, down from 0.3% in the previous month. The growth was .1% less than economists had predicted and is the smallest rise since January 1999. The trend confirms Greenspan's observations yesterday that information technology is enabling companies to better balance their stock of goods when faced with fluctuating demand. The year-to-year rise in the number also dropped to 6.1% from 6.6% and is now at its lowest level since May.
Back to top
International
Over in Europe, the major market bourses ended deep in the red. London's
FTSE
slid 52.3 to 6176.2, as telecommunications stocks took a nosedive and oil stocks got crushed. Germany's
Xetra Dax
dropped 78.06 to 6479.87, while the Paris
CAC
fell 94.8 to 5644.2.
The euro has slipped from yesterday's low of 92 cents. It was last at $0.9179. The yen traded at 116.36.
Asian markets were higher, but nothing notable. Japan's
Nikkei
finally pulled out a winning session, inching up 9.4 13,284.1. Now that's not very much of a gain, but you don't look a gift horse in the mouth. The index trended higher on news that someone high up in government had asked for the resignation of prime minister Yoshiro Mori, who has been blamed for a lack of decisive action about the precarious state of the Japanese economy. Hong Kong's
Hang Seng
gained 17.7 to 15,860.4.
Back to top