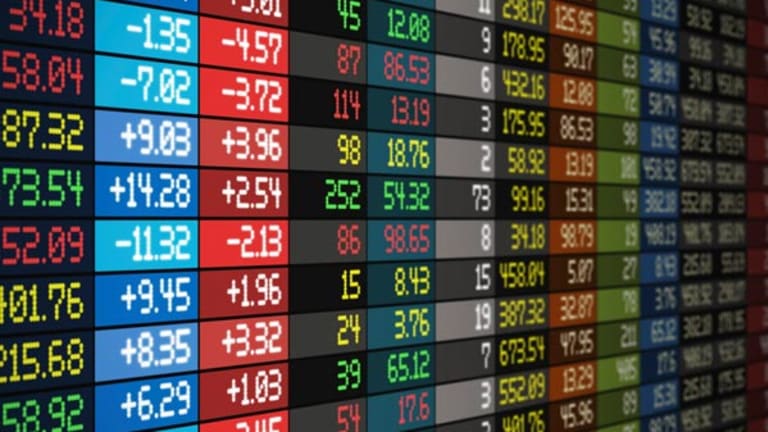 Christmas came 356 days early this year, or maybe nine days too late.
The
Federal Reserve announced this afternoon that it cut the fed funds rate by 50 basis points and the discount rate by 25 basis points, a move that Wall Street traders have been hollering for since late November, when a disastrous earnings season drove the point that America's economy was slowing. And fast.
With the Fed's quick relief on the books, the once-dead bull market reared its head for at least this afternoon, dragging stocks from their doldrums and into the winner's circle. The
Dow Jones Industrial Average sat with a 63-point loss just 60 minutes before the news hit the Street. And when it did, shocked traders sent the Dow up 387 points in 20 minutes, pouring money into rate-sensitive financial stocks like
J.P. Morgan Chase
(JPM) - Get JPMorgan Chase & Co. (JPM) Report
,
Citigroup
(C) - Get Citigroup Inc. Report
and
American Express
(AXP) - Get American Express Company Report
.
Today's Coverage

The Fed's Big Mistake ... Too Much Too Soon
Fed Who? Inktomi Plunges on Earnings Warning
Cramer Special: The Fed's on Your Side Now
Big News From the Fed! What's It Mean for the Long-Term Investor?
Rate Cut Spurs Tech, but Has the Economic Horse Left the Barn?
Nasdaq Soars on Rate-Cut Euphoria
Fed Move Slices into Options Prices, At Least for Today
Pulse: Giddy Tech Investors Give Life to Beaten Up Chip Stocks
Why Did the Fed Cut Rates Today?
Long End of Treasury Market Battered Following Rate Cut
Fed Scorecard
Both ended the day awash in gains, with the Dow up 300, or 2.8%, to 10,946 and the Comp up 325, or 14.2%, to 2617. That's the best percentage and point gains ever for the Comp, which opened 2001 with a disappointing session, sliding 7%. Trading collars, which help control the market when it makes large movements to the up or downside, were in affect for the entire afternoon as money rushed back in.
Records were shattered all around. This marks the most shares ever traded in stock market history. Both the Nasdaq and the NYSE broke volume records, with NYSE trading on 1.87 billion shares and Nasdaq crossing the 3-billion threshold for the first-time ever.
Great. Now what?
Well, judging from the last hour of trading on both the Comp and Dow and some post-market comments from
Merrill Lynch's
top equities people, it looks like the rally might actually make it to Friday without a drastic reversal. Volume on both markets shattered records as the Comp left the trading day still rising. The Dow wasn't far from its session high either. Those are both good signs. Late-day weakness can be a harbinger of a dark day tomorrow.
Christine Callies, Merrill's chief equities strategist, said that the rate cut was bullish for the intermediate-term, explaining that after such a rate cut -- markets usually perform quite well.
"Historically, within three months after an initial rate cut the
S&P 500 has generally traded up around 10%, within six months the index has generally advanced 19% and by 12 months it has generally returned 23.6%," Callies wrote to investors in a note that hit Wall Street's e-mail boxes just after the rate cut.
Now, it's important to note that the word "generally" was used three times in one sentence. Today's rally, just like the ones that opened 2000, is no sure thing. As with other calls for a definitive market turnaround, like the ones heard throughout November and December, this could be nothing more than a speed bump. Investors should continue to use caution.
That caveat aside, Callies pointed out that profit-taking after a Fed cut tends to be rather minimal and that market liquidity has spread beyond tech and into other sectors, which could, as Callies put it, "set the stage for a broad advance."
Bruce Steinberg, Merrill's chief economist, warned that a rate cut will not necessarily fix the economic problems overnight, even if stocks go northward.
"This does not mean that the economy will turn around suddenly. There is a lag between a rate reduction and its economic impact," he wrote. "However, this announcement gives us more confidence that the economy will be strengthening by the second half of the year. In the meantime, we believe the economy will not be shrinking but just growing more slowly."
Many market watchers were blindsided by the Fed action today, in part because it was an intermeeting move, one occurring before the next
FOMC meeting on Jan. 30 and 31. Although many people were calling for an intermeeting move, few thought it would come today. Most were looking at Friday, since the crucial jobs report, one of many factors in judging economic slowdown, would hit the Street.
Some think this could be the shocking slap that markets needed.
"I think the important thing is that psychology could have changed here, but with the rate cut, the real key is Greenspan, which has left an opening to cut rates further," said Jim Volk, co-director of institutional trading with
D.A. Davidson
. "He could have changed psychology. At worst this could prevent freefall while the market waits to see the effects of this rate cut on the economy. So it's psychologically helpful from the standpoint of the economy."
Why Now?
The Fed thought it had to act, and it had to act fast, making a historical move in the process. This is the first intermeeting move since fall of 1998, when a world economic crisis threatened to put a chokehold on American markets and it's the first half-percentage-point cut since the middle of 1992, when good ol' Billy Clinton was breaking in the Oval Office couch and the market was shaking off a slight recession.
Words were not minced in the press release detailing the rate cuts.
"These actions were taken in light of further weakening of sales and production," the FOMC wrote, "and in the context of lower consumer confidence, tight conditions in some segments of financial markets, and high energy prices sapping household and business purchasing power.
"Moreover, inflation pressures remain contained," the FOMC continued. "Nonetheless, to date there is little evidence to suggest that longer-term advances in technology and associated gains in productivity are abating."
There you have it. More reasons than Bonanza has steam trays for. Weak Christmas sales, lower production levels, eroding consumer confidence and the affect of energy costs to both consumers and corporations alike all weighed on the Fed's decision. And these reasons come after yesterday's terrible
National Purchasing Managers' Index
figures for the month of December, which came in way below expectations and showed that manufacturing was contracting, yet another strong sign of a rapidly cooling economy.
Break out the monkeys! The Fed hiked rates and the markets went bananas, with stocks on the red side making a jailbreak north into greener pastures. At one point, the Nasdaq's losers had a healthy edge on the winners as sellers dominated the market. But after the Fed move, all bets were off and the doggies went to the races. In New York, winners easily doubled losers, while on the Nasdaq -- they've tripled them.
Technology-related industries aside, the rate-sensitive brokers got a major boost from the news. The
American Stock Exchange Securities Broker/Dealer Index
, which tracks some of the biggest names in the industry, was doing a whole lot of nothing around 1 p.m., doing the stock market version of picking its nose.
Lehman Brothers
(LEH)
is a good example. The company sat with a negligible gain at 1 p.m., trading on fewer than a million shares, a pretty standard day for the stock, which averaged 2.3 million shares traded over the last 50 sessions. And when the day ended, the brokerage gained $11.19, or 17.2%, to $76.13, trading on 5.2 million shares. That's an instant rally, one that took Lehman within five bucks of a 52-week high on more than double its regular volume.
Get a pencil and write down today's biggest winner -- technology. Y2K's bastard children made double-digit percentage point gains across the board. From PCs to
PCS
(PCS)
everything was up.
Here's a quick look.
Market Internals
Now
those
are good internals. And
that
is record volume on both the New York Stock Exchange and Nasdaq Stock Market.
New York Stock Exchange: 2,294 advancers, 782 decliners, 1.873 billion shares. 314 new 52-week highs, 30 new lows.
Nasdaq Stock Market: 3,062 advancers, 986 decliners, 3.118 billion shares. 59 new highs, 151 new lows.
Back to top
Most Active Stocks
NYSE Most Actives
Nasdaq Most Actives
Back to top
Sector Watch
ExxonMobil
(XOM) - Get Exxon Mobil Corporation Report
and the rest of the oil sector got a big downgrade from
Prudential Securities
, who flashed the hold sign, telling investors to stop buying these stocks since they've easily outpaced the rest of the market.
BP Amoco
(BP) - Get BP p.l.c. Sponsored ADR Report
,
Conoco
(COCA)
,
USX-Marathon
(MRO) - Get Marathon Oil Corporation (MRO) Report
and
Chevron
(CHV)
were downgraded to hold after they ran up and met price targets.
And Pru didn't stop there. It also cut
Phillips Petroleum
(P)
,
Royal Dutch Petroleum
(RD)
,
Shell
(SC) - Get Santander Consumer USA Holdings, Inc. Report
and
Texaco
(TX) - Get Ternium S.A. Sponsored ADR Report
to hold as well.
Investors obeyed the sign and held at third. The
American Stock Exchange Oil Index
slid 3.4% as people begin learning one of 2000's most painful lessons -- sell at the top, buy at the bottom.
Back to top
Bonds/Economy
In a move that the financial markets were eagerly awaiting, the
Federal Reserve lowered interest rates well before its monetary policy meeting scheduled for the end of the month.
The 10-year benchmark ended off 1 27/32 to 104 15/32, yielding 5.154%. The 30-year bond was off 2 12/32 to 110 30/32, to yield 5.495%. On the short end, though, Treasury three-, six- and one-year bills were all moving higher in price following the cut.
In economic news, the weekly
Mortgage Applications Survey
(
definition |
chart |
source
) detected a decrease in refinancing and new mortgage activity. The Refinancing Index fell to 757 for the week ending December 29, dropping noticeably from its 18-month high of 794.1 recorded the week before. The Purchase Index fell to 219.4, its lowest level since March 1998. A diminishing in consumer confidence and income growth are the probable cause of the decline, though some the data could be seasonal.
The
BTM-UBSW Weekly Chain Store Sales Index
(
definition |
chart ) rose 0.3%. The Redbook Retail Average showed December sales slowing down to 2.1%, as compared to 3.3% in November. Heavy discounting and promotion of goods helped lift sales towards the last part of the shopping season.
Construction spending
(
definition |
chart |
source
) fell 0.6% in November. Economists polled by
Reuters
had expected it to be unchanged for the month. The pace of construction spending, which benefits from low interest rates, fell to 4.7%, its second lowest rate for the year, from 8% in October. There were fewer residential and public buildings built, while expenditure on non-residential buildings like offices and factories increased.
Back to top
International
Forget the early bird -- the late bird gets all the worms.
Germany's
Xetra Dax
gained 145.1 to 6435, taking the express elevator up along with American markets. The lucky Germans trade longer than their European counterparts, so when the news hit they were still able to make a move on the news. Paris and London were not as lucky. These guys got whacked. The UK's
FTSE
fell 134.8 to 6039.9, slipping below 6100 and making a strong run below 6K. The French
CAC
dropped 114.9 to 5684.1.
Japanese markets were still closed for the New Year's holiday, but will resume trading on Thursday. Hong Kong's
Hang Seng
traded however, and fell 280.36 to 14589.58.
A quick look at currencies -- the euro, which has been rallying well off its lows over the past nine weeks, last traded at $0.9547. The yen, which has been weakening against the dollar, last traded at $114.42.
Back to top