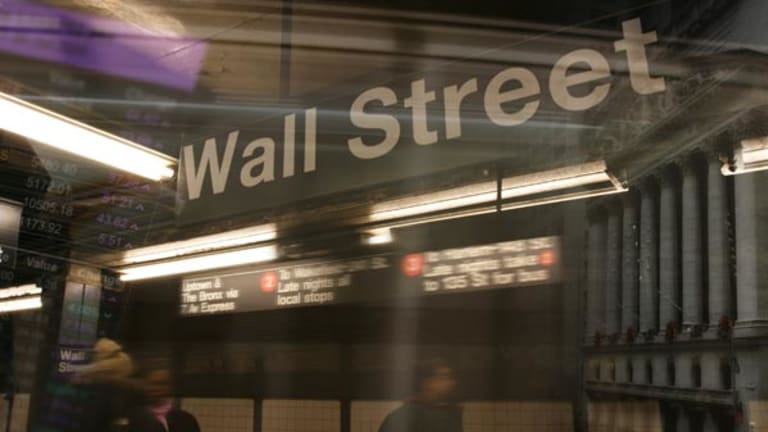 Wednesday's Market: Nasdaq Finishes at Lowest Levels Since Late 1998; Dow Also Pummeled
With investors putting all their chips into the rate-cut basket, the market skidded as Greenspan dashed hopes of an intermeeting cut.
"Cancel my subscription to the resurrection." --
When the Music's Over
The stock market's inflated view of its persuasiveness was popped today, after
Alan Greenspan, chairman of the
Federal Reserve, reiterated in testimony mostly what he said two weeks ago. The chairman made some changes to his prepared
remarks, but the words served only to amplify the message: The Fed's concerned, it's going to cut interest rates, but it won't be today, tomorrow or Friday.
That wasn't what Wall Street wanted, and it spent the rest of the day
getting used to that. The major stock indices skidded, with the
Dow Jones Industrial Average ending the day 141.60 points lower, to 10,495.28, and the
Nasdaq Composite Index finishing at 2151.8, a drop of 56 points and its lowest close since December 1998. The broad
S&P 500 dropped 18 to 1239.94, a new 52-week low.
Today was one of those macro kind of days. There's some stock-specific news here and there, but largely the markets were hoping for something out of Greenspan that they weren't going to get, because the Chairman's primary purpose isn't to mollify the stock market.
Besides, market pessimism right now extends beyond how Alan Greenspan feels: the path to gains in equities is being unduly cramped by lousy earnings, layoffs and expectations for more lousy earnings. The Fed's actions are about the only thing the market's got going for it right now, and investors have put all their chips into that basket.
"The market is looking for positive news, and there just hasn't been any," said Eugene Profit, chief investment officer at
Profit Funds
in Silver Spring, Md. "Until we stop getting earnings warnings and conversations about whether we're in a recession, sentiment is going to be negative."
This translated into big losses in large-cap stocks, especially growth names like technology and financials. Internals were horrific, with losers easily outpacing winners on both the
Nasdaq Stock Market
and the
New York Stock Exchange. Investors today said the pessimism represents growing belief that the pullback in technology spending and the drawing down in inventories, coming now after a wealth of spending in the last several years (and especially the last two) is not a problem that will be solved in a few months.
"The market wants to go down," said Mike Vogelzang, president and chief investment officer at
Boston Advisors
, a unit of
Advest
. "There's a real sort of manifest destiny about this market going down, particularly technology. When you get the kind of bubbles we had, they go down -- they always go down."
Big-cap tech was shredded high and low, with a roll call of major technology companies hitting new 52-week lows. That includes
Cisco
(CSCO) - Get Cisco Systems Inc. Report
, the Nasdaq's most active, losing 1.3%;
Corning
(GLW) - Get Corning Incorporated Report
, down 5.4%,
Oracle
(ORCL) - Get Oracle Corporation Report
, down 12.4%,
JDS Uniphase
(JDSU)
, off 3.8%, and
Intel
(INTC) - Get Intel Corporation Report
, down 1.5%.
Investors are starting to believe that until technology fundamentals improve (and people stop wanting to proclaim the next bottom in technology stocks), that these stocks won't show dramatic improvement.
"Even I think, Hey, I gotta buy
EMC
(EMC)
here, but I'd argue rationally that it's not going to go back up," Vogelzang said. "It's got more time to bleed and hurt and get the capital spending cycle back on track."
Also getting hit hard were
financial stocks, especially the brokerages, after a downgrade by
Merrill Lynch
. Their decline in part reflects anticipation of economic sluggishness. Lower trading volumes are also hitting these stocks. The
Amex Broker/Dealer Index
dropped 4.8%, led by big losses in
Lehman Brothers
undefined
and
Goldman Sachs
(GS) - Get Goldman Sachs Group Inc. (The) Report
. The stocks ended down 6.2% and 6.7%, respectively.
Greenspan to Market: Drop Dead
The market had its hopes up that Greenspan would signal what he was going to do.
Bear Stearns'
chief economist and former Fed official Wayne Angell had confidently put 80% odds on a Fed rate cut before the end of the week, an oft-repeated prediction he retracted today. Alas, there was no such response from Greenspan, who probably had the stock market somewhat in mind when the Fed engineered a surprise rate cut on Jan. 3. However, the Fed didn't have shock value on its side, so the rate cut probably would have had little effect on sentiment.
"Anybody who expected Greenspan to say what he was going to do isn't really paying attention to the way he operates," said Jim Volk, co-head of trading at
D.A. Davidson
in Seattle.
The Fed appears ready to cut the
fed funds rate on March 20, most likely by 50 basis points, to 5% from the current 5.5%. Up until today, the March
fed funds futures contract, the market's best proxy for what the market believes the monetary policy committee will do at coming meetings, was fully pricing in a 75 basis-point cut. Now, it's only putting 88% odds on that happening, although it's still fully betting on a 50-point cut.
But what the market is now getting used to is the notion that no relief is coming for a few weeks, and some expressed the belief that the economic performance nine months down the road won't be any worse if the Fed responds in a few weeks.
The market had hoped Greenspan and his cohorts would respond to recent declines in consumer confidence, but Fed officials such as he and Vice Chair
Roger Ferguson
have been careful to point out in recent days that current household spending hasn't weakened at quite the same rate as consumers' assessment of future conditions. Greenspan also said consumer confidence would have to be watched "in the period ahead," indicating that they're taking things nice and slow -- although they're certainly aware of how psychology can affect the stock market (witness the last few weeks). The stock market might have to forget about a rally anytime soon.
Market Internals
Back to top
Most Active Stocks
Back to top
Sector Watch
Retail stocks ended lower, as rate-cut hopes were dashed. The
S&P Retail Index
ended off 1.7%, with components
Home Depot
(HD) - Get Home Depot Inc. (The) Report
lower by 4.7% to $42.50 and
Wal-Mart
(WMT) - Get Walmart Inc. Report
off 1.8% to $50.09.
Investors weren't even seeking shelter in the safety of gold -- a little profit-taking, perhaps? The
Philadelphia Stock Exchange Gold and Silver Index
ended down 2%. The index lately has gotten a nice bounce from frightened investors fleeing to that which is usually the ultimate defensive.
Still, not all defensives were on the slide; drugmakers did fairly well. The
American Stock Exchange Pharmaceutical Index
finished up 0.7%. Yesterday, component
Eli Lilly
(LLY) - Get Eli Lilly and Company Report
, up 1.9% to $79.46, won approval from the
Food and Drug Administration
for its ever-popular depression medication, Prozac, to be administered in a weekly form.
Technology indices were in hell.
TheStreet.com Internet Index
dropped 4%, with
Amazon.com
(AMZN) - Get Amazon.com Inc. Report
losing 13.3% today. The
Philadelphia Stock Exchange Semiconductor Index
fell 4.9% and the
Amex Networking Index
dropped 1.3%.
Want more stocks hitting 52-week lows? How about
Hewlett-Packard
undefined
, which touched a new low before rising 0.9% on the day, and
Motorola
(MOT)
, ending down 5.4%.
Back to top
Bonds/Economy
Treasuries are mixed as traders realize they will probably have to wait until later in March for an interest rate cut. The short-dated securities, which are more sensitive to revisions in short-term lending rates, are moving positively now after having slipped earlier this morning. The long bond is down slightly, while its yield has not changed much.
Federal Reserve chairman
Alan Greenspan today updated his Feb. 13 testimony before Congress. Speaking to the
House Financial Services Committee
, he once again
expressed concern about the economy, reiterating that he expects a slow recovery and possibly more dips before the eventual pickup. Though his words clearly point to further rate cutting, his remarks also snuffed out hopes that the Fed would move before its next scheduled meeting, on March 20.
The benchmark 10-year
Treasury note lately was up 11/32 to 100 22/32, lowering its yield to 4.91%.
In economic news, the revised reading of the
gross domestic product
(
definition |
chart |
), which measures the rate at which goods and services are produced in the nation, is at 1.1% for the fourth quarter of last year, its slowest growth since the second quarter of 1995, when it was 0.3% lower. Still, it is slightly above the 1.0% predicted by economists in the
Reuters
poll.
The latest
Mortgage Applications Survey
(
definition |
chart |
source
) detected an increase in the purchase of new units but a decrease in home refinancing. For the week ended Feb. 23, the purchase index rose to 291.4 from the 274.3 in the previous week. The refinancing index fell to 2140.4 from 2346.1. Greenspan mentioned the relatively strong showing in home
and automobile sales as a sign that some sections of the economy are holding steady.
The
Chicago Purchasing Managers' Index
(
definition |
chart ) rose to 43.2 during February after falling to 40.2 for January. The gauge indicates a contraction in the manufacturing sector when below 50.
Back to top
International
British telecommunications stocks have been quite a drag on the
FTSE
in the new year. Ever since the floatation of shares in telecommunications company
Orange
went belly up and attracted far less interest than expected, many of the bigger names suffered. Companies like
Vodafone
have been sliding and pushing the London index to lower lows.
Well, under the weight of sliding tech both at home and abroad, the FTSE dropped to a 16-month-low of 5,901 earlier in the trading day. It closed just above that, falling 23.3 to 5917.9. Volume was thin. Chipmakers were big losers. The Paris
CAC
fell 90.5 to 5327.3, while Germany's
Xetra Dax
dropped 12.24 to 6208.24.
Asian markets continued to slide as the Nasdaq retests its lows here in the States. Japan's beleaguered
Nikkei 225
dropped 176.32 to 12,883.54, the lowest point since October 1998 -- a 28-month low. Tokyo traders had reason to smile, however. After the market closed, the Bank of Japan announced that it would cut interest rates, dropping the key overnight money-market call rate to 0.15% from 0.25%. The move comes as a surprise to many, who expected the BOJ to make its move on March 19, when it has its next meeting.
Hong Kong's
Hang Seng
dropped 46.86 to 14,787.87.
Back to top