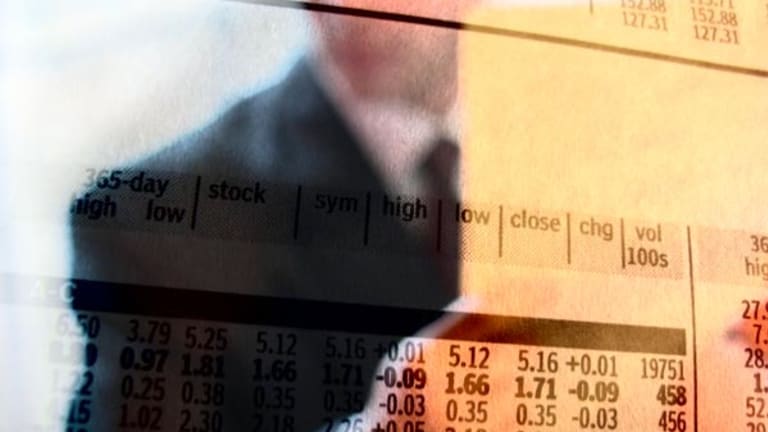 Wednesday's Market: Nasdaq Ends at Lowest Level Since March 1999; Downgrades Batter Dow
Things were bad all over as both Old and New Economy stalwarts took a beating today.
The stock market suffered through a bloody session, with both the
Dow Jones Industrial Average and the
Nasdaq Composite Index ending with triple-digit losses. A series of morning downgrades of large technology companies, tax-loss related selling and continued disappointment that the
Federal Reserve didn't reduce interest rates yesterday was responsible for the day's losses.
Selling accelerated in the afternoon, especially on the tech-heavy Nasdaq, which closed at its lowest level since March 23, 1999. A total of 2.8 billion shares traded, making it the second-heaviest day of trading in history. The list of stocks hitting new 52-week lows read like a "Who's Who of the Nasdaq," including
Cisco
(CSCO)
,
Sun Microsystems
(SUNW)
and
Microsoft
(MSFT)
.
A staggering 933 stocks hit new lows on the day as the Nasdaq lost 7.1% of its value, seventh-largest percentage loss in history. The
S&P 500, meanwhile, lost 3% and the Dow dropped 2.5%.
Despite the massive declines, investors remain skeptical that the market has reached a bottom. Yet, tax-loss selling and overall pessimism may result in more selling for the next few days.
"The market's groping for a bottom, but clearly we haven't found one yet," said Bryan Piskorowski, market analyst at
Prudential Securities
. "By and large, people wanted to say we weren't looking for a hike, but in the back of everyone's mind there was hope. Now that that's been kyboshed, and houses are throwing in the towel. Selling is begetting selling."
Some believe the market was hoping against hope. Hoping that the Fed, which elected to change its directive to lean toward the possibility of interest-rate cuts, as expected, should have cut the
fed funds rate from its current 6.50%.
Add to that a series of analyst downgrades, including a
Merrill Lynch
downgrade of Cisco, as well as earnings warnings from a variety of companies, including Cisco competitor
Foundry Networks
undefined
, which cautioned of a shortfall earlier
today. Also warning were
Jabil Circuit
(JBL)
and
Vishay Intertechnology
(VSH)
, a semiconductor and component distributor.
Merrill Lynch analysts also gave the market a thorough pantsing this morning when it downgraded shares of
Hewlett-Packard
undefined
and
IBM
(IBM)
. Analyst Tom Kraemer said a survey of technology buyers shows a slowing in purchases of mainframes, Unix servers, software and PCs -- bad news for the two Dow components.
Hewlett-Packard fell 2.8% to $30.44 today; IBM ended the day down 4.6% to $86. The major technology indices were destroyed today, as analysts anticipate a continued slowing in technology spending and investment after several years of robust investment. The
American Stock Exchange Networking Index
lost 10%, while the
Philadelphia Stock Exchange Computer Box Maker Index
dropped 5.3%. The
Philadelphia Stock Exchange Semiconductor Index
lost 6.5% today.
International Paper
(IP)
was also rapped after issuing an earnings warning, losing 4.8%. The
Philadelphia Stock Exchange Forest & Paper Products Index
lost 2.3%.
Big Bottom?
Of course, the subject at the forefront of everyone's mind is whether the market has indeed reached a breaking point; whether the losses will stop and investors will start buying stocks again. Some sources today felt it was too early to talk about capitulation, which is defined by hitting bottom and bouncing off. The market closed the day right at the day's lows, so there's not much confidence that a bottom has been reached.
Richard Dickson, technical analyst at
Scott & Stringfellow
, pointed out that despite the new lows in names like Cisco and Sun Microsystems, a number of prominent blue-chip technology companies are still trading at levels higher than their March lows. He cited
Vitesse
(VTSS)
,
Juniper Networks
(JNPR)
,
Siebel Systems
undefined
and
Rambus
(RMBS)
as examples of companies still trading at levels better than the lows reached in the spring.
"There's a lot of glamour names," he said. "Once you've convinced people these bulletproof stocks aren't bulletproof you can say, we've cleaned out the excesses and say, we've shot 'em. Until we get that washout, we're not there on the Nasdaq."
Right now, though, the market has very little to hang its hat on, nothing overly positive from economic news or consumer data to offset the spate of earnings warnings and disappointments. Ultimately, there's a believe that lower interest rates will alleviate some of the pressure on the stock market, but it won't make existing problems go away -- that is, bank loans that can't be paid off, the shuttering of dot-coms and other firms that couldn't make any money and a slowing in technology spending.
"When you go into a recession, there's bad loans," said Allan Meyers, portfolio manager of the
Kent Growth & Income Fund
in Grand Rapids, Mich. "A poorly managed bank can offset the decline in interest rates. Banks are going to be a case-by-case basis on how they perform."
Today, those stocks were mixed. The
Amex Broker/Dealer Index
lost 3% today and the
Philadelphia Stock Exchange/KBW Bank Index
lost 1.6%. However, a number of regional banks and other financial stocks performed reasonably well;
Wells Fargo
(WFC)
ended the day up 0.2%;
Summit Bancorp
(SUB)
rose 1.7%, and
FleetBoston Financial
undefined
gained 1.9%.
Market Internals
Breadth was vomit-inducing on heavy, heavy volume.
New York Stock Exchange: 1,010 advancers, 1,933 decliners, 1.4 billion shares. 167 new 52-week highs, 196 new lows.
Nasdaq Stock Market: 829 advancers, 3,291 decliners, 2.79 billion shares. 55 new highs, 933 new lows.
Back to top
Most Active Stocks
NYSE Most Actives
America Online (AOL) : 33.5 million shares. EMC (EMC) : 32.9 million shares. Lucent Technologies (LU) : 30.1 million shares.
Nasdaq Most Actives
Cisco Systems: 167.5 million shares. Sun Microsystems: 97.5 million shares. Microsoft: 73.1 million shares.
Back to top
Sector Watch
Among the other major indices, the
Dow Jones Utility Average
gained 1.6% and the
Amex Pharmaceutical Index
rose 0.6%, two of the few spots that escaped the day's pain. The
Dow Jones Transportation Average
lost 1.7%.
Today was a day to sit back and smoke 'em if you got 'em.
Philip Morris
(MO)
, the Dow's stalwart this year, rose $1.06 to 44.13, helping the
S&P Tobacco Index
hang in there, as it gained 0.5%.
TheStreet.com Internet Sector
index was a sorry lot today, losing 9.8% on the back of major declines in America Online, which lost 8.6% to $37.25, and Yahoo!, losing 0.2% to $27.94, a 52-week low for the Internet portal company.
BroadVision
(BVSN)
also hit a new 52-week low.
Back to top
Bonds/Economy
Treasury note and bond prices were sharply higher as investors worry that yesterday's decision by the
Fed to leave interest rates unchanged will cause economic growth to slow further. That possibility is weighing on stock prices, aiding the bond market.
The benchmark 10-year
Treasury note ended the day up 1 12/32 to 105, lowering its yield to 5.047%.
Bond prices were rising despite signs of strength in the housing sector of the economy.
Housing starts
(
definition |
chart |
source
) rose more than expected in November to 1.562 million from 1.528 million in October. Economists polled by
Reuters
had forecast a rate of 1.536 million.
In other economic news, the weekly
Mortgage Applications Survey
(
definition |
chart |
source
) detected an increase in refinancing and a decrease in new mortgage activity as mortgage interest rates fell to new lows for the year. The Refinancing Index rose to 777.2, the highest since May 1999. The Purchase Index fell to 302.2.
Back to top
International
European markets took a sizeable hit, following the Fed's bias change and the disappointing end to yesterday's stateside trading. London's
FTSE
fell 118.30 to 6176.70, while Paris'
CAC
dropped 192.56 to 5766.30 and the German
Xetra Dax
fell 230.52 to 6248.76.
The euro last traded at $0.9090, while the yen was at 112.69.
Asian markets were devastated. Japan's
Nikkei 225
fell 217.94 to 13,914.43, not only falling through the psychologically pivotal 14,000 level but hitting 22-month lows as well. Hong Kong's
Hang Seng
dropped 257.32 to 14,930.72.
Back to top