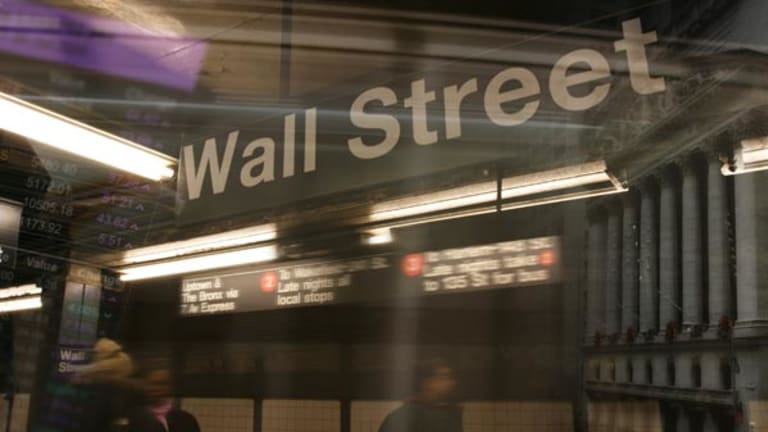 Wednesday's Market: Dow Closes at Five-Year Low
Stocks take another dive amid negative comments from analysts and weak profit outlooks.
Updated from 4:12 p.m. EDT
Sellers strengthened their grip on the market Wednesday, forcing all three major indices to multiyear lows, amid a fresh round of negative comments from analysts and weak profit outlooks.
The
Dow Jones Industrial Average
ended down 215.22 points, or 2.9%, at 7286.27, its lowest level since October 1997 and below its previous intraday low for the year. The
Nasdaq
closed off 14.9 points, or 1.3%, at 1114.1, a new six-year low, despite some bargain hunting on the index.
The
S&P 500
came very close to breaking its July intraday 775 low, but managed to stay above that level. Still, the index lost 21.8 points, or 2.7%, to 776.75 and remained at its April 1997 low.
"Sentiment is about the worst I have ever seen it, and I've been on Wall Street for 20 years," said Tom Schrader, a trader at Legg Mason. "Nobody wants to do anything. Things are pretty bleak out there, which hopefully leads one to believe that the basing period will finish in the next few weeks."
For the year, the Dow is off 27%, the Nasdaq is lower by 44% and the S&P 500 is behind by 32%.
Several Dow stocks hit new 52-week lows Wednesday as analysts hammered their earnings estimates.
General Electric
(GE) - Get Report
fell 5.8% to $22, its lowest level in a year, after Morgan Stanley cut its price target on the stock, citing potential weakness in its power, aircraft, plastics and financial businesses next year.
Among other blue-chips,
General Motors
(GM) - Get Report
fell 7.7% to $31.01 after Morgan Stanley cut its 2003 earnings estimates along with other automakers.
Ford
(F) - Get Report
dropped 7.7% to $7.15. Meanwhile,
J.P. Morgan Chase
(JPM) - Get Report
shed 7% to $15.45 after Moody's cut its long-term debt ratings;
IBM
(IBM) - Get Report
dropped 3.4% to $55.09 after Goldman Sachs lowered its earnings estimates on Tuesday; and
Caterpillar
(CAT) - Get Report
lost 6.8% to $33.86 after Salomon Smith Barney cut its price target.
"The GE comments had an effect, and the overall picture is negative," said David Memmott, a trader at Morgan Stanley. "There are differing opinions about whether or not these levels will hold." Investors continue to eye a 775 support level on the S&P 500, where buyers are thought to step in.
Merck
(MRK) - Get Report
ended off 0.8% at $45.63 after it affirmed earnings estimates for 2002 and 2003. Earlier in the day, Raymond James cut the stock to market perform from strong buy, saying it expects the company to miss estimates this year and next.
In technology,
Intel
(INTC) - Get Report
closed up 1.8% at $13.46,
Advanced Micro Devices
(AMD) - Get Report
gained 0.3% to $3.56 and
Applied Materials
(AMAT) - Get Report
rose 0.6% to $10.41.
"Some semiconductor stocks were strong, but I don't particularly know why," said Matt Johnson, a trader at Lehman Brothers. "Maybe, people are feeling September was not as bad as they thought."
The market was coming off a rare session in which the Dow closed up 78.65 points, or 1.1%, at 7501.49 after President Bush ordered West Coast ports to be reopened. But the blue-chip index finished well off its highs of the session on Tuesday, and many big names ended the day with losses. Meantime, the Nasdaq closed up 9.8 points at 1129.2, while the S&P 500 finished higher by 13.26 points at 798.53.
On Wednesday, Goldman Sachs strategist Abby Joseph Cohen cut her target for the Dow to 10800 from 11300, and the S&P 500 1150 from 1300, saying the uneven pace of the economy has raised concerns of a double-dip recession, and possibly even deflation. Cohen added that geopolitical jitters are compounding these factors, and stock prices are being held down as a result of intense risk aversion. However, the veteran analyst also said corporate profits are improving and valuations are "appealing."
Regional bank
SunTrust Banks
(STI) - Get Report
said its quarterly profit rose, as a ramp-up in fee income offset bad loans to telecom companies, but the results missed analysts' forecasts by a penny. Atlanta-based SunTrust reported third-quarter earnings of $343 million, or $1.20 a share, up from $334.1 million, or $1.15 a share, in the year-ago period.
Struggling American Airlines parent
AMR
(AMR)
ended off 16% at $3.31 after Credit Suisse First Boston said it could be near bankruptcy.
"Our current estimates, which do not include the impact from an Iraqi war, suggest a 71% drop in AMR's cash level to $739 million by the end of 2003 -- a level we believe is on the brink of the minimum cash balance needed to maintain operations," CSFB said in a research note on Wednesday.
In the retail sector, apparel designer
Nautica
(NAUT)
said second-quarter earnings rose from year-ago levels, citing improved gross margins and a change in its accounting procedures. The New York-based company posted net income of $10.4 million, or 30 cents a share, compared with $8.9 million, or 26 cents a share. The results topped analysts' expectations by a penny. Revenue for the quarter fell to $182.2 million from $199.3 million last year.
Fiber-optic cable maker
Corning
(GLW) - Get Report
said it sees third-quarter sales at the low end of previous estimates and that further layoffs are on the horizon, due to the continued slowdown in the telecom industry. The company expects to post a third-quarter net loss, excluding charges, of 7 cents to 8 cents a share on revenue $830 million to $840 million. Corning plans to take a $125 million charge to cover severance, restructuring costs and preferred stock dividends.
Elsewhere, two top-level executives at
Gemstar-TV Guide
(GMSTE)
announced their resignation Tuesday, according to a
New York Times
report. Henry C. Yuen, the company's founder and chief executive, and Elsie M. Leung, chief financial officer, were asked to step down from their respective posts to assume new roles within the company. The company said that Yuen will receive $22 million and Leung $7 million in severance under their existing contracts. Jeff Shell, a former News Corp. executive who has served as co-chief operating officer of Gemstar since April, has been named CEO. Gemstar's shares closed up 25.5% at $3.25.
Overseas markets were lower, with London's FTSE 100 losing 0.1% to 3725 and Germany's Xetra DAX down 3.7% at 2524. Japan's Nikkei 225 fell 2% to close at 8539, while the Hang Seng ended flat at 8977. U.S. Treasuries were slightly higher, with the 10-year note up 16/32 at 106 19/32, yielding 3.57%.