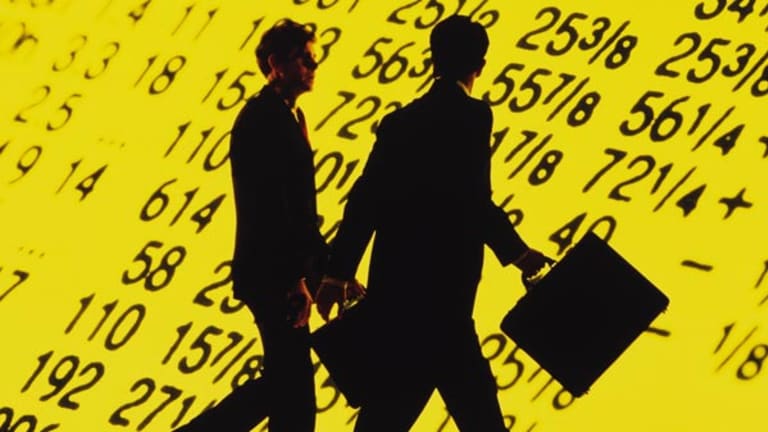 Wednesday's Market: Cisco Casts Pall Over Stocks
Gold glitters, but many other stocks falter after the networker reminds investors corporate earnings visibility is still blurry. The Dow and Nasdaq end lower.
Gold glitters, but many other stocks falter after the networker reminds investors corporate earnings visibility is still blurry. The Dow and Nasdaq end lower.
Stocks traded lower on Thursday and volume was light as speculation about the upcoming meeting of the
Federal Reserve and the shadow of
Cisco's
(CSCO) - Get Report
earnings report held center stage.
The
Dow Jones Industrial Average and the
Nasdaq Composite Index burned through a midday turn higher and limped into the end of trading with losses.
Tech stocks got crunched after networking giant
Cisco
(CSCO) - Get Report
yesterday after the close posted its first-ever quarterly loss and offered a lukewarm
outlook about its near-term prospects.. As a result, technology came under pressure today. Despite an attempt at a mid-day rally, Cisco,
Microsoft
(MSFT) - Get Report
and
IBM
(IBM) - Get Report
ended the day at the same low point where they started the trading session. Cisco was off 6.3% to $19.09; Microsoft lost 2.3%; and IBM ended down 0.6% to $116.98. The tech-heavy Nasdaq lost 1.9% to close at 2156.
The Dow dropped 17 to 10,866, while the small fries in the
Russell 2000
dropped 2 to 490. The
S&P 500
, the measure by which the broad stock market is gauged, dropped 6 to 1255.
Gold stocks were a big winner today, with the
Philadelphia Stock Exchange Gold & Silver Index
jumping 6.6%. Many of the companies in the index hit 52-week-highs. "If you own some gold stocks, you're trying to lower volatility," said Michael Durose,
Morgan Stanley's
gold analyst. Indeed, trading volume has been low during many of the recent trading days, and low volume makes moves more extreme. Durose also said investors are diversifying portfolios, buying a sector many often overlook.
Other commodity-related stocks also did well. The
Morgan Stanley Commodity Related Equity Index
-- a barometer of commodities like aluminum and steel -- gained 2.6%. Petroleum-related stocks were also higher.
Enron
(ENE)
was a big winner, gaining 5.5%. The company is something of a tell for both commodities and petroleum since the Texas-based conglomerate produces natural gas and electricity, operates energy facilities, delivers commodities and runs a broadband pipeline.
Consumer electronics were on the downside, with
Sony
(SNE) - Get Report
leading the way, falling 3.9%. The U.S.
Dow Jones Consumer Electronics Index
slid 2.3%. Chip, retail and dot-com stocks were also lower.
The Big Question
The market has been on a general trajectory higher since early April. With the Fed meeting next week, some investors are questioning whether the market has already priced in a half-point interest rate cut. And there is also analysis of whether the major indices can break through upper resistance levels -- those technical levels above which it could be hard for them to pass -- now defined as
11,000 on the Dow and 2200 on the Nasdaq.
"We're running into a wall at 11,000 on the Dow, but the question is, are we still in a buy the dip mentality?" asked Sam Ginzburg, senior managing director of equity trading at
Gruntal
.
"There's no follow-through on the downside, but we're hitting resistance on the upside. If the April rally keeps up through next week, the
Fed meeting will be a good time to short the market," said Tom Gallagher, head of U.S. equity sales at
CIBC World Markets
. Short-selling happens when investors borrow stocks in hopes their price will fall and borrowed shares can be replaced more cheaply.
Last night's report from Cisco gave jitters to investors who are hoping stocks will only keep rising. Cisco CEO John Chambers, once an eternal optimist, called the valley in the U.S. economy "much deeper than any of us anticipated," worrying investors who have been banking on an economic rebound in the second half of this year. In a conference call following Cisco's earnings release, Chambers carped about the global economy and weak capital expenditures -- and detailed how an unfolding price war is sapping margins in his business.
But many investors are expecting a half-point cut in interest rates when the Fed holds it policy meeting next Tuesday -- particularly if data on
wholesale prices
to be released Friday allay concerns inflation is rising. Last Friday, investors interpreted a weak employment report as an indication the Fed will keep cutting interest rates aggressively. It has already cut the
federal funds target rate -- the overnight rate that banks charge each other -- four times this year in the hopes of putting more life back into a sagging economy. Lower interest rates make borrowing cheaper for consumers and companies, encouraging them to spend more.
The Nasdaq, while still in the hole 13% for the year, is up 32% since dipping to its recent low of 1638.8 on April 4. The Dow has climbed 16% since its recent trough on March 22, and is in the black for the year -- up a 80 points. The S&P 500 is up 12% since March 22. Still, the broad index is down 4.9% since Jan 1.
Back to top
Market Internals
Most Active Stocks
Back to top