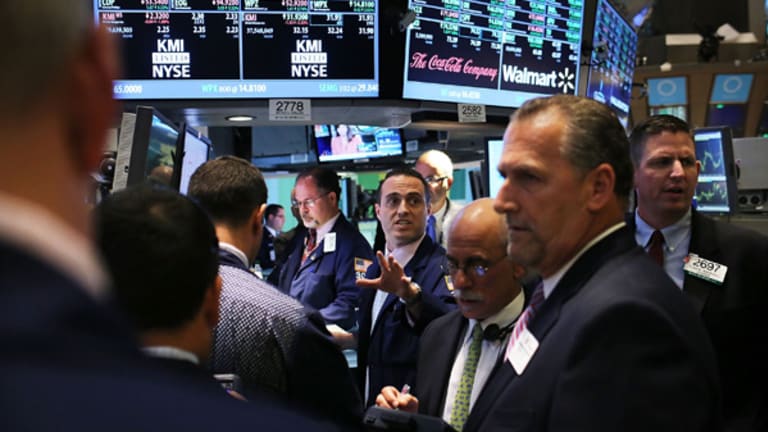 Wednesday's Market: Bears Hound Dow Below 9500; Nasdaq Nears 1800
A day after the Fed cut rates less than investors had wanted, inflation worries soured sentiment further; the Dow is now off 17% from its high.
A day after the Fed cut rates less than investors had wanted, inflation worries soured sentiment further; the Dow is now off 17% from its high.
How low will the Dow go?
Renewed concerns about inflation and continued disappointment about the Fed's interest rate decision yesterday fueled another selloff on the
Dow Jones Industrial Average today. The blue-chip index plunged 234 points, or 2.4%, to 9487, a fresh two-year low. Down 17% from its record high last year, the Dow is close to bear market territory (bear markets are technically defined as a plunge of 20%).
A day after the
Federal Reserve cut interest rates by a half-percentage point, quashing hopes for a more aggressive 75 basis-point cut, new economic data had Wall Street in a tizzy. February's
consumer price index, released before the opening bell this morning, came in a touch higher than economists had forecast, renewing concerns about inflation.
By and large, market experts weren't surprised by today's action. "There's a growing perception that the Dow has some more room to fall," observed Peter Coolidge, managing director of trading at
Brean Murray Foster Securities
.
Having traded up modestly this morning, the
Nasdaq Composite Index finished lower by 27 points to 1830, its worst finish since November 1998. Talking about the tech measure's earlier advances, Coolidge observed: "We've seen a rotation into Nasdaq stocks in recent weeks. But it hasn't amounted to anything." The broader
S&P 500 index ended lower, too. Both the Nasdaq and S&P are mired deep in a bear market.
One positive sign today was that semiconductor stocks traded higher. The
Philadelphia Stock Exchange Semiconductor Index
finished ahead 2.9%. "People seemed to be more comfortable putting their money into the technology market," said Matt Johnson, head of Nasdaq trading for
Lehman Brothers
. Among traders, the consensus was that investors overreacted yesterday and were hunting in some oversold sectors today.
Other technology groups finished ahead as well. The
American Stock Exchange Networking Index
closed up 0.3%, while the
Philadelphia Stock Exchange Computer Box Maker Index
rose 1.6%.
Yesterday, the
Federal Reserve lowered the
fed fund rate -- the interest rate at which banks lend money to each other overnight -- to 5%. This was the third time since January that the Fed lowered rates to spur demand in the economy.
In its language, the Fed left open the possibility of another cut before its next official meeting on May 15. The
fed funds futures contract -- a good proxy of the expected direction of interest rates -- is now pricing in a 100% chance the Fed will cut before May 1. But some think the Fed is behind the curve in fixing a broken economy and that its vague statement just confused matters.
On the earnings front, brokerage stocks got some attention today.
Morgan Stanley Dean Witter
(MWD)
fell 3.3% to $54.64, after it said its first-quarter
profit dropped 30% from the year-ago level.
Lehman Brothers
(LEH)
dipped 3% to $63.90 after it posted first-quarter results today that
slightly exceeded Wall Street estimates, even as profits dropped nearly 28% from the year-ago period. And
Bear Stearns
(BSC)
dipped 2.7% to $45.50, as its profits tumbled.
Market Internals
Back to top
Most Active Stocks
Back to top
International
In reaction to the
Bank of Japan's
efforts to bring the nation's economy back to life, stocks soared in Japan overnight -- the
Nikkei 225
racked up a surprising 913 point gain, or 7.49%, to close at 13,103.94. Hong Kong fared less well, with the key
Hang Seng
ending the day down 69.4 points, or 0.52%, to 13154.4.
European markets sold off vigourously, due in part to disappointment over yesterday's rate cut in the U.S. The major indices were all registering three-digit losses. London's FTSE 100 fell 106, or 2%, to 5541. The Paris
CAC 40
dropped 115, or 2.2%, to 5024. And Frankfurt's
Xetra Dax
lost 160, or 2.8%, to 5622.
In a note out this morning,
Merrill Lynch
attributed Japan's firecracker rally to a mix of aggressive year-end short-covering by funds as well as growing optimism over the BOJ's announcement on easing and the prime minister's international pledge to President Bush to make progress on the Japanese bad loan situation. Plus, two Wall Street firms recently went overweight Japan, the report said.
Merrill thinks it is still too early to upgrade Japan, however.
Back to top