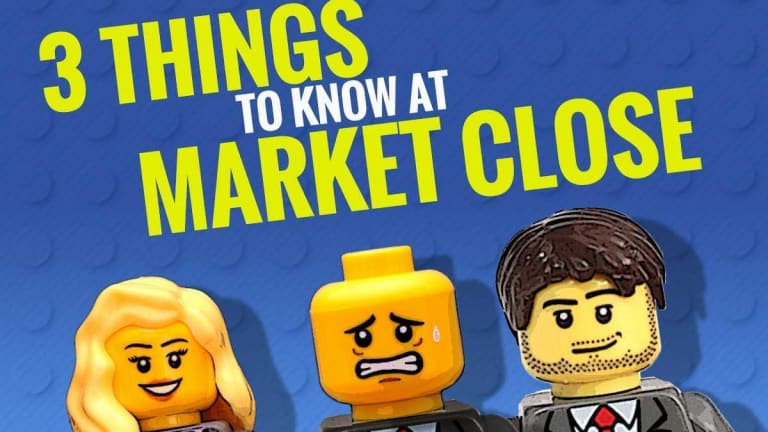 Wednesday Wrap-Up: A Mid-Week Market Break
Apple's recent volatility explained, Volkswagen, Ford eye partnership and more of what you're missing on TheStreet.
Happy hump day.
The markets were closed today for a national day of mourning after former President George H.W. Bush passed away last Friday. 
However, that doesn't mean that Wall Street took a break. 
Here are some of the top stories from Wednesday, Dec. 5. 
No Longer the Apple of My Eye
TheStreet's Annie Gaus breaks down Apple's recent  (AAPL) - Get Report volatility. 
Gaus reports that the iPhone maker has dropped 24% since its Oct. 3. It hit the famed $1 trillion market cap earlier this year, but has since forfeited the title. 
Since then, Microsoft (MSFT) - Get Report briefly surpassed Apple as the most valuable company in the world. 
"Despite Apple's best efforts to shift attention to its services business, iPhone sales are still central to Apple's story -- and a subject of intense focus by investors," reported Gaus. "On Tuesday, Apple's stock slumped again following reports that it's considering promotional tactics -- such as discounts and trade-in options -- to boost holiday sales of models such as the new iPhone XR and iPhone XS, which were launched in September."
The trade war truce "positive step forward" for Apple, wrote Wedbush's Dan Ives in a Monday note cited by Gaus.
"While it's an initial reprieve, we would view this news out of the G-20 as a near-term positive catalyst for tech stocks going into year-end given the fear around the 25% tariff hitting on Jan. 1 is now removed (for now), with Apple in the spotlight," Ives said.
The temporary removal of a tariff threat may not be enough to shake what Ives called the "dark clouds" over Apple's stock heading into 2019.
Volkswagen and Ford Sitting in a Tree...
Kevin Curran, of TheStreet's sister publication Real Money, takes a look at a possible deal between Volkswagen (VLKAF) and Ford (F) - Get Report . 
"Such an alliance might entail more U.S. plants, something that suggests a warming relationship with U.S. trade officials after the automaker met with President Trump on Tuesday," wrote Curran. 
"All signs are guiding to the right direction at the moment," Peik von Bestenbostel, the chief spokesman for Volkswagen said in a statement, before clarifying "nobody knows what the decision of the president may be."
"So, with the macro argument at least trending in the right direction, according to all sources aside from the "Tariff Man" in the oval office, the stock implications seem worthy of examination, Curran continued. "The situation has been seen as a serious catalyst for the stock after VW mentioned the possible increased partnership in its planning round update in November."
"Whilst a full agreement remains to be signed, we would anticipate a positive reaction from investors if VW could support its targets with further deal-related synergies and cost reductions," Morgan Stanley Harald Hendrikse wrote.
"More than a net reduction in spending we see upside from VW working with Ford and increasing share in what have been some of the highest segments of commercial vehicles including pickups, where the group is structurally under-represented," Jefferies analyst Phillippe Houchois told Curran.
Curran continued, given the overall positivity around the meetings, and the company's potential upcoming catalyst of entry into the U.S. market, it's garnering a pop in shares as the market attempts to milk a rare bull as the exchange sits empty on Wednesday.
The Taxi That Drives Itself
While we may not have flying cars just yet, we do have self-driving taxis.
Alphabet Inc.'s (GOOGL) - Get Report Waymo launched a self-driving taxi service in the Phoenix area on Wednesday.
TheStreet contributor Rob Lenihan wrote about Waymo's launch of self-driving taxis. 
Currently, the service is only available in Arizona.
According to Lenihan, riders--in a similar fashion to Uber or Lyft--have to download an app and include a credit card number. Except, unlike the popular ride-sharing apps, they won't be forced to converse with a driver when they get picked up.
Riders will see price estimates before they accept the trip based on factors like the time and distance to their destination, Waymo said in a company blog post. They can contact customer support through an in-car console or through the Waymo app to ask questions.
"These channels will become even more important as we transition to fully driverless rides," Waymo said.
"We'll first offer Waymo One to hundreds of early riders who have already been using our technology," John Krafcik, CEO, wrote. "Over time, we hope to make Waymo One available to even more members of the public as we add vehicles and drive in more places."
Until next time...
Alphabet, Apple and Microsoft are holdings in Jim Cramer's Action Alerts PLUS member club. Want to be alerted before Jim Cramer buys or sells the stock? Learn more now.