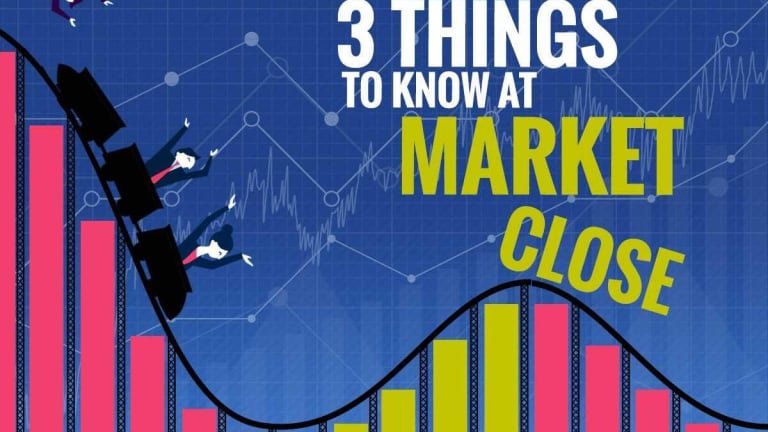 Wednesday Wrap-Up: The Market Is Fed Up
The Federal Reserve dominated the markets Wednesday, Dec. 19.
Happy hump day. 
Here's what you need to know before you tune in tomorrow. 
Stocks hit new lows Wednesday afternoon as investors reacted to an announcement from the Federal Reserve that it would raise interest rates by a quarter point, despite increasing concerns of a global economic slowdown.
The Dow Jones Industrial Average dropped more than 350 points following the Fed's announcement, hitting 23,323, a new low for 2018 and a decline of 1.49%. This is after the Dow started the day on a more positive note, rising 186 points, or 0.79%, to 23,862, before the Fed's rate hike.
The S&P 500 and and the Nasdaq also fell into negative territory after gains in early trading of 0.73% and 0.53%, respectively. The S&P 500 and the Nasdaq both closed at 2018 and 52-week lows of 2,506 and 6,636, respectively.
The Federal Reserve
TheStreet contributor Bradley Keoun wrote about the Fed's decision to hike rates during their December meeting.
The Federal Reserve raised U.S. benchmark interest rates for the fourth time in 2018 in a bid to keep inflation in check, but officials signaled that they might slow the three-year-long rate-hiking campaign early next year amid signs of a looking economic slowdown. 
The central bank's monetary-policy committee, led by Chairman Jerome Powell, voted on Wednesday to raise the benchmark rate by 0.25 percentage point to a range between 2.25% and 2.5%. 
In a press release accompanying the decision, Fed officials said that "some further gradual" rate increases were needed, a slight softening of a pledge included in previous communications that "further gradual" hikes were warranted. The shift could be seen by traders as a sign that the Fed is turning more dovish, which means officials are more inclined to slow down rate increases, giving borrowers a break on their debt payments while accepting the risk that the economy might heat up, causing inflation to accelerate out of control.
Powell said at a press conference on Wednesday that "overall financial conditions have tightened," in that they had "become less supportive of growth." 
"Financial market volatility has increased over the past couple of months," Powell said, adding: "These developments have not fundamentally altered the outlook."
Jim Cramer Called it
TheStreet's founder called the 500 point dip in the Dow that the market saw during Powell's speech. 
Wednesday morning, before the market even opened, Cramer wrote in his Real Money column that "volatility will be so erratic that you could even get a 500-point move in either direction."
He then went through the various scenarios that could play out. 
"First, the Fed could hike the Fed funds rate and stick by its assertion that it still has more to do, because of wage inflation and full employment. That's disastrous -- and the bear would go on a rampage as surely as if the bulls had honey smeared all over their faces," he wrote. 
"Second, the Fed could hike and then say it wants to wait to see what the hikes have done. It also can cite the collapse in oil -- down a gigantic near $4 on Wednesday -- as a reason to be on hold. Is oil going down because the economy is collapsing?" Cramer continued. "It is sure worth finding out before more braking of the economy. This rationality would be viewed as good news, especially because it would indicate that the Fed is off the nonsensical and dangerous autopilot, an autopilot that would be set for a crash landing."
"Third, it can simply say that it isn't going to hike yet because its work is done for the moment and the economy is slowing, in part because of fears that short rates are going to go up more than long rates -- that inverted yield curve that often points to a recession -- and in part because of the president's policy on tariffs," he wrote.
And, finally, "Wow, the last would be an out, a way for the Fed to maintain its independence from the president by blasting the heck out of him for slowing the economy, himself. I know it's tough, as the market's slide began when Jay Powell decided to go all-in against inflation at the beginning of October. I would be concerned that something worse is afoot, but I know many bulls would be appeased."
Want more of Cramer's columns? You can find them on  Real Money.
FedEx Disappoints
FedEx (FDX) - Get Report released earnings and the stock suffered after the shipping giant's fiscal second-quarter earnings beat expectations but the company lowered its outlook and said its international business "weakened" during the quarter, reported TheStreet's Joseph Woelfel.
FedEx earned an adjusted $4.03 a share in the quarter, higher than Wall Street estimates of $3.94. Revenue of $17.8 billion met forecasts.
"While the U.S. economy remains solid, our international business weakened during the quarter, especially in Europe. We are taking action to mitigate the impact of this trend through new cost-reduction initiatives," CEO Frederick W. Smith said in a statement.
To cut costs, the Memphis-based FedEx said it would be instituting buyouts, with costs of $450 million to $575 million expected in the fourth quarter of fiscal 2019. The company said that "similar programs are being considered for employees in international regions." FedEx said it also would be reducing its international network capacity at FedEx Express.
When the market closed, FedEx was down 12% to $162.51.
Talk about a day... I'm ready to sleep now.