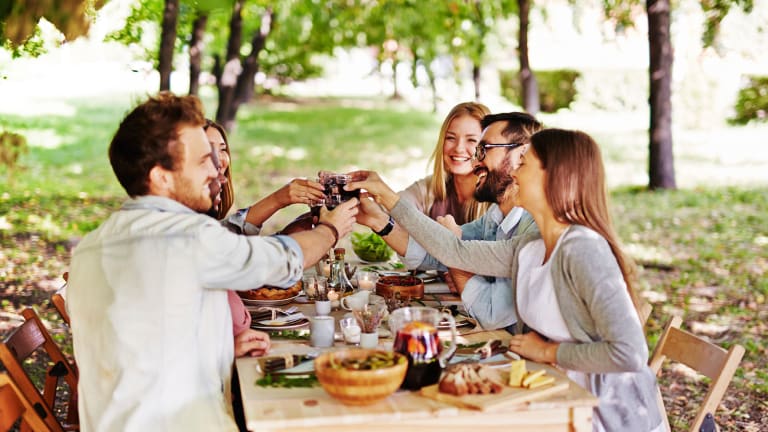 Ford and Facebook Earnings Bring Gloom to Wall Street: Wednesday Wrap
It's earnings season. What did you miss on Wednesday?
Let's get started.
Some companies won, some companies lost when announcing earnings on Wednesday.
Here are some of the winners, and of course, the losers.
AMD Tops Second-Quarter Estimates, Stock Jumps After-Hours
TheStreet's Tony Owusu took on Advanced Micro Devices (AMD) . The company beat analyst expectations with revenue of $1.76 billion, besting analyst expectations of $1.72 billion.
For the third quarter, AMD said it expects revenue to be approximately $1.7 billion, plus or minus $50 million, an increase of approximately 7% year-over-year, and non-GAAP gross margin to increase to approximately 38%. Analysts were expecting revenue of $1.764 billion in the third quarter, according to FactSet Research Systems Inc.
Shares of the chipmaker were up as much as 7% after-hours ahead of the company's earnings call at 5:30 p.m. ET.
Facebook Tanks on Revenue Miss, Though EPS Beats Estimates
If you haven't checked out TheStreet's live blog, you can find it here.
TheStreet's tech columnist, Eric Jhonsa, and Jeff Marks and Zev Fima, analysts with Jim Cramer's Action Alerts Plus portfolio, which owns Facebook take on Facebook's earnings and the investor call, offer insight.
Providing a boost to Q2 EPS: Per Facebook Inc.'s (FB) cash flow statement, funds spent on repurchases of common stock totaled $3.35 billion. In April, the company upped its buyback authorization by $9, said Jhonsa.
Facebook earned $1.74 per share in the second quarter on revenue of $13.04 billion. Analysts were expecting Facebook to report earnings of $1.72 per share on revenue of $13.36 billion.
However, the company's operating margin fell 3% year over year to 44%.
Facebook is a holding in Jim Cramer's Action Alerts PLUS member club. Want to be alerted before Jim Cramer buys or sells FB Learn more now.
It's Not a Good Day for the Autos
Ford Flops in Second Quarter, Cuts Full-Year Guidance
TheDeal's Tom Terrarosa breaks down Ford's earnings.
Ford Motor Co. (F) said Wednesday after the closing bell it recorded 27 cents per share of adjusted earnings on $38.9 billion in revenue. Analysts surveyed by Factset expected the company to post earnings of 31 cents per share on $39.14 billion in revenue.
Ford said in May that it did not expect to revise its full-year guidance after a fire broke out at one of its main parts suppliers, which forced a shut down of production of several of its vehicles, including its prized F-150 pickup truck, for more than a week.
Ford CEO Jim Hackett said Wednesday the company's "solid results in North America" were partially offset by "unexpected challenges with our overseas operations and headwinds in the business environment."
But, Ford wasn't the only automaker to report. General Motors Co. (GM) also reported earnings Wednesday.
Terrarosa tackled the GM earnings as well. 
GM Slashes Guidance After Mixed Second Quarter
The largest U.S. automaker reported adjusted earnings of $1.81 per share for the second quarter on revenue of $36.76 billion. Analysts surveyed by FactSet anticipated earnings of $1.78 per share on revenue of $37.74 billion for the quarter.
"Recent and significant increases in commodity costs and unfavorable foreign exchange impact of the Argentine peso and Brazilian real have negatively affected business expectations," the automaker said Wednesday in a statement.
GM didn't elaborate on its commodity costs in the statement but the company has been a vocal opponent of tariffs on steel imported into the U.S. as well as the proposed tariffs on auto imports from the European Union.
And let's not even get started on the Trump press conference. 
I think it's safe to say that it's time for a nap before earnings season starts up bright and early tomorrow. Don't forget that it's Amazon's big day.