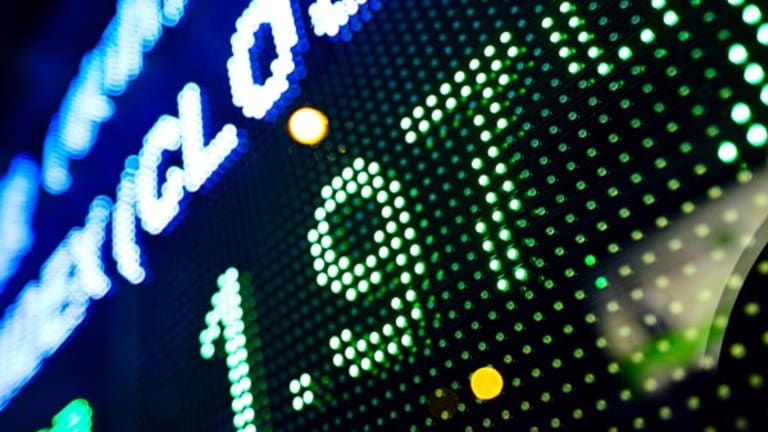 Weakness Persists for Stocks
The major averages end lower Monday after last week's slide.
Updated from 4:05 p.m. EDT
The losing streak in housing, energy and technology shares entered its second week Monday, and the broader averages fell in holiday-lightened trading.
The
Nasdaq
lost 11.43 points, or 0.55%, to 2078.92, pressured by a 3% decline in the Philadelphia Semiconductor Sector Index. The
lost 8.57 points, or 0.72%, to 1187.33, while the
Dow Jones Industrial Average
was lower by 53.55 points, or 0.52%, at 10,238.76.
"Earnings warnings had stocks taking it pretty hard today," said Peter Cardillo, chief market analyst with S.W. Bach & Co. "We have not only inflation fears but now we have earnings jitters. We tried to stabilize today, but we're going to have to wait for the next few days."
About 1.63 billion shares traded on the
, with decliners beating advancers by a 12-to-5 margin. Trading volume on the Nasdaq was 1.41 billion shares, with decliners outpacing advancers 2 to 1.
Tech stocks fell after
Xilinx
(XLNX) - Get Free Report
warned that second-quarter sales will be down 1% to 2%, compared with its previous forecast of a 4% rise. Analysts expected Xilinx's sales to rise 2% to $415.3 million, according to Thomson First Call. The stock tumbled $4.35, or 16%, to $22.77.
Other chip stocks showing weakness included
Freescale Semiconductor
undefined
and
National Semiconductor
(NSM)
. All 19 components of the Philadelphia Semiconductor Sector Index finished in the red.
"We've seen some weakness in the semiconductors over the last couple weeks," said Paul Nolte, director of investments with Hinsdale Associates. "Revisions have been lower, and bookings have been lower as well."
Bond traders had the session off Monday for Columbus Day. The dollar was higher against the yen and euro.
Front-month oil, which lost almost 7% last week on evidence of moderating worldwide energy demand, drifted lower again. Crude for November delivery finished down 4 cents to $61.80 a barrel, rebounding from a session low of $60.40. Unleaded gasoline was down 3 cents at $1.80 a gallon.
Homebuilding shares fell, with the Philadelphia Housing Sector index closing down 2.6%. The index was pressured by declines of 4% or more in
Toll Brothers
(TOL) - Get Free Report
,
Hovnanian
(HOV) - Get Free Report
,
Lennar
(LEN) - Get Free Report
,
Beazer Homes
(BZH) - Get Free Report
and
Standard Pacific
(SPF)
.
"This is a fallout from housing numbers data over the last few weeks," added Nolte. "Higher interest rates and higher oil prices are finally taking their bite. This sector may cool in the months ahead."
In mergers news, insurance giant
Lincoln National
(LNC) - Get Free Report
agreed to acquire
Jefferson-Pilot
undefined
for stock and cash worth $7.5 billion, or $55.96 a share.
The price is 9% above Jefferson-Pilot's Friday close. Lincoln National lost 3% to $49.19, while Jefferson-Pilot gained 6% to $53.81.
Another top story surrounded a major bankruptcy filing this past weekend that had been the subject of torrid speculation by professional money managers.
Delphi Corp.
( DPH), the biggest U.S. auto-parts supplier, sought Chapter 11 protection in New York after months of efforts to refinance or reduce more than $22 billion in debt.
The company plans to operate under a $4.5 billion post-petition facility and doesn't see emergence before 2007.
Delphi's filing is another blow to former parent
General Motors
(GM) - Get Free Report
, which put its potential liability from the bankruptcy from nothing to as much as $11 billion. GM is the guarantor of some of Delphi's pension obligations. Meanwhile, Standard & Poor's downgraded GM's long-term corporate credit rating to BB-minus from BB.
Delphi's common stock was down 70.5% to close at 33 cents, while GM lost $2.81, or 9.9%, to $25.48.
Meanwhile, auto-parts maker
Dana
( DCN) said it will restate its financial results for fiscal 2004 and the first half of fiscal 2005 after the company failed to account for issues related to pricing and transactions with suppliers. Dana said it will also delay its third-quarter earnings results, which were originally expected Oct. 19. Shares dropped $3.15, or 34.3%, to $6.04.
Corporate earnings season is at hand, and a number of big names are previewing or preparing to report their quarterly results.
Unisys
(UIS) - Get Free Report
said Monday that it now expects a third-quarter loss of 7 cents to 9 cents a share, having previously forecast earnings of 4 cents to 6 cents. The loss includes a 2-cent charge. Analysts are expecting a loss of 4 cents a share, according to Thomson First Call. Revenue is expected to fall 4% to $1.37 billion. Unisys slid 82 cents, or 12%, to finish at $6.01.
Northrop Grumman
(NOC) - Get Free Report
also issued an earnings warning, saying that hurricanes Katrina and Rita will result in a charge of 25 cents to 30 cents in the third quarter and will cost around $1 billion. The defense company also lowered guidance for 2005 but maintained its 2006 earnings target. Shares were down 57 cents, or 1.1%, to $53.48.
After the bell Monday,
Alcoa
(AA) - Get Free Report
, traditionally the first Dow component to report its results, will release its third-quarter earnings. Analysts are expecting EPS of 29 cents, according to Thomson First Call. Alcoa was lower by 38 cents, or 1.7%, to $22.66.
Biotech major
Genentech
( DNA), whose shares have more than doubled in the last year, is also scheduled to release its results after the close of trading.
IBM
(IBM) - Get Free Report
was upgraded at Citigroup to buy from hold, with the firm citing improving services fundamentals and the recent divestiture of the company's personal computer division. IBM added 75 cents, or 0.9%, to $81.25.
Shares of
Wal-Mart
(WMT) - Get Free Report
rose after the discount chain stuck to its forecast for an October same-store sales gain of 2% to 4%. The stock was also the subject of a bullish
Barron's
article. The stock rose 51 cents, or 1.2%, to $44.54.
Another mover was
Antigenics
(AGEN) - Get Free Report
, which finished up 13.4% after the company reported results from a phase III study for its Oncophage cancer drug. The study, involving skin cancer patients, showed that the median survival rate improved by more than 50% compared with those in a separate treatment arm. Antigenics added 67 cents to $5.68.
Word of a resolution to Germany's electoral impasse sent overseas stocks higher. In Europe, London's FTSE 100 was up 0.2% to 5375, while Germany's Xetra DAX added 0.3% to 5023. In Asia, Hong Kong's Hang Seng rose 0.3% to 14,899.
Angela Merkel, the head of Germany's Conservative Party, is poised to become the nation's first female chancellor. Merkel agreed to a power-sharing deal with Gerhard Schroeder's Social Democrats to end a three-week-old stalemate following indecisive elections last month.
Meanwhile, officials estimate that as many as 30,800 people are dead and up to 2.5 million homeless in the Pakistani earthquake, which struck Saturday near Muzaffarabad and registered 7.6 on the Richter scale. The U.S. has pledged $50 million to the international relief effort being coordinated by the United Nations.
The disaster followed a rough week for U.S. investors in which a selloff in energy shares led broader indices lower. The Dow, which touched a three-month low on Thursday, fell 276 points, or 2.6%, over the five sessions, while the S&P 500 lost 32 points, or 2.7%, and the Nasdaq slid 61 points, or 2.9%. The losses occurred amid high volume and extremely negative breadth.
"As we begin earnings week, the bulls are trying to recover from last week's beating," said Ken Tower, chief market strategist with CyberTrader. "The first step to building any rally is besting the previous day's high. With most banks and the bond market closed today, perhaps the bulls can eke out a gain, but until it's clear they have some real strength, this is a market where one should be watching for selling opportunities."
To view Gregg Greenberg's video take on today's market, click here
.