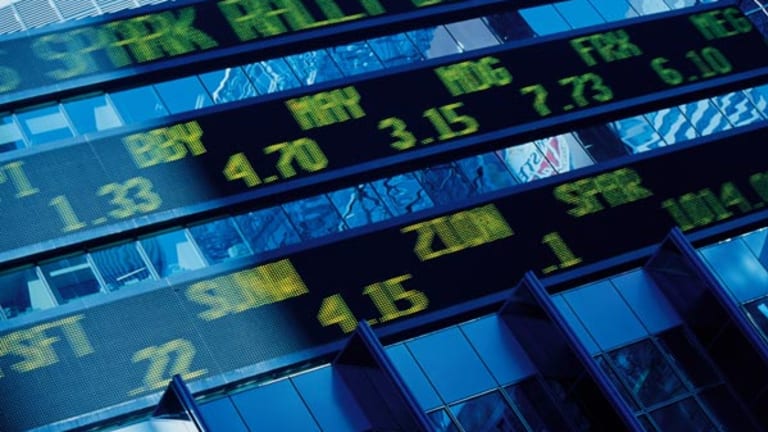 Weak Dollar Spurs Gold Bulls
The falling U.S. currency pushes gold higher. Also, choppy crude.
This column was originally published on RealMoney on Feb. 16 at 3:31 p.m. EST. It's being republished as a bonus for TheStreet.com readers. For more information about subscribing to RealMoney, please click here.
Gold futures this week scored a fresh 6½-month high, as the bulls are marching toward the key $700-an-ounce price level and possibly higher. Technical odds do suggest the precious yellow metal will reach that mark sooner rather than later.
April gold futures are presently in a solid six-week-old uptrend on the daily chart. The bulls have been gaining steady technical strength recently, and their cause has also received support in the form of recent weakness in the U.S. dollar vs. the other major currencies. In fact, the U.S. dollar index this week notched a fresh six-week low. The price of gold generally trades in an inverse relationship with the value of the greenback against its counterparts.
More recent encouragement for the gold market bulls is the metal's ability to separate itself from the crude oil futures market. The past several months had seen gold's fortunes closely tied to how crude oil prices were performing. However, the past few weeks have seen gold prices trek steadily north. While crude oil has rebounded from its recent lows, that market has seen more choppy and less trending action the past couple of weeks.
The posture of raw commodity markets, in general, has also benefited the gold futures market. The Continuous Commodity Index is a basket of around 20 major raw commodities prices rolled into one composite index price. This index is closely watched not only by commodity traders but also by financial market traders, as it's an excellent barometer of overall raw commodity price inflation. The CCI is back in a near-term uptrend after having experienced a downturn for several weeks late last year -- mainly due to the sharp declines in crude oil futures prices during that same time frame. And the longer-term monthly chart for the CCI index still shows that a steep uptrend has been in place for the past five years. Raw commodity price inflation is indeed music to a gold bull's ears.
Source: Futuresource, TradingEducation.com
Crude Oil Recovery on Shaky Ground
After notching a fresh five-week high of $60.80 a barrel late last week, basis March Nymex futures, crude oil has seen choppy trading activity with a downside bias. This week, some technical chart damage has been inflicted: an uptrend line on the daily bar chart, drawn from the mid-January low of $51.03, was penetrated on the downside and negated.
But more important, after repeated attempts over the past two weeks, the bulls have been unable to produce a closing price level above major psychological resistance at $60 a barrel in March crude oil. The more times the crude oil bulls attempt, and fail, to produce a close above that important price level, the stronger resistance it becomes. Recent trading activity in crude oil now suggests a trading range between $50 and $60 a barrel in the coming weeks or longer.
Source: Futuresource, TradingEducation.com
Jim Wyckoff is a senior market analyst for
TradingEducation.com a free educational Web site. In addition, Wyckoff writes a blog offering current market commentaries every morning on
. Under no circumstances does the information in this column represent a recommendation to buy or sell stocks. Wyckoff appreciates your feedback;
to send him an email.