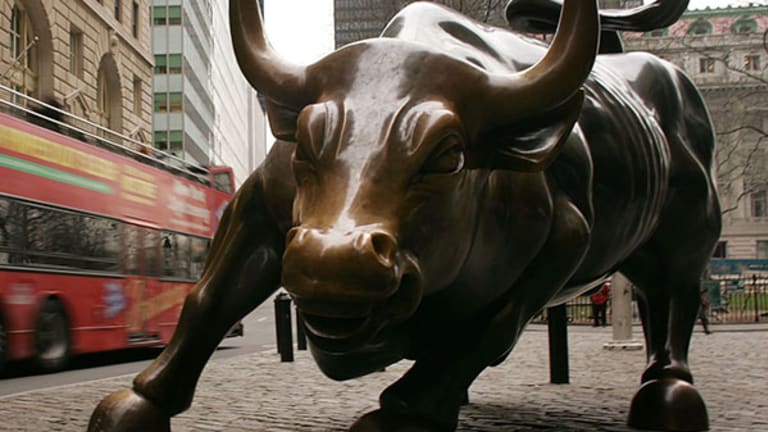 'We've Got a Broad Rally,' CNBC's Pisani Says About Today's Market Performance
CNBC's Bob Pisani joined today's 'Power Lunch' from the floor of the New York Stock Exchange to discuss the market's intraday report.
NEW YORK (TheStreet) --CNBC's Bob Pisani appeared on this afternoon's "Power Lunch" from the floor of the New York Stock Exchange to provide the intraday report on the markets.
"We've got a broad rally, let's take a look at the market internals. What's broad? Three-to-one advancing to declining stocks, it's been there most of the day. The volume is light and the volatility is subdued at 11 or 12 on the Vix. I want to see some new breakouts on the new highs list, only 5% of the S&P is at a new high," Pisani said.
Additionally, today's market leadership has been provided by materials, energy, telecoms, and utility stocks, Pisani added.
"But, we've got a new leader too, financial stocks were laggards all throughout the year, but recently have been moving to the upside," Pisani explained.
Moreover,  Pisani believes today's financial rally is indicative of sentiment over the economy improving, risks declining, and the possibility of increased rates by years' end.
However, despite the improved performance within the financials, the yields on the Treasuries have not matched the trend.
"If you look at yields on the Treasuries, down right across the curve today, so hard to reconcile the stock market thinking with the bond market thinking," he noted.
Pisani concluded the intraday report by forecasting why September, historically the worse month for the S&P 500, may not be as bad as people think it will be.
"August is lousy and September is worse. But, be careful, in election years September is often a lot better than people think. In an election year September ranks seventh out of 12th regarding the worst months for the market," Pisani said.