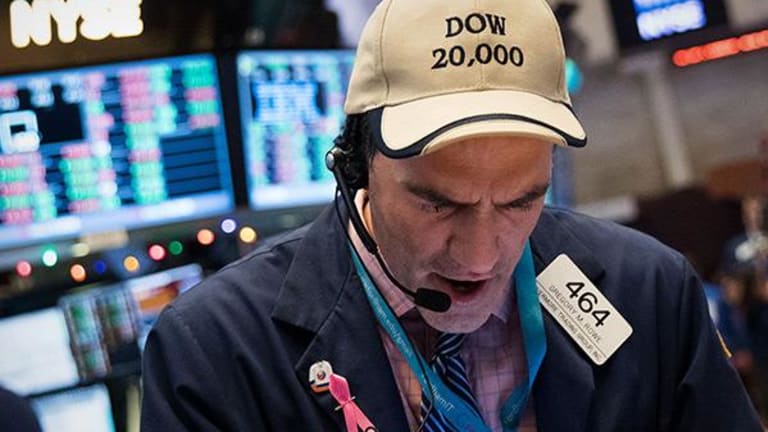 We Hit Dow 20K, Now What?
How to play the market now that the DJIA has finally crossed 20,000.
(This column originally appeared at 11:17 a.m. ET on Real Money, our premium site for active traders. Click here to get great columns like this from Jim Cramer and other writers even earlier in the trading day.)
Tuesday's surprising market strength set the stage for the Dow industrials to finally take out the 20,000 level at Wednesday's opening. It's annoying to see so much discussion about a technical level that has no real technical or fundamental importance, but Dow 20,000 is clearly psychologically important given how much attention that it's been given.
The bears, of course, are looking for this event to produce a "sell the news" reaction, but they've been consistently wrong about how the market will react to recent events. A "Failure of the 20,000 Level" trade seems like another painfully obvious setup that might not work.
Market players have been waiting for some sustained momentum since mid-December, and now they're chasing and repositioning in hopes of taking advantage. There was a large group looking for a downside resolution of the trading range, and now they're helping to fuel the market's upside move as they adjust.
One thing that's important to keep in mind as you contemplate this action is that moves like this create underlying support. There are many more market players that will want to buy a dip because they see the chances of sustained upside being much greater. The dilemma of this sort of action is that stocks quickly become extended, while the entry points are tougher. Many traders don't like to buy stocks at highs, but will be quick to buy any dips that develop.
I'm looking for some new buys and trying to stay with my positions that are working. The Alibaba (BABA) trade that I discussed yesterday is working well, and there's follow-through in optical names like Oclaro (OCLR) and AXT (AXTI) . Western Digital (WDC) is also a good example of some of the momentum that we're seeing in select technology names. Miners are a bit weaker but bounced back, while Teck Resources (TECK) -- my Stock of the Week -- is consolidating after a big move.
However, one group that hasn't participated lately is drugs/biotechnology. There's fear that the Trump administration is going to put in drug-price controls, which is keeping buyers sidelined. The market has punished the whole group, but there might be some opportunities developing in those stocks that don't have major pricing issue. One such name on my radar is Aratana Therapeutics (PETX) , which makes drugs for animals. It seems to have good support developing.
Markets that are acting like this tend to stay sticky to the upside. Don't be in a big rush to "fade the strength."
At the time of publication, Rev Shark was long BABA, OCLR, AXTI, WDC, TECK and PETX, although positions may change at any time.