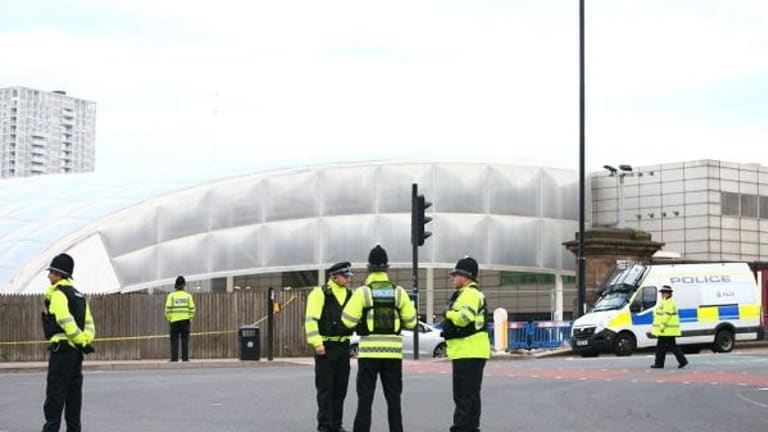 14 Stocks to Watch as Terror Attacks Play Out and Spark Uncertainty
Luxury goods could be a winner.
Luxury goods could be a winner.
Incidents of terrorism in Western countries increased 174% in 2016, according to a new report by UK insurance giant Aon. And, while individual acts of terrorism don't generally move the stock market for long, some industries tend to react in increasingly discernable ways, according to the analysis.
The number of people killed through acts of terrorism pales in comparison to other forms of violence and disease, but the psychological impact of terror is often devastating.
Increasingly, cybersecurity firms have rocketed on news of instability. An analysis done by CNBC this month showed companies such as Palo Alto Networks (PANW) - Get Report , Symantec (SYMC) - Get Report , and FireEye (FEYE) - Get Reportposting large gains even a month after the WannaCry cyberattack did damage to companies worldwide.
Other companies stand to gain too, primarily in the defense sector. Companies such as Lockheed Martin (LMT) - Get Report , Boeing (BA) - Get Report , and Raytheon (RTN) - Get Report , which sell defense equipment to governments, may see increased sales as leaders increase spending on military supplies.
Surveillance companies such as Verint Systems (VRNT) - Get Report , a New York-based software analysis firm that enables law enforcement agencies to conduct mass surveillance, are also poised to gain. Similarly, countries may up their purchases of biometrics equipment, which may prove to be a boon for companies such as Next Biometrics, which provides fingerprint sensor technology, and Analogic (ALOG) , a large manufacturer of airport X-rays.
Oil and gas companies such as British Petroleum (BP) - Get ReportChevron (CVX) - Get Report , and Exxon Mobil (XOM) - Get Report tend to be most at risk of terror, the company found, with retail close behind.
Because rising rates of terrorism may cause leaders to adopt populist policies, companies that deal primarily in international trade are also at risk. This could suggest bad news for the remittance industry, with players such as MoneyGram International (MGI) - Get Report and Western Union (WU) - Get Report exposed to protectionist policies.
Outside of tech, luxury good providers may also see increased sales. In 1999, two researchers at the University of Pennsylvania found that consumers who are more concerned with their mortality may flock to expensive items such as Lexus cars owned by Toyota Motor (TM) - Get Report and Rolex watches.
"By purchasing a high-status product, such as a luxury car or designer clothing, an individual may feel more valuable within the culture, thus relieving anxiety in response to threats to his mortality," the researchers write. 
Clickherefor the latest business headlines.