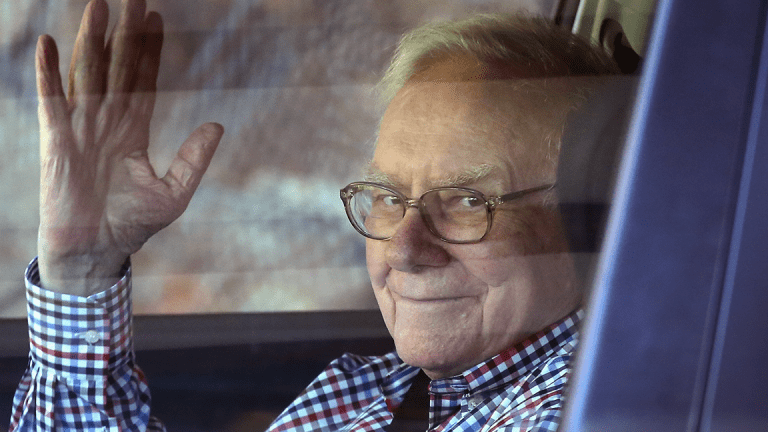 Warren Buffett's Berkshire Hathaway Adds to Board in Possible Succession Hint
Warren Buffett, the billionaire investor who's run Berkshire Hathaway for more six decades, has named two vice chairman to his iconic fund in a move that could start a move to succeed the 87-year old 'Sage of Omaha'.
Warren Buffett's Berkshire Hathaway Inc. (BRK.B) - Get Report agreed to add two new members to its executive board, the company said Wednesday, in what could be the first in series of moves designed to replace the billionaire investor who heads one of the world's most famous funds.
Greg Abel, 55 and Ajit Jain who is 66, both of which have "Berkshire in their blood", according to Buffett, will fill the two new posts with Abel also taking on the role of vice chairman for Berkshire's non-insurance business operations and Jain assuming a similar role for its insurance operations. Buffett told CNBC's Squawk Box program, however, that the appointments didn't indicate an immediate plan for a change in leadership, although he admitted it probably should have been done "a couple of years ago."
"It's really good for Berkshire, but it's even better for me," Buffett said. "It's a transition that could last a long time or, if something were to happen to me, could happen very soon. But I'm in very good health considering the life I've lead - I've slowed in many ways but I wasn't much to start with."
Buffett added that if there were immediate concerns regarding his health, he would be duty-bound to communicate them to shareholders.
"Mr. Abel joined Berkshire Hathaway Energy Company in 1992 and currently serves as its Chairman and CEO. Mr. Jain joined the Berkshire Hathaway Insurance Group in 1986 and currently serves as Executive Vice President of National Indemnity Company with overall responsibility for leading Berkshire's reinsurance operations," the company said. "Mr. Buffett and Charles T. Munger, Vice Chairman of Berkshire Hathaway will continue in their existing positions, including being responsible for significant capital allocation decisions and investment activities."
Berkshire Hathaway's 'B' shares fell in pre-market trading following the news and were indicated to open 0.97% lower at $201.02 each, a move that would trim their three-month gain to around 7.32%.
More of What's Trending on TheStreet: