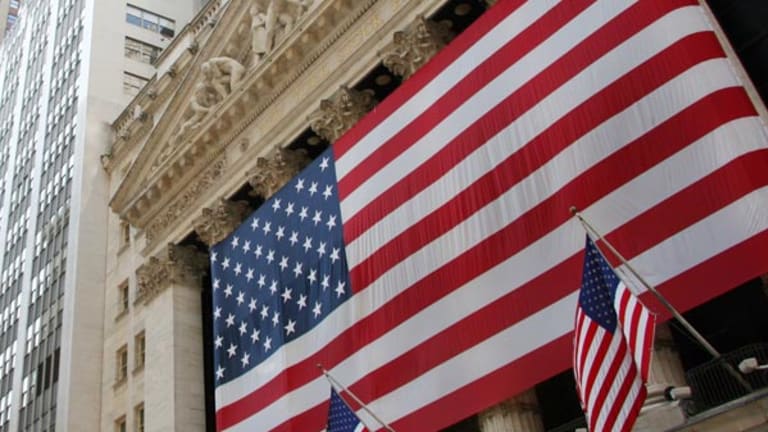 War Rally Stalls as Stocks Dip
Investors are cautious after reports of progress in the war and a slew of earnings warnings.
Updated from 4:06 p.m. EST
Stocks ended slightly lower amid a slew of earnings warnings and unconfirmed reports that Saddam Hussein is dead.
The
Dow Jones Industrial Average
ended off 1.49 points at 8298.92, while the
Nasdaq
was down 6.57 points at 1382.94. The
S&P 500
was off 1.64 points at 878.29. On Monday, all three indices matched their 2003 highs, only to end the day with slight gains.
On the war front, U.S. military officials said at a press briefing that they have no way of knowing who was at an Iraqi leadership meeting that was targeted with huge bombs overnight. Speculation has been rife that Saddam was among those in attendance, but coalition leaders have declined to reveal what their intelligence indicated.
Unlike other sessions, rumors of Saddam's death didn't send stocks soaring, a sign that weak economic news and Monday's retreat from technical levels were sapping optimism.
"I think we are starting to look ahead now and focusing more on the economy and earnings. The hope always was that the war would provide a better environment for the economy, and eventually we have to start seeing proof of it," said
RealMoney.com
contributor James DePorre. "I think yesterday's lack of follow-through was a major disappointment, but we can still regain our footing technically."
Because stocks are unchanged on good news from Iraq, fears are rising that the war rally is over. "If buyers don't find a reason to buy, we may fade slowly downward. We may fall out of the range if buyers become scarce," DePorre said. "We may rest for a day or two, but the bulls better step up fairly soon or the selling will regain momentum -- profit-taking is fine and healthy as long as it doesn't turn too panicky."
Meanwhile, Iraqi forces staged a counterattack in downtown Baghdad early Tuesday, a day after U.S.-led troops rolled into the Iraqi capital with about 130 tanks and armored vehicles. The offensive was reportedly rebuffed with the help of air support. Two U.S. soldiers were injured and 50 Iraqi soldiers killed. Separately, reports that chemical weapons had been found at a site about 85 miles south of Baghdad were being investigated by the U.S. military, though a local commander said it's possible that since the substance was found at an agricultural facility, it might just be a pesticide.
In economic news, the Commerce Department said U.S. wholesale inventories rose 0.3% in February, exceeding the 0.2% gain expected by economists. Economists say the increase confirms that a decline in retail sales led to a buildup of goods in warehouses. Indeed, a report from the Bank of Toyko-Mitsubishi and UBS Warburg showed that retail sales fell 0.5% during the week of April 5, after falling 1.4% during the previous week.
And with that economic news weighing the markets a bit, the rally could be at a crossroads, with the largely emotional war trade giving way to a greater emphasis on the upcoming quarterly earnings data -- which would explain the volatility on Tuesday.
"We are shifting from sentiment-based trading to a more fundamentally driven market, assuming we are in early stages of putting Iraq behind us," said Joe Kalinowski, chief investment officer at Ehrenkrantz King Nussbaum. "There's definitely turmoil out there today. Is this another head fake and we're in for another dismal few quarters? But there are also those in the camp who think this is a new beginning and don't want to miss the rally. So there's definitely a push and pull going on."
Meanwhile, with earnings season about to start, the early indications weren't looking so good. Companies in a wide variety of industries, from chip making to paper making to healthcare, warned that earnings would miss estimates.
RF Micro
(RFMD)
, a wireless chipmaker, warned that it will post a loss of 5 cents to 7 cents a share, compared with its January outlook for breakeven to a penny loss. On the other hand, it raised its outlook for quarterly sales. Shares were down 11.9% to $5.33, helping push the Philly chipmakers down 3.7%.
Another chipmaker to warn investors of weaker results was
Microchip Technology
(MCHP) - Get Microchip Technology Incorporated Report
. The company said fourth-quarter results would fall short of estimates, citing a decline in demand because of war in Iraq and the SARS disease. This is the second time in three weeks that Microchip has warned. Shares were down 8.6% to $18.76.
Paper-products company
MeadWestvaco
(MWV)
warned that first-quarter losses would come in between 35 and 40 cents a share, excluding all items, which is deeper than the 6 cent loss expected by Wall Street. Shares were down 2.5% to $22.92.
Another commodity-related company,
Arch Coal
(ACI) - Get Albertsons Companies, Inc. Class A Report
, warned that its first-quarter loss would come in at 27 cents a share, 16 cents below current analyst expectations. Shares were down 4.7% to $17.82.
Accredo Health
(ACDO)
warned that 2003 revenue would come in near $1.36 billion, missing the $1.44 million expected, on average, by analysts. It also lowered its 2003 earnings estimate to $1.20 to $1.25 a share. The shares were down 43.7% to $14.29.
Tenet Healthcare
(THC) - Get Tenet Healthcare Corporation Report
said Jeffrey Barbakow will step down as chairman and director later this year amid concerns about governance and board independence,
The Wall Street Journal
reported. Barbakow will remain chief executive. Shares in the beleaguered company were down 1.1% to $15.12.
Patti Johnson, chief financial officer of retailer
Kohl's
(KSS) - Get Kohl's Corporation Report
, resigned to become finance chief at the
Gap's
Old Navy division. Kohl's was down 3% to $56.64, while rival Gap was down 1.6% to $15.41.
Office supplies retailer
Office Depot
(ODP) - Get ODP Corporation Report
said it made an offer to acquire the contract stationery sales unit of French retailer Pinault Printemps Redoute for $868.8 million. Office Depot was down 3% to $11.35.
News was moving a pair of discount retailers on Tuesday, with
99 Cents Only
(NDN)
saying that first-quarter earnings would top the 19-cent Wall Street estimate on $196.4 million in revenue, better than that $187 million expected by analysts. Shares were up 5.6% to $28.28. Rival
Dollar Tree
(DLTR) - Get Dollar Tree, Inc. Report
was up 2.7% to $20.85 after CIBC World Markets cut its 2003 and 2004 estimates on the company.
Interstate Bakeries
(IBC)
, best known for Wonder Bread, said third-quarter losses came in at 8 cents a share, matching Wall Street estimates. The company affirmed its 2003 earnings guidance. Interstate was up 2.1% to $10.30.
The chief executive of
McDonald's
(MCD) - Get McDonald's Corporation Report
said late Monday that the company plans to cut costs by $700 million in 2003, as well as increase the company's stock dividend. After posting rising more than 8% Monday, McDonald's shares were up 0.3% to $15.84.
American Airlines' parent,
AMR
(AMR)
, may face pressure after union leaders were said to be heading back to meetings with management in an attempt to change labor concessions agreed to last week,
The Wall Street Journal
reported. Shares were down 15% to $3.64.
European bourses were lower, after posting sharp gains on Monday, London's FTSE closed down 1.7% at 3869, and Germany's Xetra DAX closed down 1.5% to 2768. In Asia, Japan's Nikkei lost 1.4% to end at 8131, while Hong Kong's Hang Seng lost 1.7% to close at 8806.
Treasuries were firmer, while gold was up $1.40 at $323.60 an ounce, and crude was down about 66 cents to $27.96 a barrel in New York. A report quoted OPEC's president as saying that the cartel might cut production when Iraq's wells come back online.
On Monday, the Dow rose 23 points, or 0.3%, to 8300, closing below its 200-day moving average after having shot up 230 points during the day. The S&P 500 gained 1 point, or 0.1%, to 879, while the Nasdaq rose 6 points, or 0.4%, to 1389.