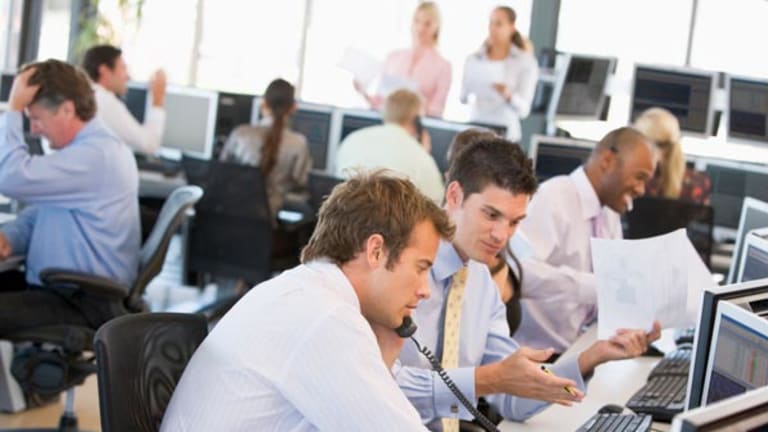 Publish date:
War Not Enough as Stocks Sag
Blue-chips end their two-day spike as the economy returns to the fore.
Blue-chips end their two-day spike as the economy returns to the fore.
News that U.S. forces had closed in on Bagdhad and captured the city's airport failed to give the market a lift Thursday, as investors took money off the table after a two-day rally.
The
Dow Jones Industrial Average
ended down almost 45 points, or 0.5%, at 8240, the
S&P 500
was down 4 points, or 0.51%, at 876. The
Nasdaq
was flat at 1396, as tech and biotech stocks outperformed for a third day.
"The main focus of attention is the war and the American troops surrounding Baghdad," said Peter Cardillo, chief market strategist at Global Partners Securities.
U.S. troops have captured several outlying areas of Baghdad, according to Defense Secretary Donald Rumsfeld, and ABC news reported that U.S.-led forces encountered almost no resistance as they attacked Baghdad's Saddam Hussein International Airport. Central Command said earlier there is "increasing evidence" that Hussein is losing his grip over his soldiers and the population.
Donald Straszheim, president of Straszheim Global Advisors, said while the geopolitical news has been good so far, investors shouldn't celebrate until the reception in urban Baghdad has been determined. Some experts worry that fighting in the city of Baghdad will be the most intense yet.
Those concerns may kept investors on edge late in the trading day, but other analysts noted that the markets were due for a pause after a big rally Wednesday, which pushed the Dow up 2.7% and the Nasdaq up 3.6%. Trading was also subdued after the latest data, which showed continued deterioration in the economy.
The Institute for Supply Management reported that business activity fell to 47.9 in March, down from 53.9 recorded in February, and well below economists' expectations for a reading of 52.5. ISM said this was the first contraction in activity since January 2002. A number below 50 signals contraction while a number above 50 indicates expansion.
The employment picture is also unsettling. Jobless benefits claims jumped to an 11-month high last week to 445,000, from 407,000 in the prior week. That figure was much higher than the 410,000 economists had expected. The four week moving average which smoothes out fluctuations rose by 2,500 to 426,250. Investors will get a better idea about the job market Friday with the release of the employment report for March. Over the past two days, investors have largely ignored weak data on manufacturing activity, focusing instead on the progress made in the war.
"The market's probably a bit stretched here," said Joe DeMarco, head trader at HSBC Asset Management. Going forward, DeMarco said he expects the S&P to trade within a range of 895 and 788, representing the index's March high and low, respectively.
Among companies, computer giant
Dell
(DELL) - Get Report
reaffirmed its outlook for an 18% increase in first quarter revenue to $9.5 billion, and a rise of 35% in profits to 23 cents a share. "We're seeing double-digit year-over-year revenue growth in all regional markets and customer segments," said president Kevin Rollins in a statement. Dell added 2% at $28.67.
Bed, Bath & Beyond
(BBBY) - Get Report
reported 25% growth in fourth-quarter earnings and backed analysts' forecasts for higher first-quarter and full-year earnings. Shares of the company were up 2% at $36.25.
On a negative note,
Goodyear Tire
(GT) - Get Report
said its loss grew to $1.11 billion, or $6.30 a share, in the fourth quarter-- its biggest loss ever, as the firm posted a large accounting charge. Shares rose 6% to $5.74.
JDA Software
(JDAS)
warned late Wednesday that it would have a first-quarter loss, compared with a profit a year earlier. The software maker blamed the weak economy and a reorganization of its sales team. JDA shares lost 11% at $9.19.
Healthcare IT firm
Cerner
(CERN) - Get Report
skidded 45% to $17.63 after saying it expects to earn 13 cents to 15 cents a share, compared with 28 cents a share in the prior-year quarter. Analysts expected the company to earn 38 cents a share.
H&R Block
(HRB) - Get Report
, the largest U.S. tax preparer, said Wednesday a 4.4% rise in service fees from the prior year will help it meet its fiscal-year earnings target. But the company said traffic at its tax-preparation offices didn't meet goals and the shares were down almost 10% at $40.03.
Maximus
(MMS) - Get Report
a provider of government consulting and management services, reduced its forecasts for the quarter that ended March 31 because of government cutbacks and a tougher market environment. The company now expects to earn 30 to 35 cents a share, below the 48 cents a share analysts were expecting. Maximus shares were down 16% at $18.30.
Canadian business intelligence software vendor
Cognos
(COGN)
announced strong fourth-quarter results Wednesday and higher-than-expected earnings for the full year. Net income was $29.6 million, or 33 cents a share, compared with 11 cents a share a year ago and above the 27 cents analysts had estimated for the company. Cognos shares were up 7% at $25.32.
Nymex crude was up 41 cents at $28.97 a barrel. Gold prices fell, while the dollar gained against the euro and yen. The 10-year note was up 1/8, sending its yield down to 3.92%. Volume on the Big Board reached 1.3 billion, with losers beating winners by 17 to 14. On the Nasdaq, 1.4 billion shares changed hands, with advancers and decliners about even.
Overseas markets were mixed, with London's FTSE 100 up 0.5% to 3771 and Germany's Xetra DAX down 0.7% at 2569. In Asia, Japan's Nikkei lost 0.65% to end at 8017, while Hong Kong's Hang Seng shed 0.67% to 8648.