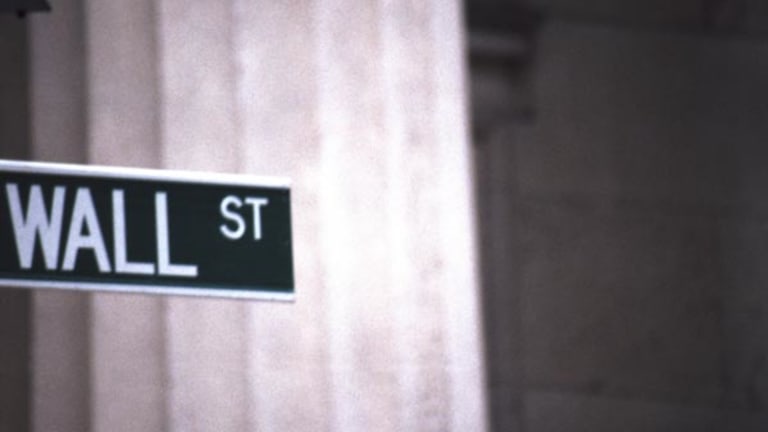 War Keeps Stocks on the Run
The Dow ends down 1.9% amid fears that the U.S. had underestimated Iraqi resistance.
Updated from 4:07 p.m. EST
Stocks skidded Monday amid worries that war with Iraq could drag on for several months. Sluggish economic data added to the negative tone.
The
Dow Jones Industrial Average
dropped 153.64 points, or 1.9%, to 7992.13, while the
Nasdaq
dropped 28.43 points, or 2.1%, to 1341.17. The
S&P 500
was down 15.32 points, or 1.8%, to 848.18.
The Dow was down more than 200 points early in the session on war fears, but managed to get about some of the loss back as institutional money managers began snapping up stocks to pad their portfolios. "This is just the quarter-end mark up and not much else," said Bob Basel, director of listed trading, Salomon Smith Barney. "They're just marking stocks up into the close. Call it window dressing if you want."
News reports suggesting the U.S. had underestimated Iraqi resistance and that more troops may need to be deployed weighed on investors, as did news of a car-bombing that killed four American soldiers and a missile attack in Kuwait City.
After being stymied for several days by supply line problems, U.S. Marines and infantrymen reportedly made their first contact with the Republican Guard last night near Karbala, 65 miles south of Baghdad. U.S. military leaders spent Sunday denying that the supply-line issue was a symptom of strategic deficiencies in their plans, including a report that said Defense Department officials ignored or overruled military leaders' requests for more firepower before the invasion started.
"There is a continuity of operations in this plan," said Gen. Tommy Franks. "That continuity has been seen. It will be seen in the days ahead."
The latest U.S. deaths include three crewmen on a Marine helicopter that crashed at a southern Iraq refueling station, according to a military spokesman. Overall, 43 Americans have been killed in the war, while 17 are missing in action and seven taken prisoner. Another 104 U.S. troops are reported wounded.
A protracted war has immediate psychological impact on the professional traders who have dominated the market for the last two months, as well as longer-term implications for the U.S. economy. A recent survey by the National Association for Business Economics found better than 40% of its members currently consider the war the economy's biggest threat.
In economic news, the Chicago purchasing manager's index came in at 48.4 in March, below consensus expectations of 50.8 and down from a reading of 54.9 reported in February. A reading below 50 signals contraction in manufacturing activity while a number above 50 indicates expansion.
The prices paid index jumped to 62.8 in March from 54.9 last month while the employment index fell to 45.1 from 46.6. New orders slipped to 52.5 from 59 in February.
A "question that we have constantly been fielding of late is what the chances are of a 'double-dip' recession occurring," said David Rosenberg, chief economist at Merrill Lynch. "And at this point the question may have to be re-phrased as to whether we are already in one, because on a monthly basis, it seems to me as if the economy contracted in February and March."
Rosenberg said prewar spending and inventory building in January probably prevented the economy from receding in the first quarter but "as far as the second quarter is concerned, we are clearly losing momentum," he said, adding that his below-consensus GDP growth estimates of 1.0% for the first quarter and 1.8% for the second "may not be tepid enough."
Overseas markets were lower, with London's FTSE 100 closing down 2.6% at 3613 and Germany's Xetra DAX closing 3.9% lower to 2424. In Asia, Japan's Nikkei shed 3.71% to 7972, while Hong Kong's Hang Seng lost 2.58% to 8634.
Treasuries were higher, with the 10-year note adding 21/32 to yield 3.81%. Crude and gold were higher while the dollar hit a two-week low against the euro. Crude oil for May delivery rose 88 cents to $31.04 a barrel. The White House said it sees no evidence of severe oil supply disruptions and said there is no change in the status of the Strategic Petroleum Reserve.
While a $600 million U.S. government contract for Iraq reconstruction remains up for grabs, one company that's reportedly not going to get it is
Halliburton
(HAL) - Get Halliburton Company Report
. (Halliburton did recently get a smaller contract to extinguish burning oil wells.) Two companies are still in the running,
Newsweek
said.
TheStreet.com
recently reported that
Fluor
(FLR) - Get Fluor Corporation Report
,
Schulmberger
(SLB) - Get Schlumberger NV Report
and
Washington Group
(WGII)
were thought to be contenders in general for such projects. Fluor slid 1.7% to $33.68, Schlumberger dropped 2.6% to $38.01, while Washington Group rose 0.3% to $17.54.
Retail sales continue to show weakness as war approached in March.
Wal-Mart
(WMT) - Get Walmart Inc. Report
said monthly same-store sales were at the low end of its expectations, which were for growth in the low single digits. Similarly,
Nordstrom
(JWN) - Get Nordstrom, Inc. Report
warned that first-quarter earnings will come in below its previous guidance because of slow sales. Wal-Mart dropped 2.1% to $52.03, while Nordstrom fell 6.5% to $16.20.
Dynegy
(DYN)
shares were up after the company announced that it has finally sold its domestic telecommunications network. Shares rose 5.2% to $2.61 after the company announced plans to sell the unit to 360networks.
A bankruptcy threat hit shares of
Altria
(MO) - Get Altria Group Inc Report
and
Kraft Foods
(KFT)
on Monday. On Friday, the S&P credit rating agency warned that Altria may not be able to pay the $12 billion bond it needs to appeal an Illinois court case. On Monday, the company said it "is not financially able to post the enormous bond that the Madison County court has demanded." The company saw its debt downgraded by Moody's. Shares of Altria dropped 6.8% to $29.96, while Kraft dropped 1.4% to $28.20, in sympathy.
Blue-chip
Walt Disney
(DIS) - Get Walt Disney Company Report
fell 3.8% to $17.02 after Goldman Sachs slashed its fiscal 2003 and 2004 earnings estimates on the company. In the brokerage's view, the company's theme parks will suffer from slumping travel demand, consumer products will be weak because of lower spending, and the war coverage will make the ad environment tougher for its broadcast unit.
El Paso
(EP)
announced a fourth-quarter loss of 69 cents a share, excluding all items, which missed Wall Street estimates by 84 cents a share. Revenue was up 1.3% year over year, but came in at $2.8 billion, which also missed Wall Street expectations. Going forward, however, El Paso said that 2003 earnings would come in at $1 a share, 10 cents better than current estimates. Shares gained 2.5% to $6.05.
ImClone
(IMCL)
, the embattled biotech firm, fell 9.9% to $16.54 after the company announced that it will postpone announcing results from its fourth-quarter and full year because to restate earnings for fiscal 2001. The company may have to restate earlier periods as well. All told, the company could take a charge of $23.3 million against earnings.
AOL Time Warner
(AOL)
shares were off 4.3% to $10.86 after U.S securities regulators raised new accounting questions at the media giant, estimating that advertising revenue at its America Online unit was overstated by about $400 million in 2001 and 2002. That's greater than previously believed.
Shares of
Intel
(INTC) - Get Intel Corporation Report
the world's largest maker of semiconductors, were down 5.5% to $16.28 after a report by the Semiconductor Industry Association showed chip sales rose at the slowest pace in six months in February to $11.8 billion.
Instinet
(INET)
, the electronic trading subsidiary of news provider
Reuters Group
(RTSY)
, said it will cut another 175 workers this week, after having laid off 300 last year. Instinet dropped 0.9% to $3.51.
Standard & Poor's cut its credit ratings on the four largest U.S. airlines that are not under bankruptcy protection. S&P cut its ratings on American Airlines parent
AMR
(AMR)
,
Delta Air Lines
(DAL) - Get Delta Air Lines, Inc. Report
and
Northwest Airlines
(NWAC)
, on concerns about a potentially protracted and complicated war in Iraq.
The news sent airline shares falling. Shares in UAL, parent of United Airlines, which are about to be delisted from the NYSE, fell 1.2% to 84 cents. Delta dropped 2.5%, Northwest fell 3.8%, while
Continental
(CAL) - Get Caleres, Inc. Report
dropped 1.7%.
The averages are coming off a week in which the Dow Jones Industrial Average lost 376 points, or 4.4%, to end at 8145, while the S&P 500 dropped 32 points, or 3.6%, to 863 and the Nasdaq Composite fell 52 points, or 3.7%, to end at 1369. All three are about 35% below the war-rally peak they hit two Fridays ago.