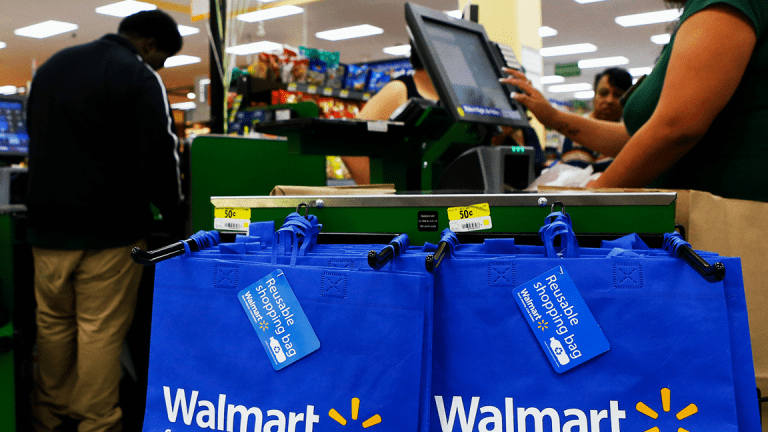 Walmart's Lack of Earnings Growth Keeps Two Analysts Sidelined on the Stock
Lack of earnings growth in the near-term could hold back shares of the world's largest retailer, say two analysts.
Walmart's  (WMT) - Get Walmart Inc. Report  lack of earnings growth in the near-term could hold back the shares, two analysts said.
The stock was rising as much as 3%, before settling at a 1.40% gain to $101.31 a share Thursday after the world's largest retailer posted first-quarter earnings that topped analysts' estimates but profit growth declined 0.8% from a year earlier. 
Analysts at RBC Capital Markets and Oppenheimer flagged the weak earnings growth as an issue that could pressure the stock.
Earnings-per-share contraction is forecast at 5.4% in Walmart's current quarter, its fiscal second quarter, according to FactSet. For the full fiscal year, EPS is expected to contract 2%.
While the market has digested that - as ongoing investments in e-commerce and Flipkart are dilutive to earnings per share, the analysts want to see a clearer picture on when Walmart will return to growth before lifting their valuations. 
"Lack of earnings growth has been our primary impediment to recommending WMT," RBC Capital Markets analyst Scott Ciccarelli wrote in a note Thursday. Oppenheimer analyst Rupesh Parikh, meanwhile, said that "dilution and risks associated with the Flipkart transaction and a valuation consistent with peak levels keeps us sidelined." That valuation is 21.5 times consensus fiscal-year EPS, slightly on the higher end of the company's typical valuation. 
Related.Behind the Smile: Inside Walmart
Ciccarelli noted that Walmart's quarterly 4.5% U.S. EBIT growth in total dollars signals the retailer has gained in its all-important U.S. segment, largely due to new e-commerce initiatives, the latest of which includes a next-day delivery offering. But the company's shrinking total operating profit and margin, to 4% in the quarter from 4.2% last year, is part of a weak earnings growth picture. 
Ciccarelli's price target is $102, representing no upside to current stock price. He has a sector perform rating on the shares. Parikh's price target is $105, representing 2.4% upside. His rating is market perform. 
Walmart said in its presentation after the earnings release that the "consolidated gross profit margin declined 27 basis points vs. last year due primarily to pressure in international from mix changes in some of our largest markets as well as the inclusion of Flipkart in this year's results."
While both gross and operating margins declined in the quarter, they did come in better than Wall Street had expected, prompting some analysts to tip slightly more positive on the stock.
"Solid, unexpected margin beat implies inflection to profitable U.S. growth coming sooner than anticipated," said Morgan Stanley analyst Simeon Gutman. While margins shrank in the quarter, bulls like Gutman, whose price target is $113, are more optimistic that Walmart's earnings will grow robustly, soon after the retail giant establishes itself in what are currently promising growth markets like e-commerce at home and abroad. 
Related.Walmart Stock Moves Over the Century Mark on Earnings