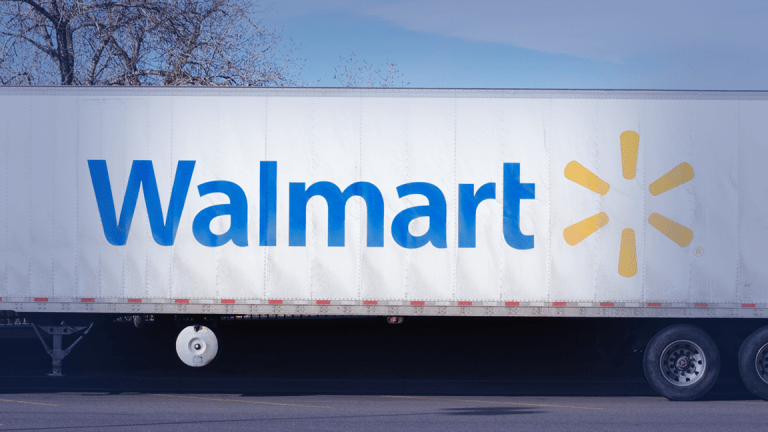 Walmart Uses New U.S. Tax Law to Pay One-Time Bonus, Boost Minimum Wage
Walmart will pay long-term U.S. employees a $1,000 bonus and boost its minimum wage to $11 an hour following last year's GOP-led tax overhaul.
Walmart Stores Inc. (WMT) - Get Report said Thursday that it would pay a one-time bonus to its U.S. workforce and boost its minimum wage to $11 an hour following last year's overhaul of U.S. corporate taxes.
The wage boost will take effect on Feb. 17, the company said, and will add $300 million to its 2018 budget while the bonuses of up to $1,000 paid to "eligible associates" in the U.S. with at least 20 years' service will add an additional $400 million to costs over the company's fiscal year, which ends on Jan. 31, Walmart said. Paternity and maternity leave benefits will also be extended, the company said, and financial assistance for employees wishing to adopt children would also be provided. 
"We are early in the stages of assessing the opportunities tax reform creates for us to invest in our customers and associates and to further strengthen our business, all of which should benefit our shareholders," said CEO Doug McMillon. "However, some guiding themes are clear and consistent with how we've been investing -- lower prices for customers, better wages and training for associates and investments in the future of our company, including in technology. Tax reform gives us the opportunity to be more competitive globally and to accelerate plans for the U.S."
Walmart said that while the new tax laws, which reduced corporate tax rates to 21% from 35% as of Jan. 1, "create some financial benefit for the company," it is in the early stages of "assessing potential additional investments."
"That assessment will be done not only through the lens of associates, customers and shareholders, but also within Walmart's financial framework of strong, efficient growth, consistent operating discipline and strategic capital allocation," the company said..
Cramer's Take on Walmart Bonuses and Wage Increases:
Walmart shares rose 0.73% in premarket trading in New York to indicate an opening bell price of $100.40, a move that would extend their three-month gain to around 19.3%.
More of What's Trending on TheStreet: