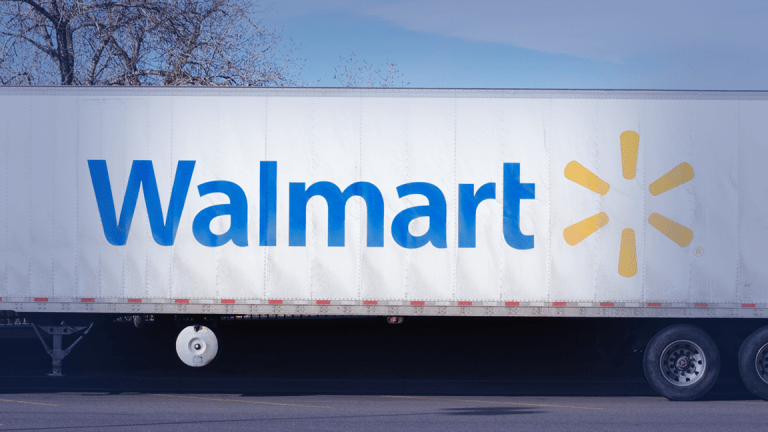 Walmart On Edge of UK Exit as Sainbury's Confirms Asda Takeover Talks
Walmart could be ready to retreat from Britain's fiercely-competitive grocery market as J Sainsbury plc, the country's second-biggest grocery store chain, confirms talks to buy the Bentonville, Arkansas-based group's Asda business.
J Sainsbury Plc (JSAIY) , Britain's second-biggest supermarket chain, confirmed Saturday that it's in "advanced" talks with Walmart Inc. (WMT) - Get Free Report to purchase its U.K. operations in a move that would mark the retail giant's biggest market retreat in decades. 
Asda, a centuries old British retailer that was purchased by Walmart for £6.7 billion in 1999, could be sold to Sainbury's as part of the group's plans to consolidate costs and challenge the market dominance of Tesco Plc (TSCDY) . Multiple media reports suggest the sale would leave Walmart with a significant stake in Sainbusry's via new shares in the London-headquartered retailer.
Sainsbury's shares closed at 269.8 pence each in London trading a Friday after rising 0.45% on the session, a move that takes its year-to-date gain to 11.95%, just shy of the 12.2% advance for the FTSE 350 Food & Drug Retailers subindex. 
However, Sainsbury's has been losing market share gains to both Tesco, it's larger rival, and Morrisons Plc (MRWSY) , the last of the so-called "Big Four" supermarket operators, amid a fiercely-competitive price war that has decimated profit margins.
Kantar Worldpanel, a market research group, said earlier this month that Tesco's year-on-year sales growth was tabbed at 2.4%, well ahead of the 1.8% rate for Asda and more than triple the 0.6% pace for Sainsbury's in the 12 weeks ending in March.
Asda has about a 15.6% share of the U.K. grocery market, Kantar estimates, a figure that has been steadily eroding for the past two years, while Sainsbury's has around 15.8%.
Collectively, their 31.4% combination would present a significant challenge to Tesco's 27.6% share, but competition authorities in the United Kingdom may be loth to allow such two-company polarisation in an important commercial sector.
Walmart shares closed at $87.29 each Friday in New York after falling 0.74% on the session, a move that extends its year-to-date decline to 11.6% and values the Bentonville, Ark.-based retailer, the world's biggest, at $255.5 billion.