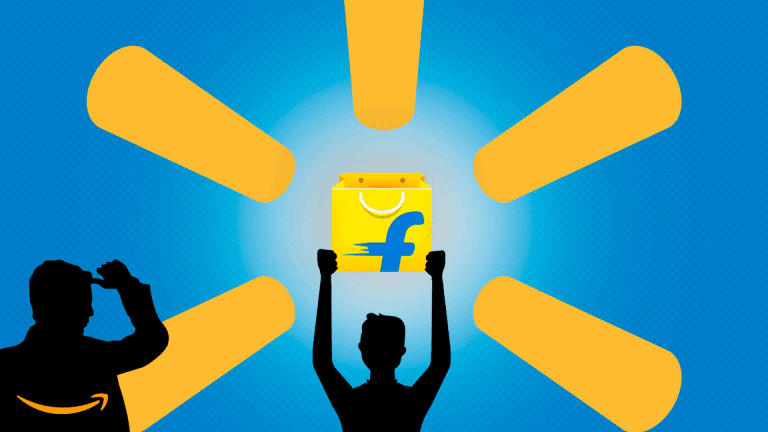 Publish date:
Walmart Stock Hits 7-Month Low Following $16 Billion Flipkart Deal
Shares are down some 4% after WMT announced agreement to buy a 77% stake in the Indian e-commerce giant.
Shares are down some 4% after WMT announced agreement to buy a 77% stake in the Indian e-commerce giant.
Shares of Walmart Inc. (WMT) - Get Walmart Inc. Report   slumped some 4% Wednesday morning to a seven-month low after the U.S. firm confirmed its biggest-ever acquisition, unveiling details of a $16 billion deal with India's Flipkart that vaults the world's biggest retailer into the world's second-biggest country by population and edges out reported interest from rival Amazon Inc. (AMZN) - Get Amazon.com, Inc. Report .
Walmart will take a 77% stake in Flipkart, a fast-growing e-commerce group that dominates online retail in India,for its $16 billion investment, and said it will support the group's move to become "a publicly listed, majority-owned subsidiary in the future." The deal followed news that SoftBank (SFTBY) CEO Masayoshi Son, who also controls the $100 billion Vision Fund, has upped his stake in the Bengaluru-based online retailer to $4 billion. Tencent Holdings  (TCEHY) and Microsoft Corp. (MSFT) - Get Microsoft Corporation (MSFT) Report are two other notable Flipkart investors.
"India is one of the most attractive retail markets in the world, given its size and growth rate, and our investment is an opportunity to partner with the company that is leading transformation of eCommerce in the market," said CEO Doug McMillon. "As a company, we are transforming globally to meet and exceed the needs of customers and we look forward to working with Flipkart to grow in this critical market. We are also excited to be doing this with Tencent, Tiger Global and Microsoft, which will be key strategic and technology partners."
Walmart shares were trading 3.56% lower at $82.69 shortly before noon ET. That extends the stock's year-to-date decline to around 16% and take the stock to the lowest level since October. Amazon shares gained 0.28% to trade at $1,596.86.
Bentonville, Ark.-based Walmart said the Flipkart's earnings would be reported inside the company's International business segment and expects "a negative impact to FY19 EPS of approximately $0.25 to $0.30, which includes incremental interest expense related to the investment" if the deal were to close in the second quarter of the company's fiscal year. Heading into the 2020 fiscal year, Walmart said it anticipates an EPS headwind of 60 cents a share, comprised of an operating loss of 45 cents and interest expense of 15 cents.
Walmart already has an established "brick-and-mortar" presence in India, with 21 "Best Price" cash-and-carry stores and one fulfillment center spread across 19 cities and nine states. 
Flipkart was founded in 2007 by Sachin Bansal and Binny Bansalk, two unrelated former Amazon employees who met two years earlier as students at the Indian Institute of Technology. The group, which first sold only books online, expanded to include music, movies, games and electronics over the years and now shifts more than 8 million products each day across 80 business categories. The group had revenues of 198.55 billion Indian rupees last year, or just under $3 billion.
(This story has been updated with late-morning stock prices.)