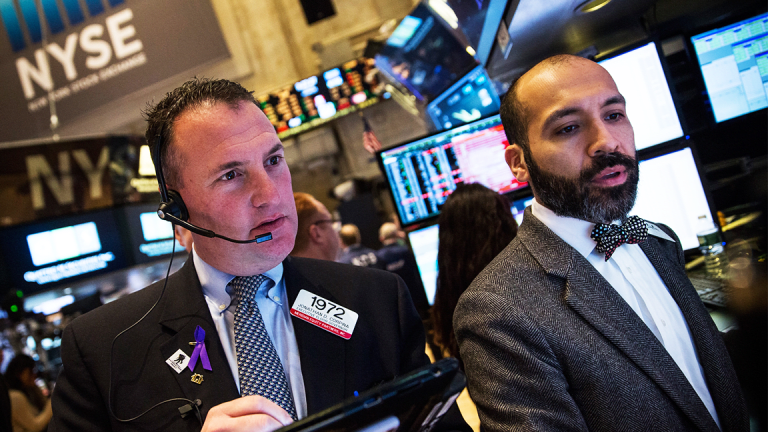 Wall Street Futures Hold Gains, Europe Drifts; Bitcoin Steals the Show
U.S. and Europe stocks look set to extend gains Monday ahead of a full slate of central bank meetings and bullish global market sentiment.
U.S. and Europe stocks look set to extend gains Monday ahead of a full slate of central bank meetings and bullish global market sentiment.
U.S. equity futures held onto gains Monday, even as European stocks drifted lower as investors tackle the final full weeks before the holiday break in a bullish mood amid of a busy slate of central bank meetings and the launch of bitcoin futures.
Early indications from Wall Street futures point to further gains for U.S. stocks ahead of this week's policy meeting of the Federal Reserve -- the final gathering of the year -- and bets that Republican lawmakers will be able to deliver a comprehensive tax reform bill for the President to sign before the end of the year.
Contracts tied to the Dow Jones Industrial Average were marked 57 points higher at the start of European trading while those linked to the broader S&P 500 were seen 3 points, or 0.15%, to the upside.
In Europe, the Stoxx 600 benchmark added 0.05% in the opening hour of trading although most major Continental benchmarks were only modestly higher than their Friday closing levels in thin trading volumes. 
Britain's FTSE 100, however, was the standout gainer, rising 0.66% as a stronger U.S. dollar held down gains for the pound, which traded at 1.3372 as it extended declines following last week's breakthrough in Brexit talks between London and Brussels. Germany's DAX performance index was around 0.08 higher from Friday as the euro bumped modestly upwards against the greenback to 1.1797 ahead of Thursday's meeting of the European Central Bank.
Overnight in Asia, stocks extended gains following last week's set of record closing highs for Wall Street, with the MSCI Asia ex-Japan index rising 0.21% and Japan's Nikkei 225 rising 0.6% to a 25-year high of 22,938.73 points.
Spot bitcoin prices on the bitsmap exchange in Luxembourg were trading 10% higher at $16,400 each in early London trading, just hour after futures contracts were launched on the CBOE exchange. Those value promptly accelerated to around $18,850 each for Jan. 18 delivery as the global digital currency craze continues to sweep prices ever higher.
The old-fashioned U.S. dollar, meanwhile, traded at a near four-week high against a basket of six global currencies following last week's stronger-than-expected November jobs report before fading to around 93.75 in early European trading.
Global oil prices also retreated modestly from Friday's closing levels as investors factored in both rising U.S. crude production rates, which hit a record 9.75 million barrels a day last week, and the addition of 2 more rigs into the production cycle, taking the total to a September high of 751 according to Houston-based oil services group Baker Hughes.
Brent crude futures for February delivery were little changed at $63.42 while WTI contracts for the same month were 0.15% lower at $57.27 per barrel.