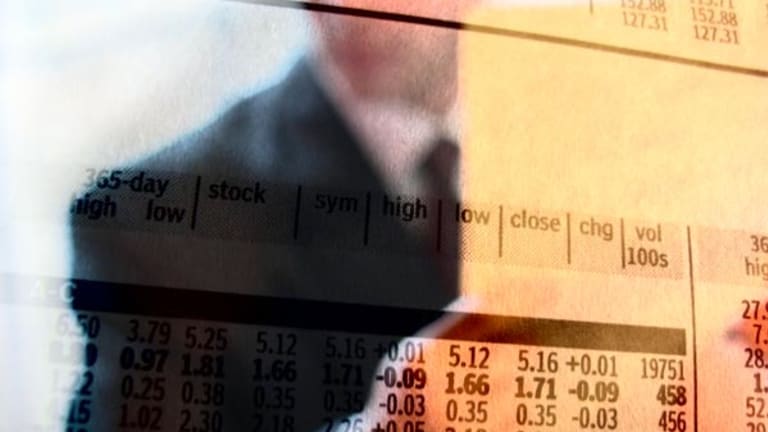 Wall Street's Pain Persists
Stocks are sold off again. Chip shares are weaker, and the energy sector is routed.
Updated from 4:11 p.m. EDT
Stocks endured a rough ride Wednesday and again closed lower, this time as selling pressure swept through the energy, semiconductor and basic materials sectors.
The
Dow Jones Industrial Average
dropped 71.24 points, or 0.65%, to 10,930.90. The Dow had been up by as many as 75 points earlier in the session but took a downturn and finished below 11,000 for the first time since March 9.
Exxon Mobil
(XOM) - Get Exxon Mobil Corporation Report
had one of the worst days, losing 2.6%.
The
Nasdaq Composite
at one point rose nearly 1%, but finished down by 10.99 points, or 0.51%, at 2151.80. A 2.1% loss in
Intel
(INTC) - Get Intel Corporation Report
offset gains by
eBay
and
JDSU
(JDSU)
.
Overall, the chip sector was one of the day's notable laggards. The Philadelphia Stock Exchange Semiconductor Sector index lost 2.4%.
Even worse was the rout in drilling and oil stocks, as Exxon was far from the only loser. Among the companies that do work for the energy industry,
Nabors
(NBR) - Get Nabors Industries Ltd. Report
,
Rowan
(RDC)
,
Tidewater
(TDW) - Get Tidewater Inc. Report
and
Weatherford
(WFT) - Get Weatherford International plc Report
saw declines of more than 5%. The Philadelphia Oil Service index sank 4.8%, and the Amex Oil index was off 2.9%.
The broader
S&P 500
shed 7.70 points, or 0.61%, to 1256.15. The selling follows two straight sessions of heavy declines that were inspired by a series of
Federal Reserve
officials expressing worries about inflation.
"The recent market pullback can be traced to less-friendly global monetary conditions, uncertainty regarding the Fed and hints of a possible slowdown in the U.S. economy later this year," said Michael Sheldon, chief market strategist with Spencer Clarke. "This has led to profit-taking in some of the hottest momentum-driven areas of the market, along with a decision by investors to pull back somewhat regarding their appetite for riskier and more aggressive investment securities."
About 1.83 billion shares changed hands on the
New York Stock Exchange
, and decliners outpaced advancers by a 5-to-3 margin. Volume on the Nasdaq was 1.96 billion shares. Losers edged out winners 8 to 7.
Oil prices fell after the Energy Department's weekly supply report showed an unexpected build in crude inventories. In Nymex floor trading, July crude slid $1.68 to close $70.82 a barrel. Among other commodities, gold lost $2.10 to $632.60 an ounce, and copper rose 9 cents to $3.58 a pound.
Gold's decline also pressured mining stocks, with
Glamis Gold
(GLG) - Get TD Holdings Inc. Report
losing 4.8% and
Barrick Gold
(ABX)
falling 2.2%.
One of the factors weighing on the market was more tough talk from the U.S. central bank, this time from Atlanta Fed president Jack Guynn. "Core inflation, which excluded volatile food and energy costs, has moved into the upper end of, or beyond, the range I consider acceptable over time," he said, echoing comments from some of his counterparts earlier this week.
On Tuesday, hawkish remarks by Fed members Susan Bies and William Poole reinforced notions that the central bank will raise interest rates on June 29, leading to another down day for stocks. After Guynn gave his speech to a business group in Atlanta, the odds of a 25-basis point rate hike to 5.25% at the next Fed meeting rose to 84% from 80%. The market has now fully priced in a 5.25% fed funds rate by the Aug. 8 meeting.
"The market now feels a rate hike is baked into the cake," said Jay Suskind, head of institutional equity trading with Ryan Beck. "Day after day, the market has been down so we're seeing some buying and bargain-hunting today. With oil prices falling, it's even more of an excuse. We're still in a downtrend right now, though, and it's tough to find a reason to stay in for the short-term."
The 10-year Treasury bond was down 4/32 in price to yield 5.02%, and the dollar firmed against the yen and euro. Treasuries and the dollar both jumped Tuesday in the wake of Ben Bernanke's fulminations on the inflation front.
In his first testimony before Congress since retiring from the Fed, former chief Alan Greenspan spoke about possible disruptions to the world's energy supply. Greenspan said that world refining capacity has become worrisome, adding that possible terrorist attacks on production facilities would hurt already depleted supply levels.
Resource stocks have borne the brunt of the market's recent weakness. Since the Fed's May 10 rate announcement,
Newmont Mining
(NEM) - Get Newmont Corporation Report
is down 11%,
Alcoa
(AA) - Get Alcoa Corporation Report
has lost 16%, and
Freeport-McMoRan
(FCX) - Get Freeport-McMoRan Inc. Report
has plunged 24%.
Chips stocks have also taken a hit, with the Philadelphia Semiconductor Index down 12% over the same period. Late Tuesday, the Semiconductor Industry Association raised its estimate of 2006 industry sales growth to 9.8%, from 7.9%. It cited rising demand among a host of consumer products.
In corporate news, Frank Lanza, the CEO of defense contractor
L-3
(LLL) - Get JX Luxventure Limited Report
, died Tuesday. The 74-year-old Lanza had recently undergone surgery for an unspecified ailment. L-3's board is meeting Wednesday to choose an interim successor. Both
Reuters
and the
Associated Press
quoted analysts who said Lanza's death might lead to takeover interest for the company. Owing to the speculation, shares of L-3 jumped 4.7% to $76.93.
Retail giant
Target
(TGT) - Get Target Corporation Report
said it now anticipates its full-year 2006 gross profit margin and expenses to be higher than its 2005 results. Target gained $1.30, or 2.7%, to close at $48.90.
Tribune's
( TRB) plan to repurchase 25% of its stock with borrowed money is running into trouble. The
Wall Street Journal
reported Wednesday that three directors appointed by a major holder, the Chandler family, oppose the restructuring, which contemplates a buyback range of $28 to $32.50 a share. Shares were up 31 cents, or 1%, to finish at $30.31.
Cooper Cos.
(COO) - Get The Cooper Companies Inc. Report
said second-quarter earnings fell by roughly half to $13.7 million, or 30 cents a share, reflecting restructuring charges. Sales also fell to $211.4 million and the company trimmed its 2006 forecast. The stock fell $1.41, or 3%, to $46.28.
After the bell Wednesday, investors will see earnings from
BMC Software
(BMC)
and
H&R Block
(HRB) - Get H&R Block Inc. Report
.
Among ratings moves, Banc of America Securities initiated coverage of Dow component
Caterpillar
(CAT) - Get Caterpillar Inc. Report
as a buy, assigning an $80 stock price target. Meanwhile, Stifel Nicolaus cut
RadioShack
(RSH)
to sell from hold.
Caterpillar was lower by $1.74, or 2.5%, to $66.74. RadioShack dropped 80 cents, or 5%, to close at $15.20.
Chemical companies
DuPont
(DD) - Get DuPont de Nemours Inc. Report
and
Dow Chemical
were downgraded Wednesday by Deutsche Bank.
DuPont fell $1.08, or 2.6%, to $41.09. Dow Chemical ended down 50 cents, or 1.3%, to $39.08.
Overseas markets were mixed. London's FTSE 100 rose 0.6% to 5706, and Germany's Xetra DAX added 0.8% to 5544. In Asia, Japan's Nikkei plunged 1.9% overnight to 15,096, and Hong Kong's Hang Seng fell 1% to 15,817.